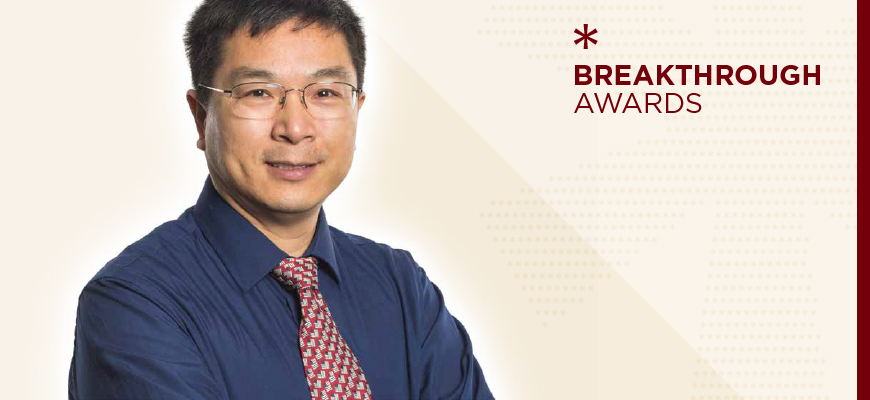 Computer science meets engineering
USC Beaufort professor builds robust program for students
---
By Karla Turner,
turnerk9@mailbox.sc.edu
, 803-777-9813
---
Trained as an aerospace engineer, Yiming Ji worked in the aerospace industry for several years before returning to school to study computer science.
Inspired by the idea of training others to integrate computer science and engineering as he had done, Ji founded the computational science program at USC Beaufort, the only one of its kind in South Carolina.
What began as a modest assembly of seven students in 2010 has grown into a robust program with more than 100 students and a full-time faculty.
"We have formed a strong faculty team," Ji says. "They all work hard in their fields and two of them have already promoted and received tenure."
Students have fertile ground for discovery in this unique field in large part because of Ji's dedication. Indefatigable in his pursuit of funding, he has secured more than $2.6 million to support the program.
In 2016, he was presented with the S.C. Governor's Award for Excellence in Scientific Research at a Predominantly Undergraduate Institution. He also received USC Beaufort's academic adviser award.
"The real winners are the students," says Joseph Staton, dean of the School of Science and Mathematics at USC Beaufort.
Ji is involved with many regional efforts to strengthen teaching, research and educational initiatives. His strong ties to the larger educational community enhance the value of USC Beaufort's program and create "an experience worth much more to these graduate's futures than a mere diploma," Staton says.
Ji is equally diligent in his support of students outside the classroom. In addition to providing career training, Ji and his team regularly contact local companies for internship and employment opportunities and pursue connections for students to collaborate with community groups on real-world problems.
The most important thing for me is to see how our students can grow and, eventually, transform their lives.

Yiming Ji
It's not uncommon for a student to enter USC Beaufort's computational science program with minimal college preparatory experience or a rudimentary understanding of computer science.
"We have students who used to work in grocery stores or as house painters," Ji says.
But students who find the program challenging don't face the challenges alone. Many have gone on to achieve their goals and become software engineers at companies like Oracle, Gulfstream, Fidelity and United Healthcare.
"This means so much to me and to all my colleagues," says Ji, noting that nearly all of the program's graduates find jobs, attracting more industries to take notice.
Ji considers himself a typical faculty member in the USC system "who cares about student and higher education." The way he sees it, the accolades and awards simply summarize his work up to this point.
Research takes time, and it can take even longer to publish the results, he explains. It is even more difficult to get grant funding.
"It just takes time," he says. "The most important thing for me is to see how our students can grow and, eventually, transform their lives."
---
Share this Story! Let friends in your social network know what you are reading about
---