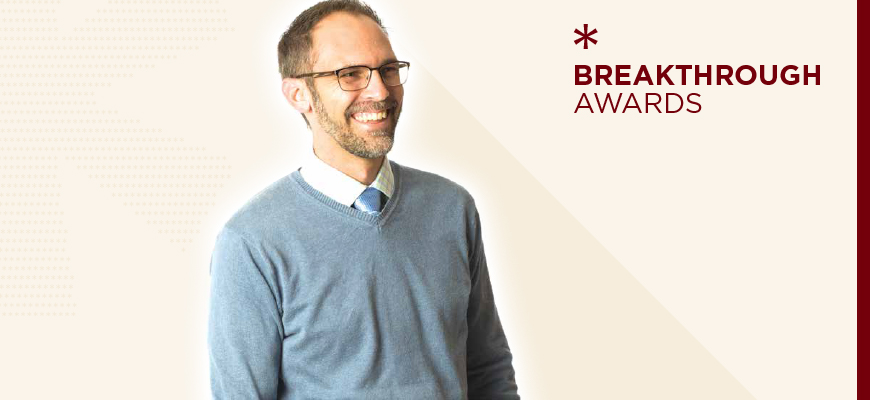 Relational navigation
Counselor education researcher aims to improve family relationships
---
By Page Ivey,
pivey@mailbox.sc.edu
, 803-777-3085
---
Ryan Carlson set out to be a substance abuse counselor, but took a different route to helping people after his experiences on a research project.
"I did do some substance abuse counseling, based on family experience," says Carlson, an assistant professor of counselor education in the College of Education. "I can't think of a single client I had who didn't also have some sort of family discord along with the substance abuse."
But Carlson's experience working on a federally funded project to help counselors providing relationship education led to work that he continues today. "I've always felt inclined to be in a helping profession," he says.
He has helped develop a protocol for counselors to determine when it's safe to work on relationship issues in couples therapy and when it's best for couples to be treated separately.
"Trying to identify and assess for that can be very difficult," Carlson says. "The danger is that we might place a victim in a situation to share something that he or she might be punished for later."
Carlson now is in the midst of a five-year study funded by the Office of Family Assistance that looks at the effect of relationship education on 5,000 low-income couples and individuals.
"The general vein of my research is family strengthening," he says. "That sounds broad, but it's basically relationship education for low-income couples and families."
All the data collected from the study is being compiled and evaluated by Carlson's USC Family Strengthening Evaluation Team, which includes doctoral students as well as graduate research assistants.
In addition to analyzing the data, the group is looking at ways to improve the study subjects' participation in the study.
"We have to tweak the implementation of the study to account for the participants' lack of resources," Carlson says. "It can be difficult to get them to complete the interventions and the surveys. So we're basically discussing how to keep folks in the study."
Some factors that can affect participation are unreliable transportation, pay-as-you-go cellphones that make it difficult for researchers to reach participants, and people who have unpredictable work schedules, making it difficult for them to attend meetings and keep appointments.
The general vein of my research is family strengthening. That sounds broad, but it's basically relationship education for low-income couples and families.

Ryan Carlson
One fix researchers found was simply making more phone calls to encourage participation.
"Some of the different strategies for retention may sound obvious, but now we have the data to support them," Carlson says.
In addition to his work teaching graduate students looking to become school counselors, marriage and family therapists and mental health counselors, Carlson also has been very involved in getting his research to local groups who provide assistance to people in need of those services.
"We publish our findings and make presentations to local and national conferences and work with different local clinical venues, and we bring a lot of this into the classroom," he says.
Carlson's work helping counselors discern the difference between relationship conflict and true domestic violence has been implemented in Richland School District 2. He also established a partnership with Lexington School District 4's Early Childhood Center in Swansea, S.C., providing supervision to graduate students who conducted their clinical experiences providing counseling to students and their families. He hopes to continue to reach out to create more such partnerships in rural South Carolina.
"Rural families generally lack access to family-based mental health services, yet family-based problems contribute to a significant proportion of child school-based behavioral and outcome issues," he says.
---
Share this Story! Let friends in your social network know what you are reading about
---