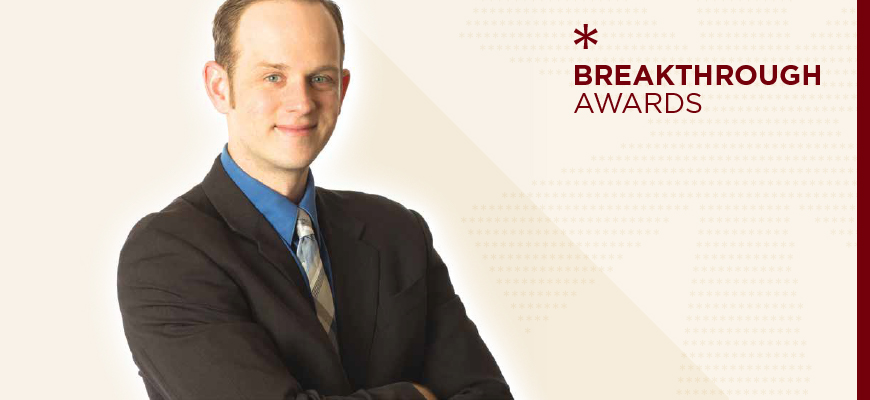 Studying the unseen
Pioneering professor founds X-ray lab to fuel research and education
---
By Julie Smith-Turner,
turne292@mailbox.sc.edu
, 803-777-1716
---
What do you get when you cross an educator, an avid sci-fi fan and a tinkerer? Morgan Stefik's family got a highly curious child who took things apart to figure out how they worked or how better to rebuild them.
That's the same approach the assistant professor now brings to one of the world's most vexing scientific fields: nanoscale materials. Where his research leads will likely steer development in solar fuels, water splitting technologies and solar panels. Stefik, who has already gained worldwide attention for a major innovation preparing nanomaterials using his "persistent micelle templates," has been recognized by the Royal Society of Chemistry in London as a "rising star in materials chemistry" and recently received the NSF CAREER award.
"People have been making nanomaterials for a long time," says Stefik, assistant professor in the College of Arts and Sciences' Department of Chemistry and Biochemistry. "The thing that really interests me is to look at these materials with a design perspective."
His pioneering research in what he calls "precision nanomaterials" has the power to fuel the development of new energy technologies such as batteries and photovoltaics. His impact isn't just limited to scientific journals and presentations.
Within his first months at the University of South Carolina, Stefik organized a coalition of more than 20 research groups from six universities to create the state's first and only public small-angle X-ray scattering facility, using an NSF award to support the $834,000 project.
"In our state we have a lot of strong nanoscience researchers. Many of us had been traveling long distances to get to equipment elsewhere, and that was expensive and slow," he says. "We couldn't ask certain questions because the tooling was too inconvenient."
The SAXS lab, established in 2015, regularly draws researchers from Furman, Clemson, Allen University, the College of Charleston and Benedict College to the Columbia campus and supports the X-ray needs of researchers across the state. It has also drawn researchers from leading institutions from as far away as California and Canada.
People have been making nanomaterials for a long time. The thing that really interests me is to look at these materials with a design perspective.

Morgan Stefik
While the lab frequently hosts nanoresearchers, Stefik also uses the facility to spark curiosity in future scientists and chemists — especially those who attend historically black and underrepresented colleges throughout the state. Even non-major students in general chemistry classes at USC are gaining from Stefik's enthusiasm for the unseen.
"The CHEM 111 course is solid, but the thing that's difficult is getting students interested," says Stefik. That's why he created a series of in-class demonstrations for all instructors with the bangs, flashes and attention-grabbing explosions of his childhood.
"The demonstrations give us a chance to talk about the strange and interesting things that are happening but can't be seen," he says.
The explosive interactions and spooky flames have a far greater purpose to Stefik than to make chemistry classes more exciting for today's digital generations. He's hoping to pique the curiosity of the next generation of nano pioneers.
---
Share this Story! Let friends in your social network know what you are reading about
---