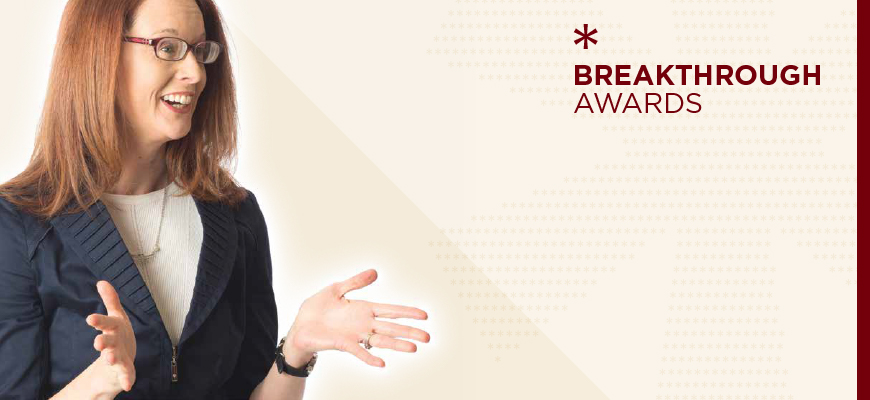 A diet of health
Public health scientist focuses on effective diets that do more than drop pounds
---
By Megan Sexton,
msexton@mailbox.sc.edu
, 803-777-1421
---
When Brie Turner-McGrievy was in college, she was inspired by emerging research on nutrition's role in prevention and treatment of chronic disease. She was soon pursuing a master's degree and became a dietitian.
But while working as a registered dietitian, Turner-McGrievy realized she wanted to expand her reach in disease prevention and dietary support.
"I'd go in and see someone who had had a heart attack. I'd spend 15 minutes and talk to him about changing his diet and that was it," says Turner-McGrievy, an associate professor in the Arnold School's health promotion, education and behavior department. "I knew that was not making much of a change. That's what drew me to public health — trying to have a bigger impact on health at a population level."
I'm proud of the fact a lot of my work is starting to be incorporated into policy decisions and in major guidelines that come out from organizations around obesity and weight loss.

Brie Turner-McGrievy
Since arriving at the Arnold School of Public Health in 2011, Turner-McGrievy's research has focused on obesity prevention and treatment. She has examined the use of plant-based diets in place of calorie restrictions to promote weight loss, and she has used technology and mobile health to deliver interventions and facilitate social support and self-monitoring.
"Interventions are effective in a face-to-face setting, but they aren't always feasible on a public health level," she says. "So how do we get to a large number of people at a low cost? Mobile technology started to be developed while I was in my graduate program, and it seemed the time was right to investigate these technologies and see how we can leverage them to help people change their eating habits, become more physically active and help them lose weight."
One of her first focus areas was developing ways to help people self-monitor their diets. While technology has made it easier — smart phones allow quick tracking of food and exercise — self-monitoring tends to decline over time.
"We're trying to find ways to make self-monitoring engaging and fun and something people want to do," says Turner-McGrievy,
She also focuses on using social media to support people when they are trying to make a behavior change. "We saw that can be an effective way to get that group support that normally would have to be in a face-to-face setting," she says. "On some levels, it's better. Some people don't want to talk about dieting and weight in a face-to-face meeting. (Technology) adds anonymity."
She now is recruiting participants for her latest project, a two-year nutrition intervention study to examine cardiovascular disease and the use of a healthy soul food diet among African-American adults.
"African-Americans have generally been underrepresented in a lot of behavioral research trials, particularly in the South, so our goal is to address that," she says. "We'll be using culturally appropriate diets to revise unhealthy soul foods into healthier versions."
The researchers will partner with soul food restaurants that serve Southern-style food to ensure the recipes used in the study culturally appropriate.
"I'm proud of the fact a lot of my work is starting to be incorporated into policy decisions and in major guidelines that come out from organizations around obesity and weight loss. My work was even cited in the latest U.S. News and World Report ratings of diets," she says. "So both on an academic level and a popular press level, I'm proud of seeing my work help inform."
---
Share this Story! Let friends in your social network know what you are reading about
---