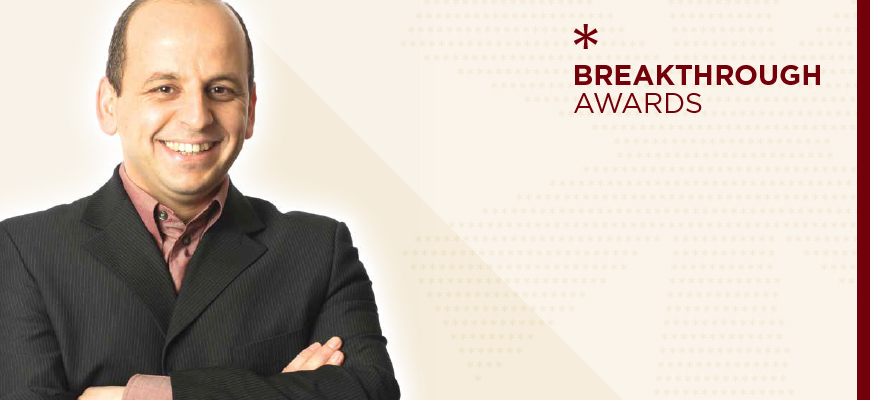 Invisible power
The impact of engineered nanoparticles on the environment and human health
---
By Karla Turner,
turnerk9@mailbox.sc.edu
, 803-777-9813
---
The sky above St. Pancras International Railway Station in London is visible through a glass roof that will never need cleaning. A microscopic layer of nanoparticles on the surface clears grime away without the touch of a human hand.
Nanostructures are so small that they are unobservable to the naked eye, yet they are capable of mighty feats. They can make bicycles lighter, decontaminate hazardous waste and fight cancer. "And, you eat them," says Mohammed Baalousha, associate professor in the Department of Environmental Health Sciences at the University of South Carolina.
Baalousha's research in nanotechnology is largely focused on the environmental fate, behavior and novel applications of engineered nanoparticles like silver and titanium dioxide. The latter, he says, shows up frequently in products sold directly to consumers like toothpaste, sunscreen and food additives. You might have been drinking nanoparticles in your morning coffee.
One unique opportunity to observe these extraordinary structures presented itself in the aftermath of a hurricane. Baalousha and his colleagues were able to sample surface waters in South Carolina to search for engineered nanoparticles among naturally occurring particles of similar chemical compositions.
"Naturally occurring nanoparticles contain natural tracers that we are using to differentiate them from the pure engineered forms," he says. Searching for nanostructures in the natural environment is "almost like trying to find a needle in a haystack," he says. "Writing papers is nice, but this is the payoff."
Baalousha obtained his Ph.D. in environmental biogeochemistry from the University of Bordeaux, France in 2006 and began establishing an international reputation as a leader in the field of nanotechnology before being recruited by Carolina. His journal papers appear in some of the top international environmental science journals, and he currently has 66 publications, six book chapters and two books to his credit.
Naturally occurring nanoparticles contain natural tracers that we are using to differentiate them from the pure engineered forms.

Mohammed Baalousha
He joined the Arnold School of Public Health and the Center for Environmental Nanoscience and Risk at the university in 2014. His initiative established him as an independent and assertive scholar among his colleagues.
He received a National Science Foundation CAREER award and was also awarded an NSF EPSCoR fellowship to continue a collaboration with the Pacific Northwest National Lab.
"I've witnessed the development and progress of Dr. Baalousha to achieve his career goals and to become a world-leading figure in his area of research," says Jamie Lead, director for the Center for Environmental Nanoscience and Risk. "He has worked tirelessly over the years to build up his own research program and his international reputation."
Baalousha's most urgent priority is to gain a better understanding of how nanoparticles behave in the natural environment. By observing the existing structures in their natural and engineered forms, he hopes to cultivate a greater awareness of the impact they might have on the environment and human health.
---
Share this Story! Let friends in your social network know what you are reading about
---