While other children were playing with toys, Parthenia Satterwhite asked for a small blackboard for her home "classroom." Her passion for teaching began during her childhood when she helped her neighbor study reading and math. Spurred by the success of her mother in the field of education, Satterwhite began a journey toward the longest partnership between the College of Education and a local elementary school.
"As a child, I had the desire to teach," says Satterwhite. "When I was a youngster, about seven or eight, I would help one of my neighbors. I watched my mother develop relationships with her students and their families, and I knew that was important for me too."
In the 1970s, while her mother was ill, she was recognized in Richland County as an outstanding educator.
"I remember taking the newspaper clipping to my mom in the hospital," says Satterwhite. "She was so elated to receive that recognition. That became my north star with my own teaching — always wanting to serve others."
Committed to continuing her mother's legacy, Satterwhite began her journey in elementary education at the University of South Carolina in 1972. Losing her mother at the beginning of her college career was very difficult. She credits her professors at the university with encouraging her to complete her degree. That support network continued into her first job, when her principal encouraged her to complete her master's and participate in programs that would advance her career.
"Sandra Winecoff was my principal at the time and a professor in the college," says Satterwhite. "She put an application for the district's administrative internship program in my box and reassured me that I was ready for the opportunity. The next year, I began at Horrell Hill Elementary."
The internship was not without difficulty; Satterwhite had to spend her mornings in the classroom teaching and the evenings completing administrative tasks. She says the time was one of the most difficult of her career but also the most rewarding. She began working with students who needed additional academic support and carving her path in the field. In 1986, she was named principal, and in 1990 she began working with the College of Education as an official Professional Development School.
"I've been at Horrell Hill for 40 years," says Satterwhite. "It has been an amazing journey. I've seen a lot of change and growth, and I am so proud that we have partnered with the College of Education the whole time."
Professional Development Schools (PDS) allow the university to establish a network of local public schools where they can collaborate, promote research and spur innovation to benefit students, interns, educators and administration. The schools work with the university partners to investigate best practices in learning, professional development, educator preparation and transition to the classroom that are then adopted into the teacher preparation programs.
Not only did Satterwhite help pioneer the PDS program, she also was named a John Goodlad Scholar. This opportunity allowed her to travel to Seattle over the course of five years to study with the prestigious education scholar and bring new teaching practices to our state. Her continuous push towards innovation has benefitted her students immensely.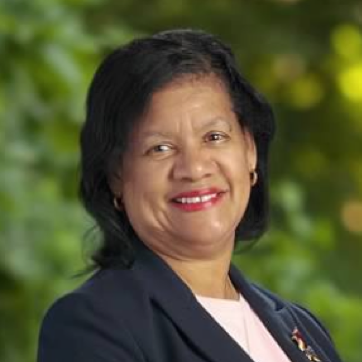 "It was a wonderful experience and time of collaboration," says Satterwhite. "I felt like I was bringing the best content to our teachers and really engaging in meaningful research. We were working with schools throughout the state and establishing what it meant to be educational leaders and reflective practitioners."
Satterwhite's PDS team was one of the first to adopt a research-based approach at Horrell Hill, focusing on various tenants of the nine principles of PDS member schools. For three-year periods, the school picks a different focus area to advance student achievement and research. Satterwhite encouraged her teachers to share their findings with one another and at national conferences, making a difference for students beyond her school.
This attitude of collaboration highlights Satterwhite's leadership philosophy. She likes to say, "A relationship without partnership, is a sinking ship." Her career highlights have been the relationships with her students and families in the community.
"My biggest joy in my 45 years in the district have been seeing thousands of children discover learning," says Satterwhite. "I get to see the excitement on their faces as they discover their passions and future careers. I get to see their whole journey. I have two teachers in my school who were my former elementary students. That is such a blessing to me."
Tracee Walker, Horrell Hill Elementary's Curriculum Resource Teacher has worked with Satterwhite for 29 years. She began at the school as a student intern and went on to work there for her first job after college.
"From the moment I first set foot in Horrell Hill, I had a feeling it was where I wanted to be," says Walker. "Ms. Satterwhite was so warm and welcoming for me — even as a practicum student. She visited my classroom and would have one-on-ones with me. She really made me feel like I could do anything!"
It was an easy yes for Walker to begin her teaching career at the school she loved. When she started as a first-grade teacher, she became the youngest educator at the school to have a student intern and be a team leader. She credits the support from Satterwhite to her success.
"She welcomed my ideas," says Walker. "She supported me and helped me build great relationships with my fellow teachers, students and their parents. She came to all of my class functions and regularly left me notes of support. She made us feel like we were a family. It was easy for me to make our school shine because she had such a strong belief in me. It was a win-win for the teachers and the students!"
This type of leader partnership is what has kept Walker encouraged. It also has inspired her to leave her own legacy within the PDS community. She currently is responsible for placing interns in her school and pairing them with mentor teachers. She strives to build relationships that enrich both parties.
"Learning has to be reciprocal," says Walker. "I want to make sure there is a good foundation for those relationships and support them throughout the year. I make sure the students feel welcome and that they have the best placements for their success."
Walker has played a major role in the research that takes place at the school. Their first project focused on writing. After three years, 87% of the students saw an increase in their writing scores. Their next focus was family engagement. Their PDS team regularly presented their findings at conferences and became a model for other schools to follow.
"We joked that our students wrote from the front door of the school to the back," says Walker. "Even if you were a visitor you were writing something! Ms. Satterwhite was right there with us. When your administration is involved and has buy-in, the work is so much easier."
Walker admits that it will be hard without Satterwhite's leadership, but she is ready to face the changes. She emphasizes that the strong partnership they have built with the university helps weather those changes. The lessons from Satterwhite will carry them through as well.
"She taught us to always work with fidelity," says Walker. "She taught us to be intentional leaders, and I'm eternally grateful that she saw me through my entire career. She's not just a principal, she's family."