Celebrating our 2022 Outstanding Alumnus
---
Some 34 years ago, Gerald Isreal Jr. began his professional life as a community pharmacist, which he thought would become a lifelong career. As time progressed, he began to learn more about the vast opportunities in the field and realized there was more than one way he could serve his patients.
Isreal, a 1988 graduate, grew up in Columbia, South Carolina. Music was his first love. He played drums and bass guitar from the sixth grade through high school – including marching, concert and jazz bands. He is still an active musician.
Always seeking a new challenge, he also played varsity baseball and football in high school.
"I wanted to try it all growing up, so I did and had the best time doing it," he says. "I knew that someone my size probably would not play football in the NFL. I always had good mentors in my life who encouraged me to not let obstacles deter me but use them as stepping-stones to something else. My parents always reminded me that I had opportunities that they did not have growing up in the 50s and 60s."
After high school, Isreal knew he wanted to pursue a career in medicine or architecture. He began pre-med studies at the University of Georgia. While there, a good friend convinced him that pharmacy was a great career to pursue if he had a change of heart about becoming physician.
"I had terrible acne growing up. The pharmacist who filled my meds was a great guy, always helpful, friendly, knowledgeable, and loved what he did."
After two years, circumstances brought Isreal to the University of South Carolina to finish his education at the College of Pharmacy.
"After graduation, I went to work for a small independent pharmacy, and the same pharmacist that filled my acne meds was the pharmacist in charge," he recalls. "That was my sign that this was what I needed to do for the rest of my life."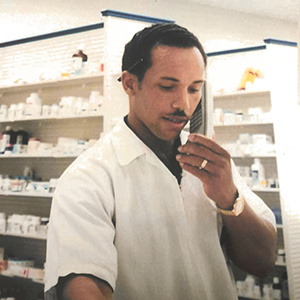 During the next several years, the small pharmacy where he began his career would be sold and merged with larger retail chain companies. Isreal decided it might be time to consider other opportunities. He joined a large pharma company, Merck and Co. Inc, as a sales representative, educating physicians about new medications.
His next career advancement led him into the managed care arena with Advance PCS, now CVS Health, a pharmacy benefit management company. This was the beginning of what would become a long and successful relationship with BlueCross BlueShield of South Carolina.
"I was in the right place at the right time when my current employer decided it was time to build their own pharmacy division," he says. "I accepted the opportunity to become a member of the BlueCross leadership team as the senior director of pharmacy."
Isreal now serves as chief pharmacy officer and assistant vice president of pharmacy management. His position allows him to take part in discussions that impact how South Carolinians access their drug therapies. He also helps develop policy and legislation that impact the practice of pharmacy.
"Pharmacists have a huge role in finding solutions to provide better care to our patients," he says. "We are one of the most accessible health care providers, especially in rural areas, and we are needed now more than ever. And it is about more than having a provider nearby, but also having available transportation."
Isreal says pharmacists can also help patients build a greater trust in their health care practitioners.
"Many people of color have a distrust of the system because of past experiences, so they may refuse to go to a doctor, but they will talk to a pharmacist," he says. "That is our opportunity to encourage people not to be afraid."
Isreal reminds his colleagues and students alike that there will always be something to learn.
"Always study – never stop learning," he advises. "Get to know your patients, develop a relationship with them and apply the knowledge you have, but remember that medicine and health care are changing every day. There will always be a role to have a voice to impact the industry."
Isreal believes the graduates of the College of Pharmacy have many gifts to share with other alumni and especially, with students. Whether as mentors sharing their career experiences or by supporting the college through fundraising initiatives, alumni play an important role.
"Alumni serve as the force, the lifeline that connects the college's past, present and future graduates. They exemplify and promote consistency in excellence, while providing a forum to discuss and share ways for all to maneuver an ever-changing industry," he says.
Isreal adheres to the age-old adage, "Let the life I live speak for me."
"To be recognized by my fellow alumni, peers and mentors as the Outstanding Alumnus for 2022-2023 is truly an honor," he says. "Pharmacy has been very good to me. To hear my children, friends and colleagues comment how proud they are for this accomplishment validates in my heart that I must have done something right."
This article first appeared in the Fall 2022 issue of the Gamecock Pharmacist. Read more from this and previous editions of the alumni magazine in our online archive.
---
Topics: Outstanding Alumni Award, Alumni Programs, Pharm.D. Program