---
The Kennedy Pharmacy Innovation Center and the UofSC College of Pharmacy partner with a variety of community-based pharmacy practice sites to offer post-graduate residency training to develop practitioners with strong clinical skills, business and entrepreneurial skills, and the ability to implement sustainable pharmacist services. These residency programs include a PGY1 community-based pharmacy residency and a PGY2 community-based pharmacy administration and leadership residency.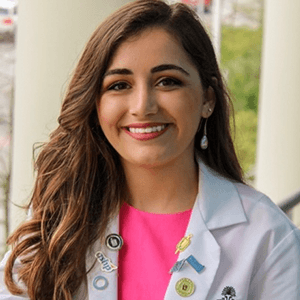 Three UofSC student pharmacists matched with KPIC's residency programs for the coming year – Tate Cook matched with Hawthorne Pharmacy and Medical Equipment in Columbia, South Carolina; Thayra Rios-Schad matched with Medicine Mart in West Columbia, S.C.; and Leigh Joyner will complete a two-year residency with Premise Health - Associate Family Health Center at BMW in Greer, S.C. Brianna Nelson from Mercer University College of Pharmacy matched to Wiggins Family Medical Center and Pharmacy – Southwire near Atlanta, Georgia.
Cook is excited for her residency as she has been enrolled in the KPIC Business and Entrepreneurship program while pursuing her Doctor of Pharmacy degree.
"The great thing about the business and entrepreneurship track is that you don't have to be interested in ownership to participate," she says. "This track allows you to practice creative thinking and is beneficial no matter what field of pharmacy you are interested in."
She is looking forward to pursuing her goal of working in a community pharmacy setting.
"I am passionate about implementing different services because that is where pharmacy is growing," she says. "This residency will allow me to think more clinically, develop relationships with my patients and have an understanding of the business aspect as well."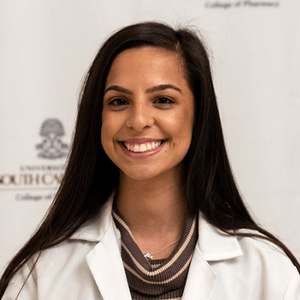 Schad became interested in pharmacy at an early age in part because her younger sister was diagnosed with Type-1 diabetes. This ignited a passion for chronic disease state management.
"I want to empower patients to take charge of their health, and it is exciting to be in a unique setting where I can work as both a retail and clinical pharmacist," she says. "I love interacting with patients, and I am proud to be part of the most accessible health care profession."
Joyner, who began her college career in a nursing program, transferred to UofSC when she determined she would prefer to be involved in working with patients and their medications. She spent a summer working with COP alumnus Jamie Mathis ('04) at Brunson's Pharmacy in Manning, S.C.
"Community and population health has always been important to me," Joyner notes. "This is a two-year residency, and I will have the opportunity to grow and improve my clinical skills, talk with patients, and make interventions with their medicines. I will also strengthen my business relationships, entrepreneurship and explore different avenues of pharmacy."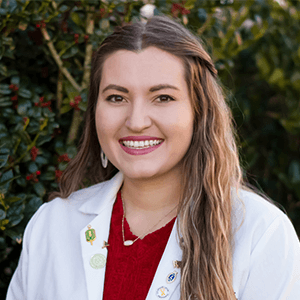 Nelson, who became interested in pharmacy after seeing the change in her dog which had been diagnosed with Type 1 diabetes, will be in a two-year residency in community-based pharmacy administration and leadership. She chose to pursue community pharmacy because of the patient interaction.
"The biggest interactions happen in the community sector, following patients and hoping to prevent inpatient interactions," she says. "I want my patients to know they have a support system and that someone is looking out for them."
Patti Fabel, Pharm.D, executive director for KPIC and director of the college's community-based residency programs, says the structured learning experience provides residents with a diverse set of patient care, leadership, project management, and teaching skills.
"Our residents have the opportunity to invent, implement, conduct and even evaluate patient care services," she says. "Pharmacists are increasingly being asked to justify their position, and through these residency positions, they can create new roles along with developing their business and entrepreneurial skills."
---
Topics: Postgraduate Training, Kennedy Pharmacy Innovation Center