University of South Carolina professor John Monnier will be formally inducted into the National Academy of Engineering (NAE) during the organization's annual meeting in Washington, D.C. on October 8, 2017. Monnier became a member of the prestigious academy earlier this year.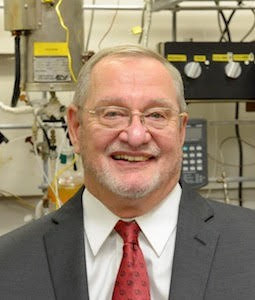 He is one of only 84 researchers nationwide to be admitted membership in the NAE this year, and it is one of the highest career recognitions for engineers. Those who have made incredible contributions to engineering research, practice and education as well as creating new technology will be honored. Monnier was singled out by the NAE for his discovery of 3,4-epoxy-1-butene (EpBTM) and related derivatives.
Monnier joined USC's College of Engineering and Computing in 2004 after spending a career as a research scientist with Eastman Kodak and Eastman Chemical companies.
"When I joined the Carolina community, I didn't know this would be in my future. I chose the department of chemical engineering at the College of Engineering and Computing because of the quality of the faculty and the research programs," Monnier says. "I'm very proud of my career at the college, and I look forward to seeing where my research takes me next."
Monnier's research focuses on catalysis, and he is credited with the discovery of a catalyst and chemical process leading to a new specialty chemical compound. It can be used in literally hundreds of ways ranging from pharmaceuticals to automotive fuel components. He currently holds 31 patents and has participated in approximately 100 peer-reviewed journal articles.
"What John has meant to our research program, particularly the training of graduate students, cannot be overstated," says John Weidner, chair of the college's chemical engineering department. "Not only is he one of the finest scientists in the area of heterogeneous catalysis in the world, he also brings 30-plus years of industrial perspective that no other faculty member in our department could provide."
The NAE's annual meeting will take place over the course of two days and will focus on the theme of "Autonomy on Land and Sea and in the Air and Space" this year. In addition to recognizing Monnier and his peers, the meeting will address ethical concerns and the abundant opportunities available thanks to the use of autonomous technologies.