By Samantha Winn | August 29, 2019
It's Saturday in South Carolina. 80,000 fans are packed into Williams-Brice Stadium on a hot fall afternoon to watch their beloved Gamecocks play. Between touchdowns and tailgates, the Cocky mascot encompasses the gameday feel. And for South Carolina's fans, nothing is more exciting than their beloved mascot appearing magically from a black box to the song "2001: A Space Odyssey" during the pregame.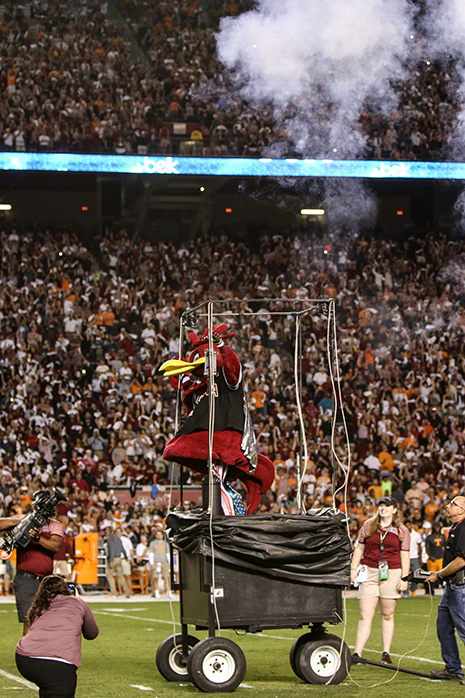 While the tradition of Cocky's magic box stays the same, his cart has received a 21st century update. College of Engineering and Computing graduate student Dillon Lindsay, working with his senior design project team and the UofSC athletic department, helped create a motorized entrance for Cocky.
"To add to the magic effect, we were able to put DC motors on the wheels and more motors on the curtains and we were able to automate all of that from the sideline with a remote control, so people weren't standing right beside the cart," he says.
The idea to update the cart started over a year ago when Lindsay's electrical engineering senior design class helped jumpstart the project. Over the summer and fall semesters, students in the class worked through the engineering process to ensure the cart's safety and performance.
"We spent a lot of time over in the machine shop," Lindsay says. "We would fix a problem and two small ones would pop up. We'd fix those two small ones and another one might come up. Just that kind of prototyping rotation."
The new and improved cart made its official debut at the rescheduled home football game against the University of Akron on Dec. 1, 2018. Lindsey was on the sideline for that game, where he was able to watch his invention work perfectly. For him, helping refine a long-standing tradition for the Gamecock community came with a lot of pressure, but also a lot of opportunity.
"We had been through enough of the engineering process to have a pretty significant confidence in it, but it's always nerve-wracking," Lindsay says. "Those four minutes, everyone is staring at that box and the mascot is going to magically appear. It's cool, but definitely high-stress."