By Samantha Winn | August 22, 2019
A traditional engineering student can be pictured around academics and research. Nicholas Haerens isn't that student. From orientation to study abroad to researching building vibrations as a 2018 Magellan Scholar, he has done it all outside the classroom.
Jumpstarting his quest to make UofSC better than when he arrived, Haerens was approached by his freshman year orientation leader to apply as an orientation leader, and later accepted this job. Orientation provided Haerens a way to explore leadership opportunities within the university early on in his college career.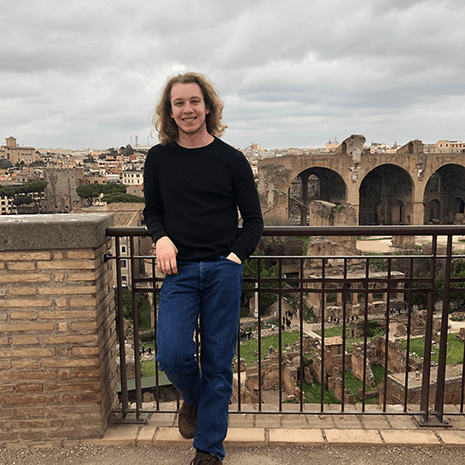 "I think engineering students get painted as one-dimensional students and being able to break out of that with my orientation leader experience – communication, my leadership skills, my people skills, dealing with conflict, those I think help me stand out above other engineering candidates that don't explore opportunities like orientation," he says.
"It's one of those things that I did it and I never looked back."
Another way Haerens was able to get involved outside the classroom during his college career was to dive head-first into the world of research through UofSC's Magellan Scholarship. With the help of faculty sponsor Juan Caicedo in 2018, he was able to use artificial intelligence to study structural vibrations for individuals.
"It's something that I think is important for students to try, because you will never know if research is for you unless you try it. So I wanted to see if the formal research process was for me," Haerens says. "It helped me understand that maybe research isn't entirely for me. I didn't love the process, but I don't regret trying it at all."
Recently, he studied abroad for a semester in Glasgow, Scotland. While there, he took a wide variety of classes – including a class on construction project management. This class focused on contract litigation, something that UofSC engineering students aren't often exposed to. Now, he hopes to become a study abroad peer advisor so that he can share his experiences in Scotland with future students and encourage them to give study abroad a try.
"I couldn't recommend study abroad enough," Haerens says. "I hope I get that position so I can share what I did with other people that are interested and let people know that they are making the right decision. It's the greatest thing I think you can try and do during your four years."
For incoming students, Haerens encourages everyone to take advantage of every opportunity UofSC has to offer, no matter what students choose to study.
"I think UofSC is a really great place for you to find out more about yourself," Haerens says. "Apply yourself outside the classroom. The most important thing you can do is get involved on campus, because UofSC has a ridiculous number of ways to do it that are all so fantastic."