Parents Gateway
sc.edu/parents
---
Academics
Academic Advising
Academic Bulletins
Academic Support
Exams and Commencement
Grades and Transcripts

Talk to your student for grades
Payment and Finances
Pay Bills
Financial Resources
Living Here
Campus Involvement
Care Packages
Dining
Health and Wellness
Housing
Parking and Transportation
---
Mark your calendars for Parents Weekend 2017, to be held Oct. 6-8.
If you joined us for Parents Weekend 2016, be sure to check out our Facebook album of photos from the weekend's events. Have photos to share on social media? Be sure to use #UofSCPW.
The mission of the Career Center is to "educate and empower students in their development of lifelong career management skills." Career Center staff members are dedicated to teaching students how to use the tools and resources available so that they can more easily navigate big career decisions.
Rhodes Scholarship winner Jory Fleming says he is probably best known on Carolina's campus as the student with Daisy. Since he first set foot on campus, Fleming has been accompanied by the yellow lab, who helps him with social challenges associated with autism.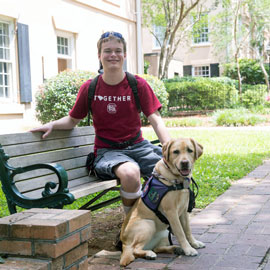 South Carolina's most recent Rhodes Scholarship winner credits his mother and his UofSC experiences with helping him be successful.
Nan Easterlin and Barry Storey were "raised Gamecocks." So when the two Georgia grads wanted to do something to honor their father, a 1951 engineering graduate of the University of South Carolina, they stuck to what they knew.
View More Stories