By Bryan Gentry, brgentry@sc.edu | November 5, 2020
Every person counts
To David Olds, every person counts.
He spent the past 15 months sharing that idea with people in South Carolina's capital city and make sure as many of them as possible would be counted in the U.S. Census, the once-a-decade tally of the nation's population.
Olds, a geography and political science double major at the University of South Carolina, was the volunteer coordinator for Columbia's Complete Count Committee, which encouraged residents to respond to the U.S. Census. He mobilized student-athletes and other volunteers to encourage people to complete the Census survey so the data about Columbia's population would be complete.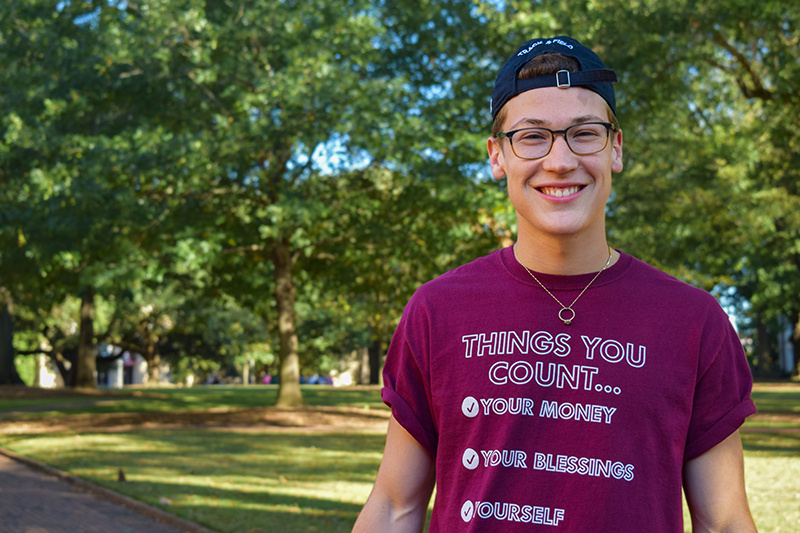 Olds says the Census does a lot more than indicate how many people live in which neighborhoods.
"The Census is not the most glamorous thing to talk about, and it is occasionally overshadowed by voter registration, or it might be hard to comprehend the scope of its impact," Olds says. "This is chance to help level a playing field and bring much needed dollars to our communities, businesses, hospitals and schools."
Getting involved
Olds, a junior originally from High Point, North Carolina, got involved with the city's Census promotion in the summer of 2019. He was a Mayor's Fellow, part of a program that gets college students involved with civic initiatives in Columbia. In one meeting with Mayor's Fellows, he overheard Chynna Phillips, chair of the Complete Count Committee, give a presentation about the work she was doing. Phillips is a passionate advocate for the Census.
"The information we get from the Census is used in so many different decisions," Phillips says, pointing out that Census numbers help determine Congressional representation and political district boundaries, allot federal aid dollars and identify places where road construction and other public projects might be needed.
"Census data is used in so many different things around us," Phillips says. "That's why the Census is important. For individuals like David, there are people who may not always understand how important the Census is, but they understand the importance of civil engagement."
The grassroots work that our committee made happen together, especially during a global pandemic, was incredibly challenging but absolutely worth it.

— David Olds, geography major, Census volunteer
When Olds heard Phillips talk about the Census, he knew he wanted to help.
"I am always looking for ways to engage with my identity as a resident of Columbia, outside of my identity as a student or an athlete," says Olds, who runs track for the Gamecocks. "I immediately wanted to get involved."
Counting on leadership
In July 2019, Olds joined the Complete Count Committee as the only student.
"Since then, I have been very lucky to have Chynna in my corner constantly putting me in positions of leadership and responsibilities," Olds says. He attended Census-related training meetings. He called more than 400 businesses and individuals to promote the Census, and delivered information about the Census to businesses and community centers. This summer, he supervised eight Mayor's Fellows in community outreach efforts. They held a "Census Joy Tour," he says, with events that included food trucks, music and games to support Census completion in communities that are often undercounted and underserved.
In addition encouraging people to complete the Census, these events promoted voter registration. Olds also used the events to give out hand sanitizer and face coverings to help people with fighting the COVID-19 pandemic.
Phillips says Olds stands out for his passion to give back to the Columbia community, his ability to learn quickly and teach others, and his creative approach to solving problems. She admires how he got his peers to volunteer for events, too.
"A good leader understands that they don't know everything, the fact that they can't do it alone," she says. "That's something that shined with David."
Olds says the rest of the committee supported him and inspired him to stay involved.
"I am so thankful to a number of people for even allowing me that opportunity to serve my community," he says. "The grassroots work that our committee made happen together, especially during a global pandemic, was incredibly challenging but absolutely worth it."