By Bryan Gentry, brgentry@sc.edu | October 30, 2020
Today, Matt McMillan focuses on the future of cancer-fighting science.
He conducts research in radiation oncology, using radiation and medications to help the body's immune system attack cancerous tumors.
His research requires persistent effort in intense studies that don't always yield promising results. Sometimes experiments deliver setbacks rather than progress. When that happens, the University of South Carolina graduate looks back and thinks about the scientists who overcame obstacles in the past.
After all, McMillan was a history major, and it was a history class that set him on the road to medical school.
"If you're a student of history, you can learn from other people's mistakes or lessons," McMillan says. "That's very beneficial for success in science. … Many of the greatest figures in science history experienced all sorts of obstacles and finally broke through."
"Having that in the back of my mind, it's encouraging. When you do encounter obstacles, it can help you look past that and stay optimistic."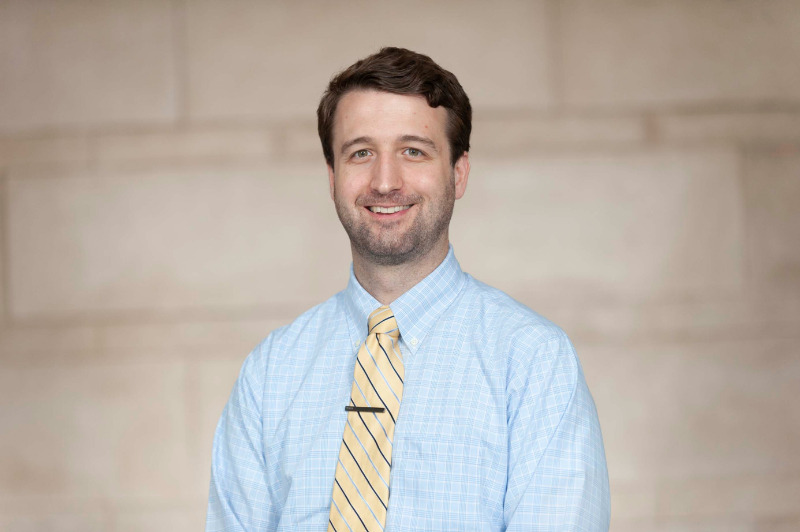 The course of history
Originally from Charlotte, North Carolina, McMillan says his grandfather encouraged an interest in history. "He really got me interested in history from a really young age," he says. "At South Carolina, I got to explore all parts of history."
One of McMillan's favorite UofSC courses was a class about the history of life sciences and medicine. The professor, Joseph November, was one of his mentors. The class made McMillan interested in science, and he started reading about Charles Darwin and evolutionary biology.
"It definitely planted a seed of interest," he says.
McMillan worked as a student assistant at the Secret Service field office in Columbia, and he even applied for a state intelligence job. But a brief hiring freeze left him looking for something else to do. McMillan ended up shadowing a surgeon in Charlotte, and his interest in science expanded to include medicine, he says.
"I really saw the intersection between excellent clinical care and cutting-edge research."
As a student of history, you really learn the art of writing, which is incredibly valuable in medical research.

— Matt McMillan
After completing his history degree (with a second major in German) in 2011, McMillan entered a pre-med program at the University of Pennsylvania, followed by medical school at the University of Michigan. Along the way, his interests gravitated toward pancreatic cancers. Those tumors are difficult to treat because their DNA hasn't mutated enough to stand out as a threat. They are considered "cold" because the body's immune system doesn't attack them.
McMillan's research focuses on ways to expose those kinds of tumors to the immune system. It starts with radiation, which can mutate the cancerous DNA until it attracts attention from the immune system.
But then, he says, the tumor repairs its DNA to preserve its "invisibility." In that case, medication can prevent the DNA repair.
"We can cause unrepaired cancer cell DNA to spill into an inappropriate compartment of the cell, where it is mistaken for viral DNA," McMillan says, complete with a detailed explanation of the science behind the process. "This initiates a robust immune response that helps the immune system identify and attack the cancer cell."
Humanities an asset
McMillan recently completed medical school and began his oncology residency at Memorial Sloan Kettering Hospital in New York City. He has published more than 50 scientific papers, including 25 as first author, and giving dozens of presentations in the past several years.
McMillan says that his background in history has helped him to become a prolific scientist and proficient clinician.
"I became much better as a writer at South Carolina," McMillan says. "As a student of history, you really learn the art of writing, which is incredibly valuable in medical research. … It's imperative for effective dissemination of your scientific work."
McMillan has put his communication skills to work as a scientist. He has published more than 50 papers since 2013, including about 25 as first-author, as well as a few book chapters and dozens of presentations.
Also, history required him to think critically, sometimes looking at historical perspectives from different vantage points. Science benefits from that habit, too.
"You would think that everything would be clear cut, but [science] is always changing and evolving," McMillan says. "There's a level of critical thinking and tolerance of ambiguity, in order to be able to effectively approach a problem."
McMillan is quick to point out that a person doesn't have to major in history to gain his perspective, but he is glad that he got his start in the humanities.
"I really did get to draw upon a lot of opportunities and enhance a skillset that I think set me up for success in science down the road. "If I had not had my exposure to the humanities, I don't think I would have been as productive as I've been in biomedical research."