Graduate puts his degree to work for the State Department
Published on May 28, 2020
You might expect Geoff Palcher '08 to have a degree in information technology.
He has helped the U.S. State Department evolve its mobile technology to more modern systems, and he's shown foreign service officers how to use technology to conduct diplomacy more effectively. When unrest in northern Africa forced the United States to evacuate two embassies (Egypt in 2013, Libya in 2014), Palcher was the tech guru who kept the displaced diplomats connected.
"When there were real lives involved, and there was a physical threat on the ground, it made it that much more critical to work with people and make sure they had the technology they needed," he says.
A degree is vital to opening doors to future opportunities, but it doesn't necessarily sandbox you into one certain role.

― Geoff Palcher '08, International Studies graduate
But Palcher didn't study IT in college. Instead, he majored in international studies. His mother worked in the State Department at the time, and he was intrigued by opportunities there. "I knew I wanted to work in the international policy realm. I knew that would be a really exciting career path," he says. "The classes were really interesting to me, and they grasped my attention. It was fascinating to get an internal look on another country's government."
Graduating in the early days of a recession, Palcher took a job in a real estate firm that needed technology support, capitalizing on an old hobby of building computers. Within a couple of years, he combined his technology skills and international relations education to get a contract job with the State Department.
He has worked on a variety of projects during that time. Most recently, he has been an IT specialist for the Bureau of Democracy, Human Rights and Labor, where he develops systems to support staff members who work on human rights issues worldwide.
Palcher says that studying international relations instead of information technology has never impeded his IT job. Instead, it's allowed him to work more effectively. Rather than do the minimum necessary to set up a system, he has the big picture in mind.
"You can be so focused on the technical aspect, but having this insight of what diplomacy is, and what the greater mission is, is so vital in making decisions that help people," Palcher says. "Understanding relationships with other countries helps me make IT decisions that have more benefit to the foreign service officer or the office mission."
He says a college major provides a foundation, but not a limitation, for a student's future. "As students, when we're picking out our major, we're very inexperienced in life and it's hard to predict where your life is going to take you," Palcher says. "A degree is vital to opening doors to future opportunities, but it doesn't necessarily sandbox you into one certain role."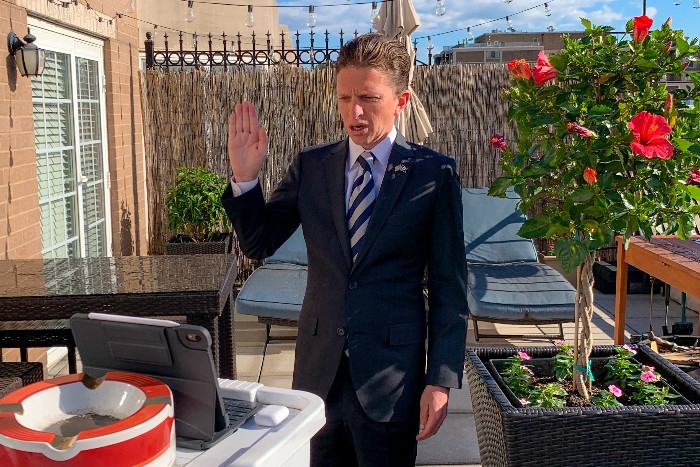 Technology has become vital in work during recent months when a global pandemic has forced thousands of people to telecommute. During that time, Palcher took an important step. After a decade as a contractor, he became an official State Department employee. On May 11, he set up his laptop for a video call and was sworn in, remotely, as a civil servant.
His day-to-day work will stay the same as when he was a contractor, but he hopes his new employment status will lead to some overseas assignments, allowing him to use his international relations background even more. "Being hired as a government employee just kicks off the next stage of my career," Palcher says. "I see myself continuing to work for the State Department for quite some time."