Two University of South Carolina undergraduate students spent their winter break diving deep into their dream career. Spending two weeks aboard the Research Vessel Sally Ride, they discovered they have the skills and the passion it takes to be an oceanographer.
Junior Margaret Gaspar and senior Darcy Perin, both majoring in marine science, were on the research cruise thanks to Annie Bourbonnais, an assistant professor at the School of the Earth, Ocean & Environment. Normally, only graduate students join research cruises like this, but when no graduate students were available, Bourbonnais knew she could count on Gaspar and Perin to excel at sea.
A research cruise is not necessarily a luxury ― it involves rigorous, around-the-clock sampling and testing. "It's a completely different world than in a lab," Bourbonnais says, and sometimes students require a bit of convincing to undertake it. But not Gaspar and Perin. "They were really excited about being on that ship. They wanted to go."
Perin, who has worked in Bourbonnais' lab for two years, says she felt prepared when the time came for the cruise.
"I feel confident that I did my best with all the preparation I was given through the 'rehearsals' of my incubations in Annie's laboratory," says Perin, referring to tests run on water samples.
The researchers departed for the two-week cruise on December 14, 2020. They collected water samples in oxygen-depleted zones off the Pacific Coast of Mexico. Their work will help scientists who are studying why some parts of the ocean have oxygen levels so low that they cannot support life, something that affects food chains around the world. Gaspar and Perin put their skills to the test and collected 500 samples from more than 11 sampling stations. Perin says she stayed up for 36 hours working on experiments. "I've never felt more exhausted, but at the same time strangely invigorated."
It was hard for me to comprehend already embarking on my dream career.
― Margaret Gaspar
For Gaspar, a junior from Virginia, the cruise was an unbelievable opportunity to get real-world experience and explore her career aspirations.
"It was hard for me to comprehend already embarking on my dream career," says Gaspar. "Annie truly sees the full potential in her motivated students and opens the door for them to reach great success."
From working in the lab to taking her skills to the next level, Gaspar was in charge of a series of experiments where she injected "samples with different nitrogen tracers then 'kill' them with a concentrated chemical solution at specific time intervals after the initial injection."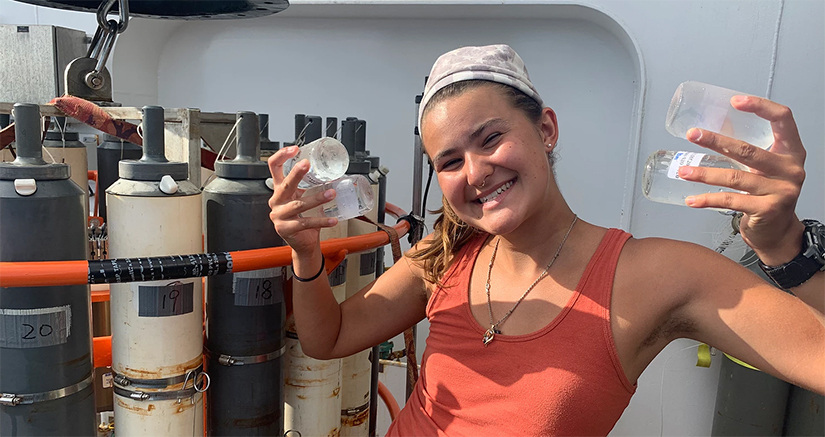 She spent time practicing gas sampling techniques and deploying the CTD, an instrument named for the properties it measures: conductivity, temperature and depth.
"My days are defined by a nearly 24-hour continuum of preparing the CTD rosette for a cast, sampling the cast, then injecting and incubating the sample," Gaspar wrote on a blog during the cruise. "Therefore, the CTD is constantly being deployed and hauled back on deck for several scientists to drain its contents to analyze every particle, chemical, microbial organism, etc. at all hours."
The hands-on experience of the cruise made her feel more confident in her mastery of research equipment.
"After working in Annie's lab, I fell in love with the technology and would jump at any opportunity to assist her in assembling, calibrating, and learning how to work all the scientific instruments in her lab," says Gaspar. "This cruise further reiterated that my passion for marine science does not lie in the research itself but rather in the equipment that is used to expand upon said research."
Perin also said that the research cruise helped confirm that she is on the right path for a career.
"I was told before we departed that this trip will determine whether or not I will want to continue pursuing and conducting oceanographic research, and I have never been more sure that this is what I want to do for the rest of my life," says Perin.
Other scientists on the cruise agree. Bourbonnais says she heard from several collaborators about how Gaspar and Perin mastered their work well. "They even took on extra work because they were interested in learning," Bourbonnais says.
In between lab experiments, Gaspar took time to enjoy the sound of ocean waves and the crunchy bits of salt in her eyebrows and eyelashes that lingered there for the rest of the day.
On New Year's Day, Perin says, "we had a huge pod of dolphins swimming in front of the ship. The dolphins have to be my favorite charismatic megafauna sighting of the whole trip!"
After college, Perin hopes to continue her travels and study marine and Antarctic studies in Australia.