Lauren Young never thought her journey with statistics would lead her to the front of a lecture hall full of students.
A pre-law student majoring in political science, she added statistics as a dual degree to make good use of some extra credits and avoid graduating early.
"My senior year in high school, I took AP statistics. Math had always been challenging for me, but statistics interested me, so I was able to do well at it," Young says. "I wanted to keep the ball rolling and see what I could do with it."
Young says she used to think she wouldn't need math or stats as a future lawyer. Now it's become an indispensable part of her skillset.
"Statistics ties in with law in a lot of ways. It requires a lot of creative problem solving and analytical skills, which are directly transferrable to being a lawyer," she says.
But when she first started working on her dual degree, statistics didn't come easily to her.
"I struggled a lot at first. I was getting As, but I had to study and memorize everything. I didn't really understand what was going on, and it was very stressful," Young says. "And then finally, things started to click, and I started to understand things."
After struggling through the first few years of her statistics major, Young approached a professor, her advisor David Hitchcock, with the idea for a supplemental instruction course to serve the statistics department.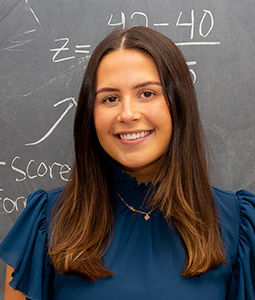 "I wanted to help other students who maybe felt the way I did, because a lot of students, especially those taking the introductory courses, may not feel as math-minded," she says.
"As a pre-law student, I thought I could have a different perspective to offer."
Hitchcock served as her liaison to the Student Success Center, which had to first approve then put together the course, including a budget, and subsequently hire and train Young to teach.
The process took just short of a year to come together. Around the time Young found out the course was a go, she had also signed on for a high-profile internship at the Statehouse.
Balancing both her goal of becoming a lawyer and her desire to give back to her classmates, Young decided to do both, along with her full slate of classes.
For the Fall 2022 semester, Young offered class sessions three times a week for students to attend for extra help with the material of STAT 206: Elementary Statistics for Business.
Young attended lectures along with the class, prepared three lesson plans each week for small groups and held open exam review sessions that drew as many as one hundred students, many who weren't even officially enrolled in the Supplemental Instruction course.
The new course worked. Students in the section she supported scored higher grades compared to the professor's records for the prior semester. The overall average for the section Young supported rose from 89 to 92.
Of the students who took the supplemental instruction course from this section, more than 80 percent got As.
"That is the most rewarding experience," says Young. "When students come in, and you help them and explain something a different way, and they say 'Wait, that make so much sense!' Then after the test, they come up to you and say, 'I got a 100!'"
The STAT 206 Supplemental Instruction course will continue being offered, but with new student teachers. Young is preparing to start law school, having been accepted to the University of Pennsylvania Carey Law School for Fall 2023.
"I'm interested in pursuing intellectual property law, patent law, and technology law, which you actually need a background in STEM to be able to practice," Young says.
"So, I'm focusing on finishing up my B.A. in Political Science along with my B.S. in Statistics. It's remarkable how my interests have combined, and now statistics will probably be a part of my path with law."