By Abe Danaher and Bryan Gentry | June 15, 2020
This fall, 12 new South Carolina students will start a new trail to a doctoral degree.
They are the first cohort of the University of South Carolina's Bridge to Doctorate Program, which provides funding, mentorship and community support to help minorities complete doctoral educations. Funded by the National Science Foundation, the program aims to increase the diversity of scientists and engineers with STEM doctoral degrees.
"We are so pleased to launch this program with these twelve dynamic candidates," says UofSC President Bob Caslen. "Not only are they outstanding students, but each one is also dedicated to improving the quality of life in their communities through their research and work." 
The 12 candidates starting the program this fall are studying within five different departments in the College of Arts and Sciences and the College of Engineering and Computing. Together, they have a diverse set of experiences, but they each have a common goal to master their fields and be role models for others in the community.
Mixing passion and purpose in chemistry
Jasmine Bohannon took interest in chemistry partly because of hair. "My hair is where I got started experimenting," she says.
She paid attention to chemicals listed on hair care product labels, and she started studying chemistry with the idea that she could make something better. "I wanted to use a scientific approach to develop products specialized for black women," she says.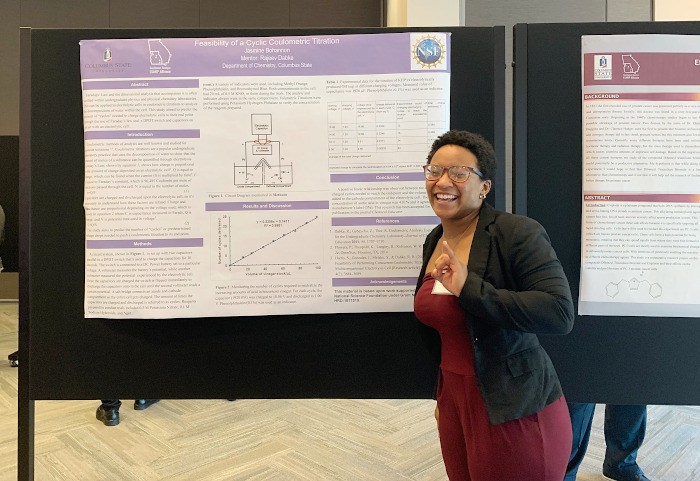 But her undergraduate studies at Columbia State University opened her eyes to more possibilities with chemistry. "I saw how the subject was greater than just mixing substances in a flask," Bohannon says. She gravitated toward analytical chemistry because of its versatile applications in different industries. As she approached graduation, she started applying to master's degree programs, but a friend asked her why she was shooting for a master's instead of a doctorate.
Bohannon had never considered the idea. She didn't know any black women with doctorates in chemistry.
I could tell they work together well, and collaboration is important to me.

― Jasmine Bohannon, doctoral candidate
Her friend's question made her realize that she could change that.
"She opened my eyes without even trying," Bohannon says. "I don't know anyone personally who has done what I want to do. I think that's why I felt most comfortable trying this out."
After discovering the Bridge to Doctorate program at South Carolina, Bohannon visited campus. That sealed the deal, she says. In addition to being nice, everyone she met was enthusiastic.
"You could hear how passionate they were in the research they were doing," Bohannon says. "I enjoyed that. I was like, 'Wow, these people care about what they're studying.' Also, I could tell they work together well, and collaboration is important to me."
Making dreams a reality in biomedical engineering
There was never a doubt in Nicholas Colonna's mind about his future.
"Pretty much ever since middle school, I knew I wanted to go into not only engineering, but biomedical engineering," he says. "I was pretty heart-set on that."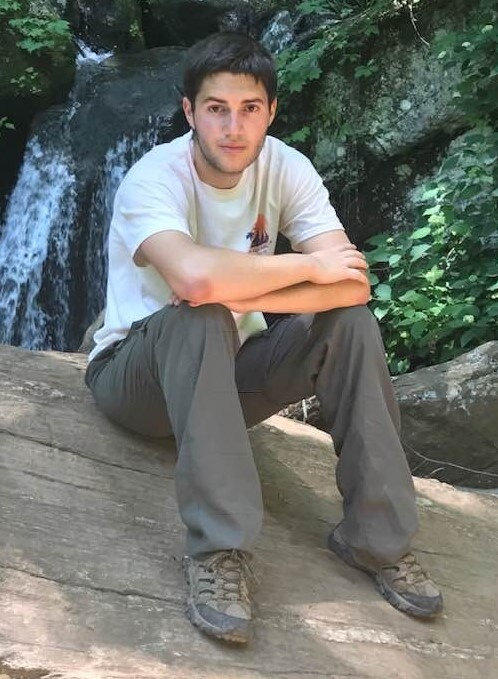 By the seventh grade, he toured the nationally renowned Shepherd Center with his First Lego League robotics team. The tools and technology used in the recovery center, known for spinal cord and brain injury treatment, caught his eye.
"Being able to provide those types of technologies, the things doctors and patients can use to improve their own lives and to help people — I think that's what really drew me," he says. "It was that opportunity to really help people through these medical problems in an engineering fashion."
By his sophomore year at the Georgia Institute of Technology, Colonna's interest in biomedical engineering had not wavered. He was a top student in their BME program and was conducting research in chemical engineering labs at Emory University. The lab work led him to make his already life-long dream a little longer by pursuing a doctoral degree.
Colonna applied to doctoral programs across the country, but was drawn to South Carolina's because of the mentorship support offered to Bridge to Doctorate students. And while his journey is not complete, his childhood dream is being realized. Just five years from now, he could be at the Shephard Center, saving lives as the next wave of First Lego League students tour the facility.
"This is incredible," he says. "It really is a dream come true."
More than a doctorate
The diversity of the program's 2020 cohort stretches far beyond the demographic make-up of the 12 candidates.
The group has been involved in different kinds of research as well as community outreach in their fields, says Claudia Benitez-Nelson, the associate dean for instruction, community engagement, and research in the College of Arts and Sciences and co-director of the Bridge to Doctorate."They are phenomenal group of students who are doing exciting and wonderful work," she says.
It allows people to go back into their communities and lift. Role models are incredibly important.

― Claudia Benitez-Nelson, College of Arts and Sciences
Diversity in the sciences will allow for faster innovation, Benitez-Nelson adds. "When everybody is trained in the same way, and if we all come from the same set of circumstances, we tend to approach problems all in the same manner," she says. "We now know that if you want to push the frontiers of your field, if you really want to transform your research, sometimes you need to have a very different perspective of the problem that you're pursuing."
But too often, students from underrepresented backgrounds don't pursue the sciences because they don't have role models in the field and don't get as much exposure to science and research. "We're missing a talent pool," Benitez-Nelson says. "We cannot afford to miss the talent and creativity that is out there. We need to make sure that we allow all individuals to reach their full potential."
It takes other things all fitting together, such as mentoring and support structures, and that's the idea of the bridge.

― Michael Matthews, College of Engineering
The Bridge to Doctorate program will help by increasing diversity in the ranks of college faculty and industry scientists. That, in turn, could increase the likelihood that diverse individuals would pursue science.
"It allows people to go back into their communities and lift," Benitez-Nelson says. "Role models are incredibly important. At the end of the day, these Ph.D. scientists are able to go back into their communities and bring the wisdom they have learned and their experiences."
The program will provide the 12 accepted students more than just an education – offering extensive professional development opportunities, social and academic communities, and a structured mentorship program built to support the students through their five years at the university.
"What we want to demonstrate here at South Carolina is that we can actually build this bridge and help students get across it," says Michael Matthews, the senior associate dean for research and graduate programs in the College of Engineering and Computing and co-director of the program. "When students enter a doctoral program, they have good grades and research experience. But to successfully complete a graduate degree, it takes other things all fitting together, such as mentoring and support structures, and that's the idea of the bridge."
The Bridge to Doctorate program builds upon the South Carolina Alliance for Minority Participation, an undergraduate alliance among higher education providers in the state that has promoted minority education in South Carolina for the last 30 years. The continued success of this led the National Science Foundation to choose South Carolina for the Bridge program and has leaders in the state believing that the two-year program will continue for the foreseeable future.
"The university takes seriously our responsibility to improve minority representation in higher education," says Caslen. "The Bridge to Doctorate program is an example of our commitment to increasing diversity in the sciences not only at our university, but also across our state and nation."