Within hours of taking the oath of office, U.S. President Joe Biden signed an executive order directing the entire federal government to think differently.
"Our Nation deserves an ambitious whole-of-government equity agenda," the order stated.
In the U.S. Department of Veteran Affairs, fulfilling that vision is the job of James Anderson — University of South Carolina political science graduate, Air Force veteran and Fulbright Scholar.
In February, Anderson became the special assistant to the U.S. Secretary for Veteran Affairs, which means he is assigned to advance the secretary's policy priorities in the Department of Veteran Affairs. His responsibilities include working on equity initiatives.
"The VA has a long history and a good track record of providing services to Veterans," Anderson says. "We are trying to get our arms around the fact that there are Veterans interacting with services differently across the spectrum of underserved communities.
"We're ensuring that we have equity woven into the fabric of the way we do business at the VA."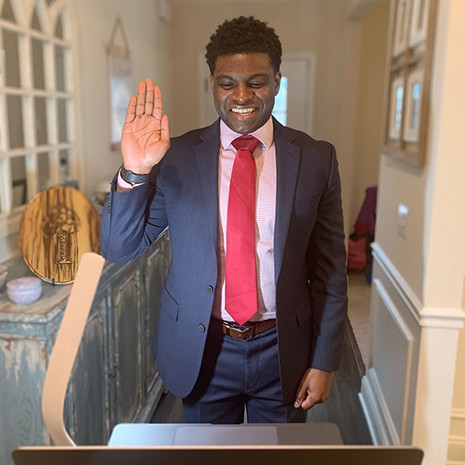 James Anderson took the oath of office as a political appointee
in the Veterans Administration during a virtual ceremony.
Anderson found this opportunity thanks to fortunate timing. While the Biden administration was preparing for the presidential transition in December 2020, Anderson was looking for a job as he finished his latest service commitment on active duty. A friend connected him with the Department of Veteran Affairs for an interview for a different job, but later he was recruited for the special assistant role.
Connecting veterans to services is a passion for Anderson. When he attended UofSC, in between two tours of active duty in the Air Force, he noticed opportunities to improve the way the school interacts with veteran students and alumni. He organized the Veterans Alumni Council and led that organization for a time. Today, as he splits his time between his Columbia home and Washington, D.C., he continues to serve on the Alumni Association Board of Governors.
In his job with the VA, Anderson frequently reflects on lessons from the course Public Policy Process, taught by Neil Woods, that gave him a grounding in how federal agencies form policies and regulations — a process he is now immersed in. Additionally, he recalls countless lessons from Josef Olmert, a UofSC political science instructor who drew upon vast international relations experience.
Then there's the National Fellowships and Scholar Programs office, which helped Anderson receive a Fulbright scholarship to earn his master's degree in Canada. That experience taught "a new way of thinking and a new way of being agile in an uncomfortable space," he says.
And that skill — being agile despite discomfort — comes in handy. At 31, he stands out among political employees.
"I am super young in this kind of space," he says. "Sometimes I'm like a fish out of water. But I have a lot of latitude and a lot of support from our leadership.
"I never thought I would be in this kind of position. I didn't know what a political appointment was a year and a half ago. This is not something that I set out to do. But the stars aligned and opportunities got put in front of me.
"I recognize being young in this space, and being given this much latitude is not something I take lightly."
---
This story was part of the College of Arts and Sciences Fall 2021 alumni magazine. To read more stories from this magazine, visit go.sc.edu/CASMagazine.