Sharon Panelo is okay with uncertainty. As a student majoring in English and minoring in German, she frequently fielded the expected assumption about her future career. But teaching wasn't what she had in mind.
"I had a feeling my job would be something I didn't know yet," says Panelo, '02. "I really wanted to find that intersection of what I'm good at, what the world needs and how I can make a living, of course."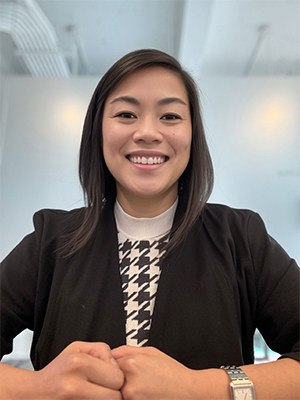 Twenty-one years later, Panelo has achieved those goals. She's brought her love of literature and talent for creative writing to the world of strategic communications. From her home in Brooklyn, New York, and with companies headquartered in Manhattan, she's crafted strategy for many iconic brands, including General Mills, Hanes, L'Oreal, MasterCard, Michael Kors, Prada, Rolex and UPS. Often, those strategies came with an important message.
Remember #LuckyToBe 100percent me? That was Panelo. She was working as a strategy director for McCann Erickson, the international ad agency, which had the General Mills cereal account. When General Mills introduced two new rainbow marshmallow pieces to its Lucky Charms cereal, Panelo connected it to LGBTQ+ Pride Month in 2013, the same summer the Supreme Court made the landmark decision to strike down the Defense of Marriage Act as unconstitutional. The resulting social media campaign sprang from her ideas, and the inclusive message attracted new cereal fans and garnered multicultural ad awards.
Panelo was also behind the #MillionHoodies campaign for Trayvon Martin after the 17-year-old was killed in Florida in 2012 in a tragic case of racial profiling.
"As strategists we have to find the insight or tension of what's happening in culture and connect it to a human truth and create a provocation that demands a response," she said. "Trayvon was wearing a hoodie when he was fatally shot. Everyone in the world owns a hoodie, so we created a simple action — post a photo in your hoodie, hashtag it #MillionHoodies and get 1 milion people to sign a petition for justice. We created a website that night, got a street artist to do a Shepard Fairey-esque poster and organized a peaceful rally in Union Square the next day. Trayvon's parents flew in from Florida. Media swarmed. Our signs — our purpose, our call to action — were on the front page of The New York Times the next day."
The #MillionHoodies campaign collected several awards, including a silver Clio, an Art Directors Club Award for interactive work, a Gold ANDY Award for Public Service and Best in Show of the SoMe (Social Media) Awards. It also earned a Cannes Lions award from the Cannes International Festival of Creativity, considered the Oscars of the advertising world. Not surprisingly, Panelo made TopRank Marketing's "25 Women Who Rock Social Media" list that year. Creating purpose-driven campaigns is how she found her niche, she says.
"Profit alone doesn't motivate me, but as someone who works with some of the world's biggest brands, I can take my seat at the table and raise my voice around inclusion," she says. "I can ask, 'How is this commercial cast? Is it reflecting how the world is? Are we greenwashing? Rainbow washing?' It's so empowering to have a seat at the table of decisions that influence masses, whether it's a Super Bowl ad or a social post. My goal in this industry is to influence brands to do better and reinvent what success looks like for people and the planet, not just profitability."
Panelo defines herself in a variety of ways. "Digital nomad" describes her ability to work from anywhere as long as the internet is available and her rescue chiweenie Kia can come along. "Radical optimist" refers to her belief that embracing hope and moments of joy in the bleakest of times is a radical act. "Queer Filipina" is her nod to being unapologetically herself, quickly dispelling stereotyping of being Asian-American and a woman: quiet, meek, reserved, passive.
"My energy is intense," she says. "I get deeply passionate about things. I want to have a connection; I want to get to know you very quickly."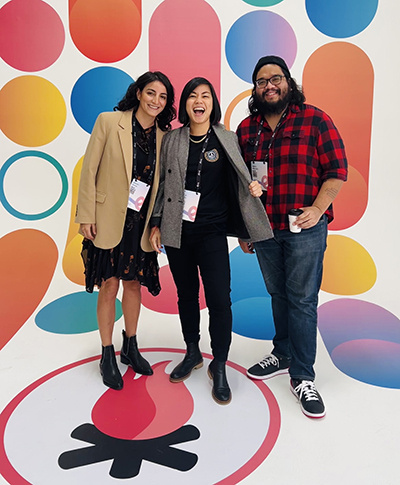 The daughter of immigrants from the Philippines, Panelo was born at Fort Riley near Junction City, Kansas, and attended U.S. Department of Defense schools in Friedberg, Germany, the same base where Elvis was stationed, and where he met Priscilla. After serving in the Gulf War, her father, an Army Drill Staff Sergeant, was sent to Fort Jackson in Columbia in 1995. She attended Spring Valley High School, where she was a captain in speech and debate, becoming a state champion. Panelo fell in love with literature when her mom, a psychiatric nurse, brought home dog-eared paperback classics from the hospital's free library. Panelo devoured Jane Austen's novels and Emily Brontë's Wuthering Heights. Forbidden from movies and TV — her mother's religion wouldn't allow it — she became obsessed with learning more. She spent hours in the public library stacks.
Receiving the Carolina Scholars and Palmetto Fellows scholarships to the South Carolina Honors College was good news in many ways: Panelo's parents hadn't known to start a college fund for her, even if there had been enough income for the high cost of private tuition.
"It was impossibly out of reach for our family," she said. "The American higher education system wasn't familiar to them, but the American dream was — study hard, work hard, and you'll find a way to pursue happiness."
Putting aside her Ivy League dreams, Panelo found plenty of intellectual challenge at the SCHC. With her SCHC roommate, Sarah Hammond '02, fellow English major and poet and playwright, they kept a lively literary salon/Broadway theatre vibe in their corner dorm room at Preston College with the flowering magnolia outside the window. English professors Carolyn Matalene and Thomas Jackson Rice kept classes interesting — Matalene with her stacks of high-brow magazines she demystified and insisted her students could write for, Rice with his teaching of postmodern lit that became lifelong obsessions: DeLillo's Underworld, Pynchon's Crying of Lot 49, any magical story from Jorge Luis Borges.
During an exchange year at the University of Massachusetts at Amherst, Smith College and Mount Holyoke, Panelo realized the education she was getting in Columbia was on par with what she was getting in New England.
"It was humbling and enlightening," she says. "You think things are so much better somewhere else, but I came to find out that I had the most amazing professors. They had that mindset that we could do anything."
Panelo spent five years at McCann, soaking up the storied Madison Avenue agency of the Mad Men era and working her way up from associate strategist to vp planning director. She led a team of social impact engineers as vp group planning director at The Martin Agency based in Richmond, Virginia. "They're responsible for every funny GEICO ad you've ever seen, and yes, invented that gecko!" Panelo says.
Between agency roles, Panelo opened her own consultancy, Stories & Strategy, LLC. Being her own boss for eight years honed her entrepreneurial bent and pushed her into the world of remote and hybrid work well before the pandemic. Then, in August 2022, she made what she calls "the biggest pivot of my life." She left the brand ad agency world for tech. Her employer is Braze, Inc., a recently IPO'd software company of 1,600 employees that connects consumers and companies. Panelo is its senior director of strategic consulting for the North America region, leading teams in New York, San Francisco, San Diego and Austin, Texas.
"I'm still doing what I love — brand creativity in service of human truths — but now I'm doing it with new superpowers — technology, data, numbers," she said. "I feel like I'm forging the future of brand marketing here: fusing the emotional power of brands with their value and utility to people's lives."
Ever the English major — and writing a graphic novel memoir in her off-time — Panelo says she's in "a new chapter."
"Working in tech has been an eye-opener," she says. "I'm already seeing the next chapter after this. The next amazing jobs have not been invented yet."
And, despite her disinclination to teach, she's doing just that — through mentoring. She recalls a cold rainy night years ago in her Brooklyn apartment. She'd earned a master's in strategic communications from Columbia University, put together a great resume, gotten hooked on Mad Men, but couldn't latch on to an ad agency.
"Do I really want to go to another networking event?" she asked herself, struggling to leave her warm couch and walk out into the dark, wet, unknown night. "Then I thought, 'If you stay at home, there's a 100 percent chance you won't meet anyone. If you go, it's 50 percent.'"
She got off the couch and went — and met her future boss at McCann.
It's a story she repeats often. "It's all about the side door, the back door," she says. "The older I get, the more I apply that to my life. Stop competing with everyone else knocking on the front door. Find your own unique way in. Create your own portal that only you can step through. Those are the best opportunities. That's what I try to share."