Having lived in Amsterdam, Brazil, Paris and Washington, D.C., Coy Gibson is happy to be in his home state of South Carolina. And with good reason: His position as director of finance and operations of the Anne Frank Center at the University of South Carolina allows him to boost the Palmetto State's reputation as a forward-moving place to live.
"Anyone who visits the state is surprised in a good way," says Gibson, '14 political science. "I think South Carolina is different than it was 60 years ago and 150 years ago. Is it a perfect state? Of course not, and there's more work to do. But there's an excitement, a momentum you can feel that South Carolina can play an important role in the world."
At the Anne Frank Center, anyone 12 and older can get a sense of how eight Jewish people lived in hiding in Nazi-occupied Amsterdam. In her world-famous diary, Anne Frank documented their lives — the fear, the boredom, the petty squabbles, how excruciatingly quiet they had to be so they wouldn't be heard. She also expressed her beliefs that all people deserve equal rights, regardless of race, religion and gender. Those beliefs are important to USC as well, as the official North American partner of the Anne Frank House in Amsterdam — joining Germany's Anne Frank Zentrum in Berlin and Argentina's Centro Ana Frank in Buenos Aires.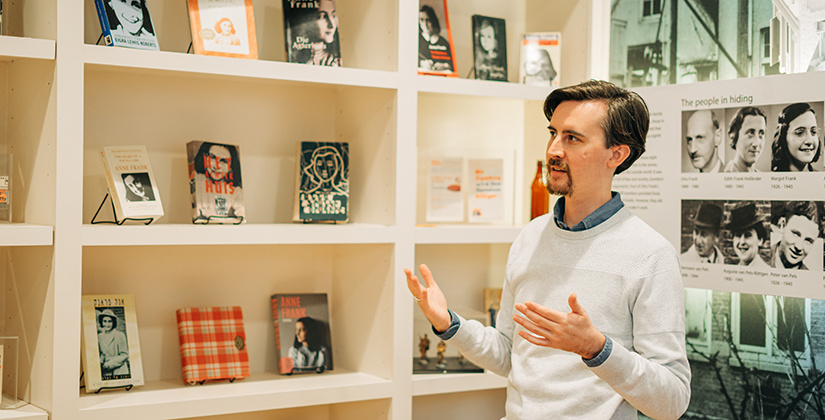 "Their selection of us as an institutional partner speaks volumes for the university as well as the university's commitment to support our shared values: the promotion of democracy, respect for all people and education of the past to do better informing the future," Gibson says. "Many people wonder, 'Why an Anne Frank Center in South Carolina?' I reply there couldn't be a better place for it! Over three hundred years ago, one of South Carolina's colonial charters specifically stated that Jewish people would be welcome here, which was unheard of at the time. Also, South Carolina makes a perfect place because it knows intimately what can go wrong with discrimination and racism in the past and, unfortunately, in the recent present with the Charleston church shooting at Mother Emanuel in 2015."
Furthermore, Gibson adds, South Carolina's motto, "While I breathe, I hope," connects with one of Anne's famous writings: "Where there's hope, there's life. It fills us with fresh courage and makes us strong again."
One of the center's main programs is U101 tours. Gibson, a Lugoff, South Carolina, native who spent two summers in Amsterdam as an intern at the Anne Frank House, provides tours, along with four staff members and eight volunteer guides. Since the center opened in September 2021, nearly 9,400 U101 students have received an hour of education about Nazi Germany and how it affected not only the Frank family and those who hid with them in the Secret Annex, but Jews across Europe.
"The Holocaust and Nazi periods are some of the most extreme examples of identity-based violence," Gibson says. "To avoid that in the future, we must remember it and ask ourselves, 'How does this relate to today?' We are helping first-year students be sensitized to discrimination, antisemitism and racism in the past, as well as the present."
Significantly, the museum exhibit is titled "Anne Frank: A History for Today." Because little research exists on the impact of teaching the Holocaust, the center plans to study how U101 tours impact USC students and others. "We are a top-tier research university. It's a great opportunity to bring that academic advantage to bear on this topic."
Gibson was in eighth grade when he read The Diary of a Young Girl and a college junior when he went to Amsterdam to work at the Anne Frank House — partially funded by the SCHC. He is one of thousands of young people trained as a peer guide to educate people about Anne Frank and her ideals and to bring exhibits elsewhere. He brought the exhibit to his own high school and participated in the 2014 Anne Frank International Youth Conference, a program Anne Frank's father, Otto Frank, envisioned would bring young people together to learn from each other. The goal was to promote peace, mutual understanding and democracy.
At the Anne Frank House in Amsterdam, Gibson found an environment he wanted to re-create.
"The culture, the working environment, was so welcoming," Gibson says. "Everyone enjoyed the work and believed it was important. I didn't know businesses or workplaces could foster that."
Back in Columbia, he earned his master's in international business at USC. He wanted to learn how to "operate and sustain" a nonprofit. Thanks to a series of events triggered by USC education professor Doyle Stevick's research at the Anne Frank House in Amsterdam, he eventually landed at the new Anne Frank Center on campus.
Gibson brings with him important lessons from former SCHC associate dean Jim Stiver. His American Curmudgeons course taught him to keep an open mind and question authority.
"An important part of Nazi Germany and the Holocaust is the totalitarianism that led to the deaths of many millions of people," he says. "His class helped me rigorously question broadly held assumptions and consider multiple viewpoints from a perspective of wit, humor and humility. A lot of the curmudgeons knew how much they didn't know and were critical of people who thought they knew too much. That's as old as Socrates. That's the core of it. Whether questioning authority figures in your company, classroom or government office, it's important to question but also confirm validity and, if true, to agree."
The Anne Frank Center, through its tours, theater productions, podcast and peer guide training, aims to be a place for just such discourse to occur. From 2021 to 2022, more than 10,000 people toured the center — including guests from as far away as France and India — and more than 40,000 people viewed its 15 traveling exhibits, theater and virtual programs. Nineteen peer guides from across the country came to Columbia in 2023 for the center's first Anne Frank Youth Conference. Gibson says the center is particularly focused on bringing students from Title 1 schools, who probably haven't visited a college campus, to USC for programs at the center.
For Gibson, years of learning about Anne Frank and the Holocaust have culminated in one enduring belief: People have choices.
"What Anne and Otto and millions of others confronted will be with us and could occur again as long as individuals stand by and do nothing," he says. "History has shown that many people, through intimidation and for other reasons, will sit on the sideline and be bystanders. But they don't have to be. People have choices to help other people, but such choices are difficult. It is easy to condemn the past — that's not what I try to do. If I were faced with such circumstances today, I hope I wouldn't be a bystander."
One of his goals, Gibson says, is creating a work culture that supports the staff and volunteers. He knows they all need time to process their work and to enjoy themselves. Road trips across the country are one way he lightens his spirit.
"The Holocaust is such a heavy topic, and what it's allowed me to do is appreciate everything else in life," he says. "When we confront the Holocaust, we stare into the abyss — the worst of humanity. But, when you look away, everything else is so much brighter."
To visit the Anne Frank Center on USC's campus for a guided tour, please register in advance at sc.edu/annefrankcenter or email afc@sc.edu with questions.