Nursing
Our nursing graduates have helped improve the accessibility and quality of health care throughout South Carolina, the U.S. and the world.
What to Expect
The curriculum for the bachelor's degree in nursing has two levels: lower division and upper division. A prescribed number of pre-nursing lower division courses must be completed before you can apply to the upper division.
You will develop cognitive and critical-thinking skills and be provided a well-rounded education that can afford you opportunities not only in health care but in life. You will learn in a variety of settings, from the traditional classroom setting to high-fidelity teaching and learning mannequins in the state-of-the-art clinical simulation laboratory.
Lectures may take place via two-way distant learning, Adobe Breeze presentations, complimentary videos and supplemental teaching and learning tools within the classroom. Nursing majors can also get hands-on experience through local hospitals offering summer internship programs.
Undergraduate Degree
B

Bachelor of Science in Nursing (B.S.N.)

The College of Nursing aims to develop competent, caring nurse leaders to advance the profession of nursing through the integration of teaching, research and service to improve client health and well-being outcomes. The College of Nursing takes great pride in its core values: leadership, professionalism, respect, integrity, excellence, innovation and caring.

The following courses fulfill some of the lower division requirements for a Bachelor of Science in Nursing:
Fundamental Chemistry II
Human Anatomy and Physiology I and II (and Labs)
Microbiology (and Lab)
Facilitative Communication
Evolution of Nursing Science
Biophysical Pathology
Clinical Nutrition
Foundations of Community Health Nursing
Socio-Cultural Variations in Health and Illness
Some additional unique and interesting courses offered by the major include:
Healthcare Ethics
Emergency Preparedness
Genetics and Genomics


B
RN to BSN – Online
The university offers an innovative RN to BSN online degree program for registered nurses seeking to advance professionally. The program provides a comprehensive, interdisciplinary foundation for graduate study in nursing and is designed to be completed in as few as 12 months.


Our Office of Undergraduate Admissions provides the most current information on the application process so you can check the requirements based on your current status and find university scholarships.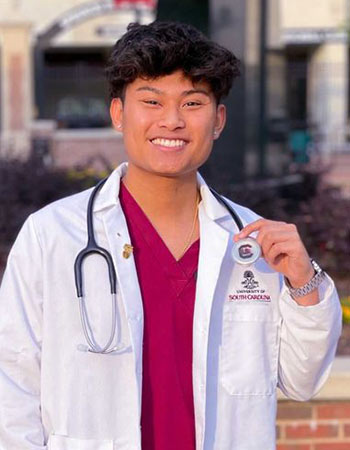 Graduate Degrees
The College of Nursing offers Master of Science in Nursing degrees in six areas: adult gerontology acute care nurse practitioner, psychiatric mental health nurse practitioner, nursing administration, nursing education, nursing informatics and family nurse practitioner.
Two doctoral programs are offered, including a Ph.D. in Nursing Science and the School of Medicine Columbia's Doctor of Nurse Anesthesia Practice degree program.
Two post-master's certificates are available as well, including the certificate in advanced practice nursing and the nursing administration certificate.
Learn more about The Graduate School, degree options and how to apply for admission to doctoral, master's, certificate and combination degree programs at South Carolina.