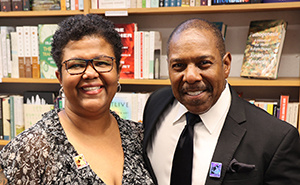 After a successful run of online community programming over the past two years, Augusta Baker Endowed Chair Nicole Cooke decided to begin adding in-person community conversations into the series for 2023-2024.
These conversations will address issues of importance to communities in Columbia and throughout the state of South Carolina.
The first of these in-person community conversations was with long-time media personality Curtis Wilson. Wilson holds three jobs at once: he's a radio DJ for the The Big DM 101, a regular contributor to the A&E Network's top-rated show LivePD, and a captain with the Richland County Sheriff's Department.
Cooke explained why she chose to start the series with Wilson saying, "This is the beginning of my fifth year in Columbia, I moved from New Jersey for the Augusta Baker Endowed Chair position, and one of the first voices I heard was Curtis Wilson. And so, when you talk about trusted voices in the community, I am certain Curtis is one of those trusted messengers."
Wilson decided to add law enforcement to his career path because of the number of Black children he saw in news stories about crime. He reached out to the Richland County Sheriff's Department and asked if he could work with them.
"I had to go to the academy, and that was tough because I had to stop doing TV for like 13 weeks. But they were okay with it, and so was I," says Wilson.
Wilson grew up in the Bronx in a community where educational opportunities were scarce, and many young people had confrontations with law enforcement. He wants to help young people in similar circumstances find their way to success.
"Now, I work in youth services, and this is where I can really talk to all these young men, and young ladies, who are dealing with issues," says Wilson.
He works with the children and parents to assess issues, and to show the children alternative possibilities for their future if they change their behavior. One of his favorite ways to do this is by introducing young people to professionals who are active in the community.
Wilson's Tips for Strengthening Community:
Get to know the sheriff assigned to your community.
Request safety training from the sheriff's department.
Introduce young people to community members who have a career that interests them.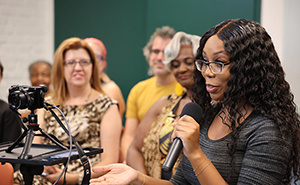 Doctoral student and Augusta Baker Scholar Cearra Harris is the coordinator for the series. This discussion was held at All Good Books, a local bookstore that also serves as a community hub. Additional conversations are currently being scheduled.
Augusta Braxton Baker was a renowned children's librarian and storyteller who served as USC's storyteller-in-residence from 1980 to 1994. The first African American Director of Children's Services in the New York Public Library system, Baker was instrumental in diversifying and modifying children's literature to better serve its readers.