Top photo: TV personality Bill Dance at the ICAST Show in Orlando with John Byrne.
USC alumnus John Byrne, president of Columbia-based Byrne Media, makes donations to the J-school to specifically fund its media sales course — JOUR 499, Media Selling and Technology. Fall 2023 is his third year as a course benefactor.
"Sales is the key factor in a media company's success," Byrne said while explaining why he supports the school's media sales course. "And sales is the best way to earn money in a media career."
Byrne Media started in 2006 and now has 12 media properties. In South Carolina, the company operates a television station in Hilton Head and radio stations in Greenville/Spartanburg, Myrtle Beach and Hilton Head. The company also owns television and radio stations in Madison, Wisconsin, and a radio station in Roanoke Rapids, North Carolina.
"If you are not running a local media company hyper-locally, then you're in big trouble in sales," Byrne said. "Today, if you work at a news station, you are selling media for the local news, sports, websites and social media assets — all sponsorable platforms that can generate more revenue for your client."
If you can afford to give back to the institution that helped you get to where you are today, you should.

--John Byrne
Byrne Media has struggled when hiring new college graduates as sales representatives for its media companies. Byrne said, "We don't have time to train them for six months without them producing revenue. They need to be productive quickly." That's why Byrne supports media sales training as a J-school college-level class using donations from his family foundation, he said.
"Students must understand that they cannot go out into the world today and make $30,000 and survive," Byrne said. "They must be money motivated. The more they sell, the more they make. The world of media sales is great business."
"I had the opportunity to speak to Dean Reichert at a university baseball game," Byrne said. "We discussed the importance of knowing how to sell media. Today, with social media exploding and all the areas media touches, you have never had such a great opportunity to sell media."
"Many of our industry partners are looking for talent in media sales," CIC Dean Tom Reichert said. "And we're excited to work with John to raise awareness among students about these opportunities. His financial support helped us get our efforts off the ground."
"If you can afford to give back to the institution that helped you get to where you are today, you should," Byrne said about his decision to donate to the J-school. "The university has a tremendous amount of momentum and I want to be part of that."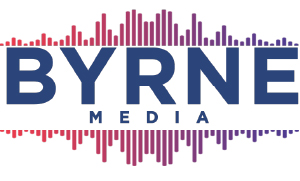 The J-school's Media Sales and Technology course taught 31 students in the Spring 2023 semester, with a similar number enrolled for the upcoming fall class. Students learn the benefits for advertisers delivered by each type of media, the capabilities of customer relations management software, and the nine steps of effective selling — from prospecting to closing and servicing the clients. Students read advertiser case studies, write sales proposals, and role-play sales presentations.
The class receives visits by local media and ad agency executives explaining what they look for in effective media sales representatives. In the spring semester, at least four of the students were hired in media sales before the semester ended.
"We aim to introduce students to what real selling is all about," Byrne said. "That means face-to-face, old-school selling. Not emails. Not text. Reach out to prospects on the phone. Set up a face-to-face meeting and provide client-needs analysis. Let the client talk, and by the end of the meeting, there is an avenue to say we'll come back in four days with a plan to grow your business."
Byrnes lives in Charlotte with his family and loves USC baseball, he said.