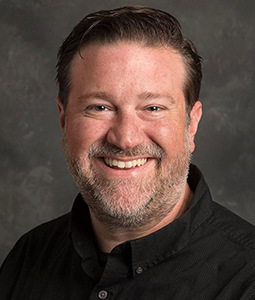 Bob Wertz - Outstanding Master's Student Award
Dr. Holly Overton presented Bob Wertz with the Outstanding Master's Student Award. Wertz, who works full-time at the university as associate director of visual branding, is working on his Master of Arts degree. He has taught classes in the School of Journalism and Mass Communications and in the School of Visual Arts and Design. Wertz has presented research at AEJMC in Toronto and at the AEJMC Southeast Colloquium.
Bob's application stood out to the award committee. Everyone was thoroughly impressed with the quality of his research and his impressive and extensive portfolio. Bob's positive attitude is contagious, and his achievements both in and out of the classroom are remarkable. I am elated that we are able to recognize Bob's exceptional work with this award.