Top photo: Xavier Martin introduces himself as he takes pictures at the 2023 Carolina Cup.
Senior Xavier Martin, a visual communications major with a concentration in sports media, was selected to participate in the prestigious Eddie Addams Workshop. Martin secured a place in this highly selective photography workshop on his first attempt, based solely on his portfolio submission.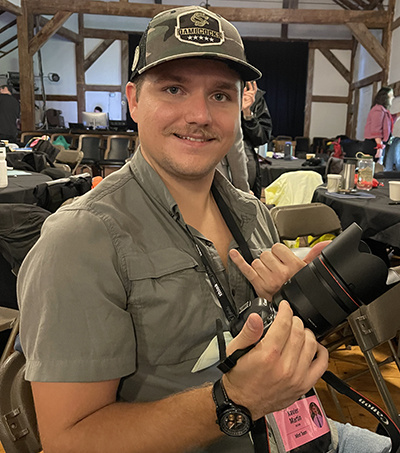 Martin's acceptance to the Eddie Adams Workshop is remarkable, considering the high standards and competitiveness of the selection process. One hundred burgeoning photographers are chosen from a large pool of applicants to participate in the four-day workshop in upstate New York.
The Eddie Adams Workshop presents a coveted opportunity for emerging photojournalists to refine their skills under the guidance of seasoned professionals. The 100 participants are placed in groups of ten, with a professional coach. Mary Calvert, winner of the World Press Photo Contest and the Cliff Edom New America Award, was the coach for Martin's team.
"My technical skills are good, because of what I learned here at USC. What the workshop gave me was an opportunity to rethink how I tell a complete story through my photography," says Martin. "Mary encouraged me to take more 'scene setter' shots that give context to the detail shots I tend to focus on."
Before college, Martin served in the U.S. Coast Guard in Charleston, South Carolina, where his passion for photography took root. He volunteered to cover military events across the Lowcountry and the Carolinas.
Martin transferred to USC in January 2020. During his time at the university, he actively engaged with The Daily Gamecock's photo section, where he held roles as a senior photographer, photography section editor. He also served as the visual communications director for the Student Veterans Association.
Beyond his campus commitments, Martin has covered local and national musical events for different publications. His ambition is to become a professional photojournalist after graduation, and he actively seeks opportunities to enhance his portfolio.
"The Eddie Adams Workshop gave me the opportunity to network with dozens of photographers from around the world. I learned about how to format a portfolio differently depending on the organization. National Geographic and The New York Times aren't necessarily looking for the same things," Martin says.