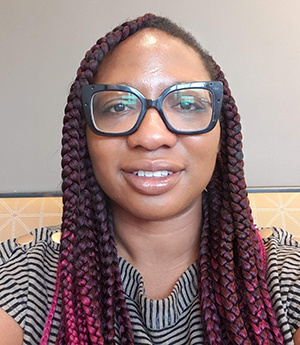 Adele Chase, a promising MLIS candidate, has been selected as an Association of Research Libraries Kaleidoscope Program Scholar. This prestigious recognition underscores Chase's exceptional dedication to the field of library and information science, and her commitment to promoting diversity, equity, and inclusion within the profession.
"It is an in-depth look at academic libraries and academic librarianship. I took academic libraries with Dr. Kawooya last spring, and it solidified my interest," says Chase.
"Taking that class gave me exposure to the rigor of working at an academic library and possibly becoming faculty at a university, going through the tenure process, getting to do research. I'm really looking forward to all of that."
The ARL Kaleidoscope Program is a highly competitive initiative aimed at advancing the representation of historically underrepresented racial and ethnic groups in the field of librarianship. Chase's selection as an ARL Kaleidoscope Program Scholar highlights her outstanding leadership potential and her vision for creating more inclusive and equitable library environments.
"They're preparing us for leadership roles, and that is something that is a little bit new to me, thinking of myself in a leadership role. But I'm taking on a leadership role at Richland Library now, and I'm looking forward to continuing that in the rest of my career," says Chase.
As an ARL Kaleidoscope Program Scholar, Adele will have the opportunity to engage in innovative research, collaborate with leaders in the field, and contribute to initiatives that advance diversity and inclusion within academic and research libraries. This recognition not only benefits Adele personally but also enriches the broader academic and professional community.
In January, Chase will meet her cohort in person for the first time during a library site visit at the University of Michigan. "We've only met virtually so far. From the little bit of networking we've done, I can tell they are an accomplished bunch, and I am just really honored to be part of the program," she says.
Chase will apply what she is learning in the ARL Kaleidoscope Program in a new position she recently accepted as a research and readers advisory specialist, Sr., at Richland Library Main.