Doctoral student Cearra Harris hopes that in her career she can help librarians be better equipped to deal with the day-to-day issues that they are confronted with in their communities.
"I think any good public librarian understands that the people who need public library services the most are not coming to your location. You have to go meet them where they're at, and that requires a lot of you," says Harris.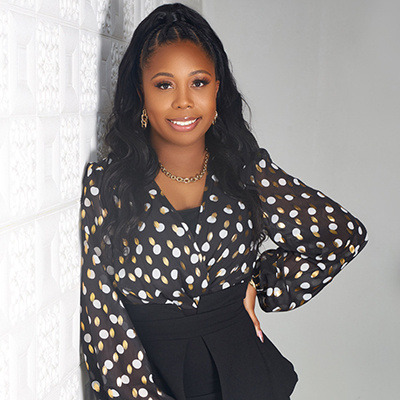 Harris was selected by the American Library Association as a recipient of the Spectrum Doctoral Fellowships — Catalysts for Change initiative in 2022.
ALA, in partnership with the USC School of Information Science, has developed this cohort of racially and ethnically diverse doctoral students focused on advancing racial equity and social justice in library and information science curricula.
In addition to being a Spectrum Fellow, Harris is a proud USC Presidential Fellow, which has aided in her development as a leader.
Harris was an ideal fit for these programs because she came in with 12 years of experience as a public librarian working with underserved populations.
"I started my career at 18 at Richland Library Southeast, the area I'm from. That's where I fell in love with library programming. I started as a shelver, then I moved into youth programming," Harris says.
While working at the library Harris saw inequities in how teens were treated, and she decided to work with other staff members to make policy changes.
"We noticed that the majority of our bans and our infractions were primarily being enforced on young Black men" says Harris. "Your immediate thought shouldn't be to call the police on a young Black person in the library. So, we developed an entirely new policy."
Preparing library administrators to establish more equitable policies is one of the primary goals of the Spectrum Doctoral Fellowships program.
The program also seeks to provide support through the full process of completing a Ph.D. and establishing a career, preparing for qualifying exams, planning a dissertation and exploring post doc opportunities.
The Spectrum Doctoral Fellows cohort includes LIS doctoral students and advisors from Emporia State University, Syracuse University, the University of Maryland, the University of South Carolina and the University of Washington.
Harris says "It's rare that you get to work with a set of advisors from different institutions over the course of four years."
Augusta Baker Endowed Chair Nicole Cooke is Harris's primary advisor at USC. This has permitted Harris to work closely with several significant programming efforts including:
The "Let's Talk Race" discussion series in conjunction with Richland Library.
The weekly virtual Augusta Baker Diversity Lecture Series, which had nearly 2000 attendees.
The Augusta Baker Lecture, featuring New York Times best-selling author Renée Watson.
Richland Library's Oral History Project, including interviews with General Charles Bolden, Moses Felder, Darion McCloud, Nancy Tolson (USC Assistant Director of African American Studies), and Eboni Ramm
Planning of a grant-funded, in-person DEI conference in partnership with Richland Library.