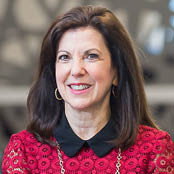 The Moore School's Center for Executive Succession has hired recently retired Trane Technologies executive vice president and chief human resources, marketing, and communications officer Marcia Avedon as its new executive director beginning in June.
Avedon brings more than 35 years of global experience leading Fortune 500 companies' human resources practices in diverse sectors that include industrial, health care and consumer products. She served as the executive vice president and chief human resources, communications, and corporate affairs officer at Ingersoll Rand, which separated from Trane in 2020, for more than 13 years and previously was the chief human resources officer at Merck science and technology company. She also serves as an independent board director at Generac Power Systems and previously was a corporate director on the boards of Lincoln Financial and GCP Applied Technologies.
Avedon has long been connected to the Moore School. She is one of the founding members of the Center for Executive Succession, which was founded in 2013. She has served on the center's Board of Advisors since its inception and was the first chair of that board. She previously served on the Moore School's Riegel & Emory Human Resources Research Center Advisory Board from 1998-2002; she has also participated in many guest lectures, hired interns and graduates of the Master of Human Resources program and mentored students.
"Marcia is a perfect match for what CES needs in an executive director. She brings both breadth and depth of knowledge in all aspects of CES's mission," said Patrick Wright, CES faculty director. "She has been part of a number of CEO and C-suite successions, both as a chief human resources officer and as a board member, so she understands the dynamics of the process from multiple vantage points. Her Ph.D. gives her both an appreciation for and understanding of how research can help organizations make better decisions. Her distinguished career and current role as a board member at Generac adds significant credibility to CES."
Avedon has a long list of accomplishments, including impacting a host of large global companies' human resources practices, which has enhanced the work lives of tens of thousands of their employees. Her accomplishments include:
Providing expertise, thought leadership and contributions in the following domains:

Strategic, integrated talent management
Leadership, leadership development and succession planning
Diversity, equity and inclusion strategies, including women in leadership
Compensation and rewards, including executive compensation and pay equity
Large-scale organization change and effectiveness, including employee engagement and human resource management during mergers, acquisitions and divestitures.

Partnering with university professors, consultants and other colleagues to bridge the scientist-practitioner communities through active participation and leadership in consortiums, advisory boards, teaching, speaking at conferences and research collaboration.
Facilitating strategic leadership, mentoring, development and coaching to hundreds of human resources professionals, leaders and students.
Serving as a community leader and volunteer furthering the mission, impact and effectiveness of nonprofit organizations.
Contributing to knowledge in the field of human resources as an author of:

Seven book chapters
15 articles and technical reports
Numerous speaking engagements and presentations at conferences, including invited keynote addresses and multiple guest lectures.

Elected a Fellow of the National Academy of Human Resources and the Society of Industrial and Organizational Psychology.
Avedon earned her bachelor's degree in psychology from the University of North Carolina at Wilmington. She completed a master's and Ph.D. in Industrial-Organizational Psychology from George Washington University.
Avedon has also served as an active board member for a wide variety of national professional, civic, cultural and philanthropic organizations.