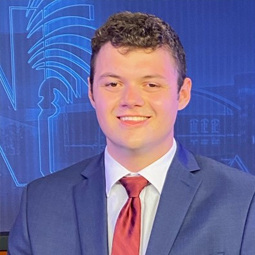 Region 3 Awards
Senior Will Volk racked up multiple awards from the Society of Professional Journalists for work he produced in the capstone senior semester Carolina News & Reporting class.
Volk, a broadcast journalism major, won first place in the TV Breaking News Reporting category for Election Day Turnout. This story will compete at the national level with the other regional winners. He was a finalist in several other categories:
In addition to Volk's award, the Spring Class of 2020 was named a finalist in the Best All-Around TV Newscast category for its Feb. 24 newscast.
"This was a very talented class," says senior instructor Rick Peterson. "That daily show on Feb. 24 happened not long before spring break when the pandemic shut down our normal operations."