May 2019
Congratulations to our spring 2019 Moore School graduates! In celebration of graduation, here's a look at what a few of our newest Moore School alumni enjoyed about their time here, their advice for current students and where they're headed next.
Undergraduate Students
Graduate Students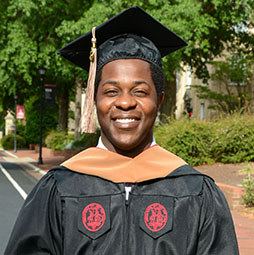 Moore School Master of Accountancy graduate learns importance of data analytics, hopes to give back to his home country
Master of Accountancy graduate Kudakwashe Chinyama began his pursuit of becoming an auditor in high school in Harare, Zimbabwe.
After completing his undergraduate degree at Furman University in Greenville, South Carolina, Chinyama chose the Moore School's MACC program because of its small class sizes, low faculty-student ratio, flexibility and the faculty's enthusiasm.
"The experience has been amazing," said Chinyama, who is on the accountancy business measurement and assurance track. "The program's focus on engaged learning facilitates discussions which contribute a lot to the learning experience. The availability of a graduate lounge where most of the graduate students at the Moore School hang out has made it very easy to connect with fellow MACC students and other graduate students from different programs of the business school."
Chinyama knew to be a certified public accountant and auditor, he'd need 150 credit hours toward the CPA licensure requirement. While working to complete the 150 hours at the Moore School, he spent a great deal of time learning data analytics, which is a concept the Moore School is emphasizing for every student.
"I have learned a lot about data analytics, especially how to use historical data to identify trends, determine why certain events happened, predict future performance and prescribe a course of action," Chinyama said. "I have also learned a lot about how to optimize limited resources and how to visualize and manage data in general."
In conjunction with his master's, Chinyama completed his Business Analytics Certificate.
"In this era of big data, it has become paramount for an auditor to be able to analyze large quantities of data and draw meaningful conclusions," he said. "Given the increased computing power and availability of many data analysis software to auditors, more assurance is now expected from auditors than ever before."
Chinyama will begin his auditing career with Elliott Davis in Greenville after graduation. He interned with the company his junior year of undergraduate, and they offered him a full-time job to begin once he finished his master's.
While Chinyama does not plan to return to Zimbabwe immediately after graduation, he hopes to one day help improve access to micro-finance for small-scale entrepreneurs at the bottom of the economic pyramid there.
"Zimbabwe currently has a relatively high unemployment rate as compared to other countries of the world," Chinyama said. "Nevertheless, there are a lot of people in Zimbabwe who are very entrepreneurial but fail to reach their full potential due to lack of access to capital. Access to micro-finance, coupled with improved ease of doing business, will most likely help reduce unemployment while empowering people to explore their entrepreneurial talents and skills."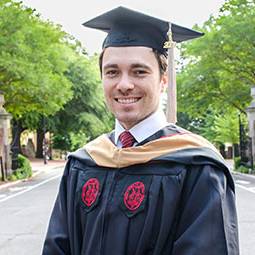 International MBA graduate balances Moore School course load, trip abroad with being first-time dad
International MBA graduate Mihai Scrobotovici managed a rigorous Darla Moore School of Business course load and time abroad while being a father to a newborn son.
Originally from Iași, Romania, Scrobotovici and his wife, Elizabeth, had their son, Michael, a month before he began the IMBA program.
He said while his wife has been the stay-at-home parent while he's been in school, "it still takes a village" to raise a child.
"Being in school has been a blessing in disguise because it has afforded me the schedule flexibility to spend a lot of time with him," Scrobotovici said.
Before coming to the Moore School, Scrobotovici completed his undergraduate degree at Brigham Young University in Provo, Utah.
He specialized in finance and the German track in the IMBA program and earned a Business Analytics Certificate. Scrobotovici spent part of the spring 2019 semester studying in Germany as part of the program.
"I wanted to get an internationally focused MBA and wanted to learn a new language, particularly German, which had been on my list for some years," Scrobotovici said. "My favorite activity was the opportunity to learn German in Germany, by far. I wanted to fully immerse abroad to better learn the language and the culture. I wish the immersion had lasted longer."
Scrobotovici's wife and son traveled with him to Germany, and he said while it wasn't easy, it was rewarding.
"When we went to Germany, we did it with the question in mind, 'Would we like living there?'" Scrobotovici said. "Because we had planned to move to Europe someday. We felt like being on HGTV's House Hunters International. Being there helped us better understand where in Europe we would and where we would not like to live."
Scrobotovici discovered a new passion beyond German while in the program.
After an internship with Nissan in Franklin, Tennessee, last summer, Scrobotovici discovered he would like to work in the automotive industry in the future.
"Car companies are trying to redefine themselves as tech companies, which presents great entry opportunities for tech enthusiasts like me," he said.
Scrobotovici's next endeavor is attending the rotational leadership development program at Henkel in Rocky Hill, Connecticut.
He hopes to someday work in a customer experience department or as a quality control manager.
"I care about customers' experiences, and I believe companies should prioritize high quality over cost savings," Scrobotovici said.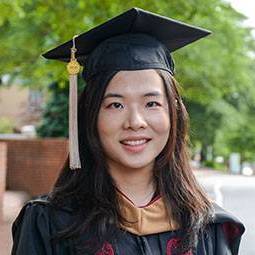 Moore School IMBA graduate extends time abroad, gains valuable networking experience
Anzhi Yu made the most of her experience in the Darla Moore School of Business' International MBA program.
Yu — originally from Guangdong, China, and who has a bachelor's in Portuguese studies from Macau, China — prolonged her IMBA program to three years so she could spend an entire year in Tokyo, Japan.
"The experience in Japan was worth it," said Yu, who chose the operations and supply chain track and obtained the Business Analytics Certificate. "The one year spent in Japan was not that hectic, but it gave me more flexibility to do what I wanted."
During her time abroad, Yu also got to network with a variety of Moore School alumni.
"The experience in Japan also provided me opportunities to meet Moore School alumni who are excelling themselves in different industries internationally," she said. "I was so glad to see folks who graduated from the Moore School 10 to 30 years ago who are still in touch with each other and with the school."
In the U.S. and at the Moore School, Yu found even more connections to enrich her understanding of American business culture.
Yu interned with UPS Supply Chain Solutions summer 2018 in Alpharetta, Georgia.
"My experience in UPS Supply Chain Solutions was great and provided me good stories to share during my full-time job interviews," she said. "Interning is also a great opportunity for international students to experience working at an American firm before graduation."
While in the IMBA program, she said she was given multiple opportunities to network with professionals from a range of industries and to visit larger corporations' regional facilities. She particularly enjoyed visiting the Boeing aerospace assembly and delivery facility in Charleston.
Yu also got hands-on experience with the Continental Tire's project for sea freight process cycle time optimization in fall 2018.
"For that project, I conducted data analysis for the inbound and outbound process and teamed with my classmate to find out possible solutions to reduce accessorial charges for the company," she said.
Yu will join an international company in their Pittsburgh, Pennsylvania, office as a joint venture project manager after graduation.