December 12, 2019
Congratulations to our December 2019 Moore School graduates! In celebration of graduation, here's a look at what a few of our newest Moore School alumni learned during their time here, their advice for current students and what's next.
Graduate Students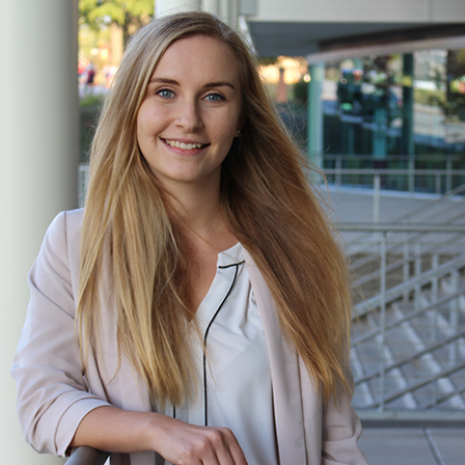 Master of International Business graduate gains global skills with double-degree program
Master of International Business graduate Anna Garant ('19 MIB) has already accepted a job with international shipping conglomerate UPS. Part of the MIB double-degree program, Garant will return to her home country of Finland to finish a Master of Management and International Business in the spring before coming back to the U.S. to begin her career.
A zealous traveler, Garant encourages other Moore School students to get out of their comfort zones by studying overseas. She simultaneously enrolled in the Moore School's MIB program along with the Master of Management and International Business program at Aalto University.
The double-degree program interested Garant because while she grew up in Finland, she said she has always been interested in learning about other countries and cultures. Through her experiences traveling abroad to places like the United States and Hong Kong, she said she has found that understanding cultural differences is critical in today's business environment.
"I think it is very interesting how different economic, social and political systems can impact doing business in different parts of the world," Garant said. "Coming from a small country like Finland, it's amazing to get exposure to how things work elsewhere."
Eager to pursue a career rooted in international business, Garant received her bachelor's degree in business administration from Aalto University. She then applied and was accepted to the same university's Master of Management and International Business program. Wanting to gain more international experience before entering the workforce, Garant said she was intrigued by the Moore School's MIB double-degree program.
The Moore School's MIB program is a one-year interdisciplinary program that helps students develop an understanding of the political, sociocultural and economic institutional settings worldwide.
The MIB double-degree program affords students the opportunity to pursue two master's degrees over the course of two years from two universities in two different countries. Students spend two semesters at the Moore School and two semesters at a partner university. Aalto is one of the Moore School's seven partner universities around the world.
"When I found out about the double-degree opportunity with the Moore School, I was particularly drawn to the courses that were offered here that were quite different from my home university," Garant said. "It seemed like a great opportunity to do something different, gain experience in a new country and get two degrees in two years."
Having gained an array of different perspectives through her time at the Moore School, Garant said she is graduating with a variety of practical and interpersonal skills.
"I think the best takeaway [from my time at the Moore School] has been the experience of working with people from all over the world," Garant added.
Garant added that she has participated in two consulting projects – one creating a market expansion strategy for a sustainability firm and the other designing a new product for a growing market using the design thinking methodology.
"These consulting courses have been my favorites because I've been able to use the theoretical knowledge gained in courses about stakeholder management, strategy and analytics to solve real-life business problems," she said.
Upon graduating with her MIB from the Moore School, Garant will return to Finland to complete her other degree. She anticipates graduating from Aalto University in May 2020. Upon graduation, she will return to the U.S. to work with UPS as a marketing senior analyst in Atlanta, Georgia.
Ultimately, Garant hopes to work as a marketing manager on an international assignment since she hopes to continue to travel as a professional. The next place she hopes to travel, for either business or pleasure, is South America, particularly Machu Pichu.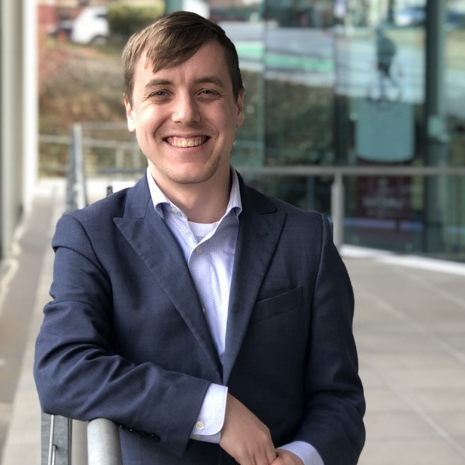 Master of Human Resources graduate hired by multinational company after successful internship, case competitions
Moore School Master of Human Resources December graduate Caleb Kellogg ('17 marketing and management, '19 MHR) is taking experience from a summer internship and winning MHR case competitions to launch a career with PepsiCo in their human resources department.
Kellogg, who said that he hopes to continue developing skills and abilities to become a "people leader" within the company post-graduation, started his career at PepsiCo as a 2019 summer intern. During this internship, he learned from seasoned human resources leaders and helped establish the company's collaborative culture initiative.
Eventually, Kellogg hopes to become a company's chief human resources officer. Kellogg said he plans to obtain this executive level position by constantly pursuing his passion for crafting innovative solutions to practical business problems.
"My hope is that by the time I get to an executive level in my career, I can develop a team that enjoys problem solving in a business context as much as I do," Kellogg said.
Through his time in the Moore School's MHR program, Kellogg said that he has developed critical thinking skills and the ability to interpret complex business problems and speak to a comprehensive business strategy solution.
"The massive toolbox I have obtained both practically and physically [thorough the MHR program has been very interesting]," Kellogg said. "During my education, I have developed compensation philosophies, talent strategies, organizational structures and diversity and recruitment initiatives. But not only have I learned to develop and utilize these tools, I am able to communicate all of these initiatives to the business strategy. That is what makes the MHR program special."
Kellogg said he decided to stay at the Moore School for his master's degree because of its "phenomenal" reputation. Drawn to the nationally ranked competitive MHR program, Kellogg said that all of the program's faculty are highly engaged, respected and focused on making the Moore School's MHR program the "premier program in the world."
Taking advantage of the opportunities provided at the Moore School, Kellogg and a team of his classmates competed in and won the Ohio State MHR Case Competition in February 2019. The team was given 24 hours to respond to a career coaching strategy case using their knowledge from the Moore School.
"The MHR program prepares us so incredibly well to think through practical business problems such as [the one in the case competition]," Kellogg said. "The case competition judges were all high-level HR professionals at Fortune 500 companies, so learning how to communicate a solution to a real-world business problem [is] an experience I can always draw from in the future."
Kellogg and his classmates also won first place in November's Krannert HR Executive Dinner and Case Competition at Purdue University. The team was instructed to find a solution to fix a toxic work culture within a small consulting firm.
"Currently the firm has a massive generational gap between its partners who own the firm and the fresh college graduates who recently joined them," Kellogg said. "Everything in the case pointed toward this being a generational problem, but our team decided to refute this statement and focus on the lack of organizational infrastructure."
With two successful case competitions under his belt involving real-world scenarios, Kellogg feels aptly prepared to begin his career as a human resources representative.
As he prepares to graduate, Kellogg advises future MHR students to: "commit yourself to the program. By taking your classes seriously, engaging in class and seeking extra developmental opportunities, the doors that will open to you are unimaginable."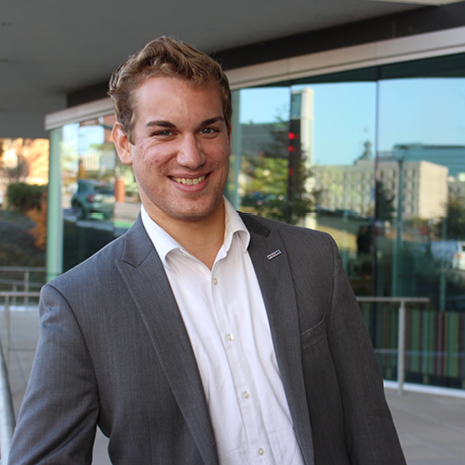 Master of International Business graduate values travel, networking beyond the classroom
Master of International Business December graduate Kendall Krenek ('18 international business, '19 MIB) wants to learn through experiencing the world, not by just sitting in a classroom or office.
In the words of Moore School international business professor Dan Ostergaard, Krenek advises other students to "not to let academics get in the way of your education."
Interested in international business because of the opportunity to meet a wide variety of people while having the freedom to travel often, Krenek said the decision to remain at the Moore School after receiving his undergraduate degree in 2018 was easy. He said that the MIB program was highly ranked and was focused in exactly what he wanted to do for the rest of his life: explore different cultures and their business practices. Krenek is completing the international leadership and strategy track for the program.
"I really enjoy meeting people from different areas and cultures and learning some of the things that make their part of the world unique," Krenek said. "For me international business is a way to bring the world closer together through economic means and find a lot of the similarities of different parts of the world that are often overlooked."
Krenek said the communication skills that he has developed through the MIB program will be extremely helpful as he enters the international workforce. Krenek believes that networking is vital in business and will give him an advantage in the global trade market.
A people- and experience-focused individual and businessman, Krenek said he has enjoyed working with the other students in the MIB program and learning by listening to their individual experiences.
"I think the interpersonal skills I've had to develop are the things that will be most helpful as I progress through my career," Krenek said. "Having the opportunity to work and communicate with people in all stages of their careers has been really helpful in being able to develop personal relationships, which I consider more helpful than anything you can find in a textbook."
Furthermore, he said getting outside of the classroom helped him learn vital business skills.
"I've learned so many things that are incredibly useful in a business sense by getting out and interacting with people that have different experiences than me," Krenek said. "I don't think I would have been able to have these experiences if I was overly concerned with maintaining a perfect GPA— not that my grades ever suffered because of it."
Krenek also traveled to Sweden for a semester when he was an undergraduate Moore School student. His most memorable part of his time abroad was a week he went to Iceland, where he said he loved the nature and "otherworldly" landscapes in the country. Wanting to experience more of the world, Krenek plans to continue traveling after graduation.
Using his experiences to enhance his marketability and education, Krenek is graduating from the Moore School with a job at BAE Systems, a multinational aerospace company, as a part of their finance leadership development program in McLean, Virginia, just outside of Washington. He said his biggest career goal throughout his time in the MIB program was to get hired by a leading aerospace company, so he considers this offer a notable accomplishment.
The finance leadership development program at BAE Systems is a three-year rotational program, and Krenek hopes to take on a leadership or managerial role at the company after he completes it. Ideally, Krenek wants to work as a senior financial analyst, but he is open to adjusting his goals as he becomes integrated in the company.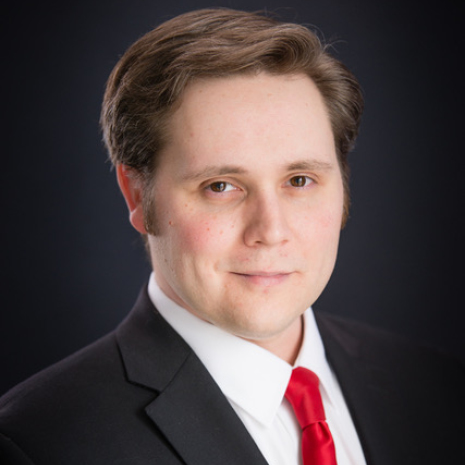 Professional MBA program allows December graduate to earn degree while keeping momentum in banking job
Moore School MBA December graduate Kris Johnson ('05 political science UofSC, '19 PMBA) relied on the flexibility of the Professional MBA program to earn his degree while still focusing on his career. Johnson is a vice president and compliance and operational risk manager with Bank of America in Charlotte, North Carolina.
Johnson said he is a native South Carolinian and has always been a "loyal Gamecock fan," so the decision to apply to the Moore School was easy when he decided to pursue his master's degree.
Johnson's professional career is based in risk management. He said this knowledge provides him with a good foundation to be successful, but he wanted to build on that foundation and develop a "more robust set" of business skills.
"It was clear to me that getting an MBA from the Moore School was the best option to obtain business skills to not only advance in my current role, but also to be more competitive in terms of any future opportunities," Johnson said.
Hoping that the MBA will help him build his career, Johnson plans to continue working at Bank of America. He said he wants to gain more management experience and get involved in crafting risk management strategies.
Additionally, Johnson said he has learned the importance of company culture through the Professional MBA program, so he wants to apply these strategies at Bank of America.
"I want to use what I've learned at the Moore School to build and sustain a strong corporate culture in which our lines of business understand the importance of managing risk to deliver responsible growth and serve our customers, clients and communities," Johnson said.
Working and going to school in two different states has taught Johnson that time management is key as a working professional, he said.
His biggest advice to other Moore School students is: "make a to-do list, allocate time to each item from that list and then schedule those tasks on your calendar."
-Erin Mooney