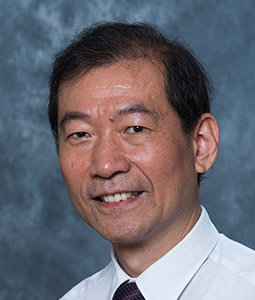 International business professor Chuck C.Y. Kwok has spent close to four decades teaching and researching international finance; he is one of the "pioneers" who has studied how national culture affects financial practices.
Kwok, who majored as an undergraduate in sociology and minored in philosophy, knew he wanted to study an interdisciplinary, holistic view of human behavior. When he joined the faculty in 1984, Kwok appreciated that the Moore School had an independent international business department that encouraged faculty to interact with other functional areas like management, marketing, finance and accounting to create interdisciplinary research.
Over the course of his career, Kwok has published a series of papers on how national culture affects financial practice in the leading journal in the field of international business — the Journal of International Business Studies.
"I believe in the importance of the influence of culture," he said. "Culture is mental programming which shapes business behavior. Now, after quite a few years' efforts, even mainstream economics and finance scholars recognize the importance of culture in their fields."
Once a Moore School Distinguished Business Partnership Foundation Fellow Professor, Kwok retired in 2017 and continued on with the Moore School as an international business research professor. As an instructor, Kwok brings the practice of culture on international finance managers into every lecture he teaches. From undergraduates to International MBA students, Kwok employs the Socratic method of teaching.
"Besides teaching my students content, I train them how to think 'financially' and be sensitive to current events. In the beginning of each class, I spend the first ten minutes discussing one current event related to international finance," he said. "I then challenge my students to think how they should react as international financial managers. Instead of giving them the answers, I keep asking them questions.
"I get students involved in the debate so in the future, as international financial managers, when they encounter a financial problem, they would need to come up with a practical solution and assemble the ingredients I have taught them."
One of the major ways Kwok has seen international finance change in the past 25 years is the overwhelmingly digital takeover of many financial interactions. He has discussed with his recent International MBA students how cryptocurrency, e.g., Bitcoin, affects financial markets, and in the past year, how the COVID-19 pandemic has impacted foreign direct investment decisions and how companies should adjust to this risk.
Other topics Kwok teaches his international business students is how corporate social responsibility — organizations' philanthropic and socially beneficial — practices affect the cost equity of a company. Cost equity refers to the return compensation a firm pays investors or shareholders for their investment risk to begin the firm.
"I find that companies actively engaging in CSR activities enjoy a lower cost equity, which helps companies raise capital," Kwok said. "Some socially conscious investors try to avoid investing in firms with a poor CSR record. These companies end up paying higher costs to raise equity capital. On the other hand, CSR firms appeal to both regular and socially conscious investors."
Kwok and his colleagues won the 2011 Moskowitz Prize for Socially Responsible Investing for their paper "Does Corporate Social Responsibility Affect the Cost of Capital?"
Kwok said the school's reputation with the No. 1 International MBA and undergraduate international business programs, according to U.S. News & World Report, and the outstanding scholars in international business and across the various functional departments help to recruit "bright students of different nationalities. In class, we have very active discussions. Students from different backgrounds share ideas, and we learn from one another. The discussions are lively and highly enjoyable."
Beyond the classroom, Kwok encourages his students to get involved in extracurricular activities — while they are enrolled and even after they graduate. Since 1985, Kwok has been the advisor for the UofSC Chinese Students' Christian Fellowship student organization. He said he shares meals with the organization's members and engages in small group discussions.
"I take a holistic view of education," Kwok said. "Not only do we convey academic knowledge, but we also want to guide students to a positive life attitude. With the right value system, coupled with knowledge and abilities, they will contribute much to society."