After graduating with a degree in retailing from the University of South Carolina at the peak of a global pandemic, Samantha Gallagher landed her dream job in the luxury fashion industry with passion and determination. She shared her career insights with the College of Hospitality, Retail and Sport Management on how she overcame the challenges of a difficult job market to become press and celebrity coordinator for Salvatore Ferragamo in New York City.
Please share a summary of your career path.
Following my junior year at the University of South Carolina, I had the opportunity to be the public relations and celebrity intern for Salvatore Ferragamo. During those 12 weeks, I learned so much about the fast-paced, ever-evolving world of fashion PR. I was responsible for the sample trafficking of items between editorial shoots, celebrities and influencers. I also learned the ins and outs for working for a luxury house that has deep roots in Italy, as one of the most famous leather houses in the industry.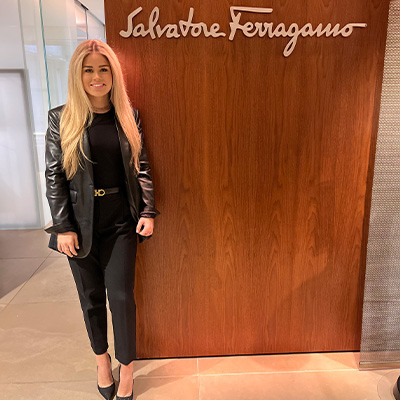 Following my internship, I returned to school for my senior year. Although my internship had ended, I knew that I was going to do whatever I could to land back at Ferragamo post-graduation in 2020. I stayed in contact with a few of my co-workers and was always searching for openings within the company. As my graduation date was approaching, so was the pandemic that definitely put an obstacle in my plans.
After graduating during the time when more people were losing their jobs than being hired, I felt quite defeated and was quickly losing hope. Here I was, in a time where I had always planned on graduating with a fashion degree and working in NYC, as many people do who grow up in New Jersey, I found myself unemployed, babysitting, and looking for any entry level fashion job that I could get an interview for. It was a battle that felt like it was never going to end, until March 16, 2021, when I got a text.
The public relations and celebrity assistant texted me to see if I was still looking for a job as she was about to leave for a new role. My former boss told her to reach out to me to see if I was interested. Of course, I was. Without hesitation, I took the opportunity and started the following Monday. At first it was part-time, only working three days a week, but after two weeks they offered me the full-time role.
As the public relations and celebrity assistant, I worked under the coordinator to organize requests, manage two interns, manage inventory and sample orders, and oversee all the sample trafficking for our three different inventories. I worked hard every day to prove that I was the right person for the job. In December 2021, my boss dropped the news that the PR coordinator was leaving the company and without hesitation asked if I would be interested. Although, in my head I was thinking, "Am I cut out for this? Can I handle that role? Do I have enough experience? Am I going to succeed?" I said "ABSOLUTELY."
Today I work to get Ferragamo product seen on some of the biggest stars in Hollywood, shot for the cover of magazines like Vogue, Harper's Bazaar and Elle, and would not trade in my job for anything. I host fittings for celebrities and have the opportunity to meet and go to some of the coolest places in fashion.
Traveling is an awesome plus to my position. Milan Fashion Week is where we hold our shows, so I travel there two times a year. We also host various events throughout the year in places like L.A. and Palm Beach. Moving up within Salvatore Ferragamo has been one of my biggest accomplishments, and something I am so incredibly proud of. Organization, patience, confidence and hard work have gotten me to where I am today. I am excited to continue to grow and develop into my career and continue to move up in the fashion industry.
What do you like most about your current role / career?
The part I like most is a tie between two things. First is seeing the samples that I send to a celebrity or editorial shoot. There is an amazing rush that comes over me when I am scrolling through Instagram, and Joe Jonas or Gigi Hadid are shot wearing Ferragamo samples that I personally organized to have them receive. Or when I receive the newest edition of GQ or Vogue and our clothing or accessories are on the cover. It is a small thing that always makes me proud. The other favorite part of my job is the people I get to meet and form relationships with. Whether we are hosting a VIP fitting or traveling to Palm Beach for an event. The people that I meet are always so inspiring and people I have looked up to, followed or watched on TV.
Was there a particular experience or person who has been influential in your career?
I always knew I wanted to work in fashion. My mom was influential in this career path for me because she worked in the industry herself. She worked for Ralph Lauren for 16 years and would always talk about her memories and experience and how much she loved working in the fast-paced industry that fashion has to offer. For as long as I can remember, I would love to play dress up with my mom's clothes and shoes and can remember being a little girl dreaming of being like her when I grew up.
Can you share a favorite, proudest or most memorable experience from your college or career journey?
My most proud moment is being offered the coordinator position. At 24 years old with a year of experience in the industry, I was truly shocked and proud that I would even be considered for the role. I am most definitely young for the position in the industry, however, the sense of pride that I feel after being promoted, I truly cannot put it into words. I realized that the hard work and dedication as an assistant proved that I could handle the promotion and succeed, even if I do not meet the typical standard requirements. One other proud moment I experienced was when I was tasked with managing all the prep for our annual inventory. During this time, we try to track down all the samples and make sure everything is accounted for. In years past, the company had experienced upwards of 250+ discrepancies, meaning 250 of the samples were unaccounted for or missing. That may not seem like a ton, but when you look at the price of each sample, it could total hundreds of thousands of dollars. I wanted to ensure I did the best I could to track everything down. My boss gave the PR department a goal of less than 100 discrepancies, but I gave myself a different goal. I wanted to have less than 10. It is inevitable in this department that things go missing. Magazines lose things on set, celebrities will send things back to the wrong place, so missing samples are OK, but we try to keep them to a minimum. With the goal of less than 10 samples, I went through sample buys for weeks to make sure everything was accounted for. When inventory day came, and we had to scan each item, my heart was racing. It was a smooth process and then the hard part came, waiting for the results. When we received them, we had an inventory of +2, meaning we scanned an extra 2 samples. This was a huge accomplishment, and the best inventory results my department had ever seen. I was incredibly proud, and still am very proud to have been the reason we achieved such an amazing result.
How has your experience at UofSC impacted your career success?
I believe that going to the University of South Carolina impacted my career greatly. Going to such a big school gave me the confidence that I needed to enter the working world. Transferring into UofSC as a sophomore where I did not know many people, friend groups were established the year before, I had to put myself out there to meet new people, join a sorority, and find my "group" in such an overwhelmingly huge school. I feel that this gave me a sense of confidence that without having to put myself out there, I would not have. This gives me confidence in my job and allows me to feel comfortable meeting new people, leading meetings and managing projects.
Was there a particular class or topic that is instrumental in your job today?
In many of my classes we touched on the importance and influence that social media has in our society today. My whole job is based around social media and influencers and ensuring that I stay on top of the "it people" of Instagram and TikTok and any new app that may be hot in today's world. Being able to pinpoint who fits the Ferragamo brand based on their Instagram feed is vital to my job, so learning the importance of engagement rate and Instagram strategies has made it easier to navigate my role today.
What advice would you give to a student considering a career in retailing?
Do not give up, do not compare yourself to your friends and do not forget to follow your dreams. The fashion industry is a tough industry to get into, but just because it may take a few bad interviews, or dead ends, does not mean you should give up. With a goal of being in luxury fashion and working in NYC, I knew I had to apply and apply and apply until finally I got the opportunity. I had classmates who graduated with jobs, and I felt like I was behind and needed to get something fast. However, looking back, the jobs they got were not the jobs I wanted or the companies I wanted to work for. When I realized that, I realized that my dreams were unique, and only I could work towards achieving them.
Anything else you would like to add?
Enjoy every minute of the University of South Carolina because the "real world" goes extremely fast. There is a job for everyone, and as long as you are willing to work, you will land where you are supposed to be.