On Aug. 13, 2021, a new era began at the University of South Carolina as Gamecock iHub, the university's Apple® Authorized Campus Store, opened its doors. With its second year now underway, the store has exceeded all expectations and its future is bright both as a business and as an experiential learning facility for retailing students.
"The university has been here since 1801 and people have been asking for an Apple store the whole time," joked Harris Pastides, then the university's interim president, at the opening. The ever-increasing flow of customers has reflected that level of excitement.
"We're far exceeding Apple's expectations," says Store Director and Faculty Liaison Michael Watson. "We're doing great for our square footage size and for being so new. We're also exceeding our initial sales plans and even making our stretch goals."
The business success is only half the story at Gamecock iHub. The store incorporates a classroom component into its business model by selecting a new cohort of interns each academic year as part of the curriculum in the university's Department of Retailing. Students get hands-on experience in retail operations under the guidance of Watson, Store Manager Saundra Koesters and Department of Retailing Chair Jeff Campbell.
"Gamecock iHub not only provides an exciting partnership with one of the world's most prominent retail brands, but also an education enrichment opportunity that is adding value to retail management learning outcomes," says Campbell.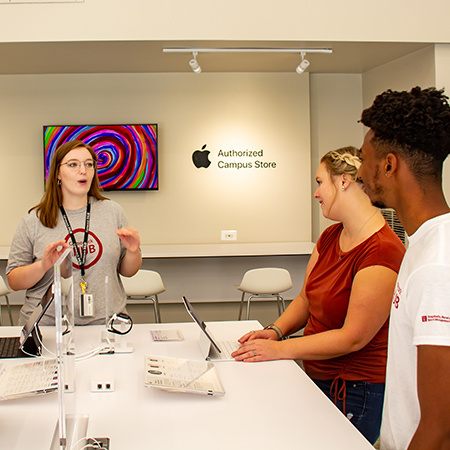 Gamecock iHub is just the second Apple Authorized Campus Store in the nation to incorporate experiential learning into its business model, and the South Carolina model is unique in that far more responsibility is delegated to the students.
"Our model is very integrated, a very active experience. Not only are the students learning traditional retail sales skills, but they literally are also doing all the social media marketing strategy. They are creating all the campus-wide engagement activities. They do all the sales tracking, inventory adjustments, supply chain management answers, asset protection," Watson says. "Anything you could think of whether front facing with the customer or behind the scenes, the interns are actually the driving force of that and then Saundra and myself facilitate and modify as needed."
With a new group of interns arriving every two semesters, maintaining that level of student involvement is a challenge. Apple's specialized SEED (Sales Enablement, Education, and Development) training helps, and allows interns to focus on specific areas of interest. Watson, Koesters and Campbell also identify interns who show advanced leadership capabilities and provide extra training.
Sarah Fowler, one of the inaugural group of interns, became the store's first team leader and Apple sales specialist.
South Carolina's Department of Retailing offers two areas of specialization—retail management and fashion merchandising and digital innovations, and Gamecock iHub offers value to students in either concentration of study.
Fowler, whose primary interest lies in the fashion industry, found symmetry between the job and her classes. She also discovered that the technology side of retailing is tied to every kind of retail business and becoming more and more important every day.
"The pairing is a big deal. In our retailing program you're using technology all the time," says Fowler, who graduated summa cum laude in May 2022. "Making a great experience inside a store has been changing into more of a technology. Like how can I make an innovative space for customers? It's constantly interacting and I think it's great to have experience in both fashion and retail management because they're colliding in many different ways."
Another key to the experiential learning experience is Koesters, who brings more than 20 years of retail management experience to her position.
"Saundra is absolutely the glue," Watson says. "She is the person interacting with the interns on a daily basis. She is constantly adapting to advance our dynamic business and education model."
"Adapt" is a key word for all involved with Gamecock iHub. All new businesses have to learn what works best as they go, and this store's unique model brings unique challenges.
"Most businesses have a much more narrow focus on who they're serving, but we're serving everyone from 18-year-old students to 80-year-old alumni," Watson says.
The Gamecock iHub has exceeded Apple's expectations since opening.

Four new interns began working at the Gamecock iHub this year.
Other challenges include managing schedules with a staff made up entirely of full-time students who have full academic loads. There are also surges in demand when Apple introduces new products, and very non-traditional busy periods. Gamecock iHub is open to university students, faculty, staff and alumni. So, while December is the busiest time of year for many traditional retail businesses, the opposite is true for Gamecock iHub as campus empties for the winter holidays. August and September, as the academic year begins, are the store's busiest months.
In addition to the experiential learning opportunities for the interns, Gamecock iHub has partnered with faculty members across the university to create campus-wide collaborations benefiting both education and customer offerings. Three instructors have used store data for project and assignment research. Another assigned her students to analyze the store's social media marketing. The university's Division of Information Technology has also been brought in to lead the store's Apple-certified equipment repair services. Numerous other collaborations are in progress, with Watson's faculty liaison role allowing him to build reputations with numerous departments. He and Koesters are also working with the university's alumni association to expand that side of the customer base, which is already growing.
"We get phone calls every week from alumni and people coming in," Watson says. "It's another way the store's presence and the university's model is marketed to the community, as opposed to just sitting on campus and being a hidden jewel nobody knows about."
The store's sales in August 2022 doubled those in the grand opening month of August 2021. Success has come faster than anyone could have hoped in a retail industry where businesses are rarely profitable in the first years. Watson, who opened more than 200 stores in his 15 years in the industry, says the keys to that success have been support from Apple and from the Department of Retailing and throughout the university (up to and including the Board of Trustees). He also credits the phenomenal work on the front lines from Koesters and the students, who quickly realize that this is more than an ordinary internship.
"They are active. They are engaged. They will come to us and say 'We never realized how much we would be empowered,'" Watson says. "Most retail internships are heavily focused on sales, so interns get experience mostly with front facing customer service. Whereas with us, they're literally doing all of it."