Wine is poetry in a bottle. Each glass conveys a story of crisp tartness or velvety luxury and College of Hospitality, Retail and Sport Management instructor Emilio Guerra narrates those stories. Guerra transports students to another world with every class thanks to his enthusiasm, passion and flair for storytelling.
"I love teaching and connecting with my students. I enjoy telling stories while I teach them about the things I've experienced in the beverage industry while in Spain, France and Italy," said Guerra. "They just connect with me. They see that it's not just theory and textbook lessons, but it is also real-world knowledge."
The Wine and Beverage Institute at the University of South Carolina provides specialized wine and beverage industry training and research for students, professionals and the community. Guerra conducts the Wine and Spirits in Food Service course, which teaches how to set up a profitable beverage program at the business level.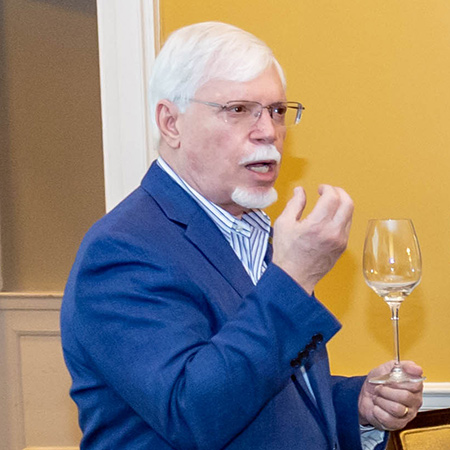 "He definitely keeps you engaged no matter what," said hospitality management major Morgan Stout. "He has really funny jokes and you can hear the passion in his voice. How could you not be engaged and interested with how he speaks about wine and his experiences?"
The history of grape fermentation dates back centuries, but the bottom line proves that wine is a big business. Fortune Business Insights research shows that the global wine market size was $339.53 billion in 2020. That is projected to grow to $456.76 billion by 2028.
"I've had students work for Emeril Lagasse," said Guerra. "I've had some go and work for cruise lines, hotels and country clubs and they love what they do and have become well-known people in the industry."
Guerra was born in Cuba and lived in Florida for many years, which is where his interest was first sparked. He was just 22 years old and had his first taste of a delicious wine, which compelled him on his educational journey.
"My brain exploded because I had never tasted something so magnificent in my life. I decided that I needed to know everything about it," said Guerra. "I started learning on my own about wine and food. For 20 years I taught myself about wine and became a sommelier without even being in the industry. It just became my passion."
After two decades in the business and finance field, he pivoted to follow his dream thanks to encouragement from his wife. Guerra credits his work ethic and extensive wine and sales knowledge for helping him rise quickly in the wine industry. As a wine professional, he has since traveled the world many times visiting vineyards, planning wine dinners and wine tastings with famous wine producers in locations like Shanghai, Venice, Barcelona & Miami.
"Very few people can say that they have followed their passion. If you work hard and you continue to learn, which is something I tell my students, this class does not end here," said Guerra. "This is something that if you really enjoy it, you will use the rest of your life. When you have the right food with the right wine, it increases your quality of life. This is a class that will enhance your social skills, your knowledge of history and geography and make you want to travel."