As December 2022 commencement approaches at the University of South Carolina, faculty and staff of the College of Hospitality, Retail and Sport Management nominated students for special recognition. This outstanding group of graduates has made an impression through exceptional academic performance, leadership, service to the campus community, or in many cases all three.
---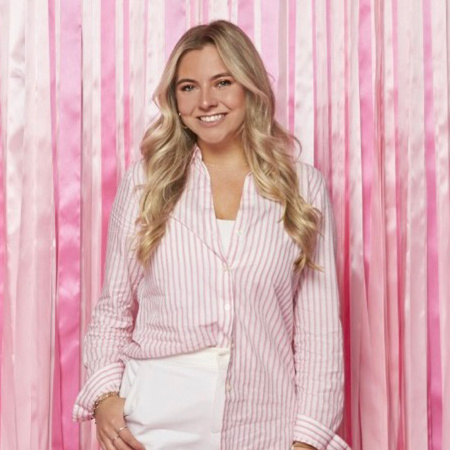 Sydney Hoover
B.S. Retailing – Fashion Merchandising and Digital Innovations
Magna Cum Laude
Suwanee, Georgia
Sydney Hoover had a goal in mind when she arrived at South Carolina as a freshman: to start a career in the fashion industry in New York City. Thanks to her hard work and dedication, the dream has come true. She has accepted a position with Ann Inc. (parent company of Ann Taylor, Loft, Lou & Grey, Ann Taylor Factory, and Loft Outlet) as a public relations coordinator with the company's marketing team. The position was created with her in mind after she impressed the team during her summer 2022 internship.
"I wanted to go to New York for my internship. That's what I wanted to do once I graduated, so I knew I needed to go and experience it," Hoover says. "So I applied to 50 plus internships, and every time I would apply I would go and connect with at least five people on LinkedIn. I just happened to connect with the right person with Ann Taylor and Loft. I sent her a message saying, 'I think that I really align with your company values and what you're looking for in an internship, and I would love to learn more.' She got back to me and set up a call."
That dedication to networking, building her brand and pursuing her goals is something Hoover learned starting as a freshman. Her instructors stressed the importance of making connections and getting involved, and Hoover took the advice to heart. She joined the South Carolina student chapter of the National Retail Federation (becoming that group's marketing and social media coordinator) and the Fashion Board student organization. She served on the executive board for the College Panhellenic Association. She interned with Fab'rik boutique, Metro Vieve fashion magazine, Xpressions floral and event designs and Okabashi Brands Inc., gaining experience at every step, and narrowing down her goals.
"I was able to see that I like the business side of fashion as well as marketing, PR and social media. So, then I was able to take classes within retailing and tailor it to what I wanted to do. Then I just made sure that all my positions were focused on what I wanted to do once I graduated."
To say the least, her focus paid off. New York is waiting for Sydney Hoover, and her future is bright.
---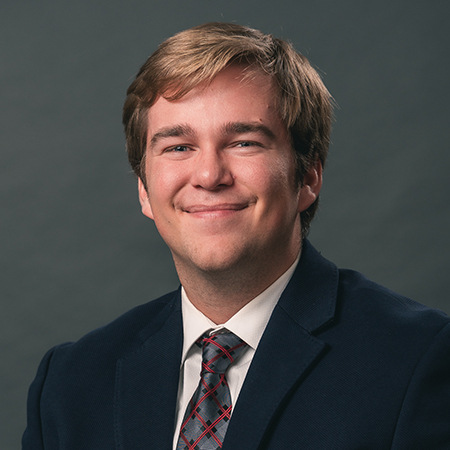 David Crapps
B.S. Sport and Entertainment Management
South Lyon, Michigan
From the classrooms of the Department of Sport and Entertainment Management in Columbia to the Super Bowl in Los Angeles and many places in between, David Crapps has impressed instructors and managers and established a reputation as a rising star.
When the pandemic hit, the sport and entertainment industry came to a halt. But Crapps is not a student to sit idle or waste time. He overcame the challenges of the COVID-19 pandemic, which hit in the spring semester of his freshman year, and is graduating with a degree from a top-ranked program and a stacked resume with more than 10 career experiences gained while in school.
"I was supposed to do an internship the summer after my freshman year, but it was with a venue and there were no events happening," he explains. "Then less opportunities going into sophomore year because so many events were still shut down, but we all had to fight through."
Crapps worked hard, finding what opportunities he could during the height of the pandemic and making up for lost time as things reopened with help from Department of Sport and Entertainment Management Internship Director Steve Taylor. He worked in the marketing department with Gamecock Athletics, with the Nashua Silver Knights baseball team in New Hampshire, at the National Wild Turkey Federation Convention, the Ryder Cup and at Super Bowl LVI in Los Angeles.
He worked for Lids, an Indianapolis-based retailer specializing in athletic headwear, during the summer of 2022. During his final semester before graduation, he has worked for the Carolina Panthers as well as interning with Kevin Sullivan Communications and working part-time as a ticket sales associate with Intersport. He has also been an active member of Sigma Psi Mu, a professional co-ed fraternity for sport and entertainment management majors. He made the most of every opportunity on campus.
"I'm just very thankful for this program and all the people in it and it's been a great four years," Crapps says. Asked for advice for those hoping to follow in his successful footsteps, he adds, "Get involved as early and often as you can, because there are some really great opportunities that this program can lead you to, and you never know where one opportunity's going to take you in the future. Be very open-minded, try everything. Always say yes to new opportunities. Meet your professors."
---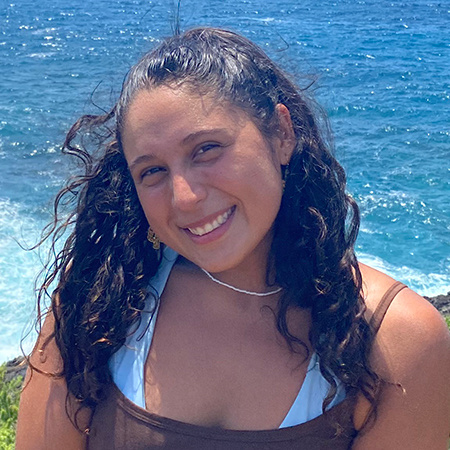 Carla Vaca Pinacho
B.S. Tourism Management
Cum Laude
Monterrey, Nuevo León, México
Carla Vaca Pinacho fell in love with the tourism industry after working at a Charleston hotel as a high school student, but only after coming to the University of South Carolina did she learn all the places a tourism management degree could lead.
"Interim Dean David Cárdenas was one of my first professors, and he opened my eyes to tourism from the beginning. He helped me see what I want to do, and he's helped me ever since." She also found faculty who encouraged her to study abroad and who provided opportunities to gain research experience in tourism management. "Everyone has been so helpful," she says.
Vaca Pinacho spent a semester abroad, studying in the Galápagos Islands through a partnership between the University of South Carolina's Office of Education Abroad and the Universidad San Francisco de Quito.
"I loved the whole semester experience because it gave me the opportunity to be part of those local communities and understand tourism the way that I never understood it here," she says. "Not only did it help me make a lot of friends, but I also was able to learn more about my industry, which was very helpful."
Back in Columbia, she served as a leader of the Global Community Club and participated in the Latin American Student Organization. She served as an HRSM Leader and a member of the HRSM Dean's Student Advisory Council, as well as representing the college at the International Society of Hospitality Consultants conference in Prague.
"I will definitely never forget the Global Community Club," she says. "Coming into USC as a transfer student, it was really hard to know what to do and I wanted to be around people. Once I got around those people, I gained a lot of things from it."
As a senior, Vaca Pinacho worked as a research intern for the College of HRSM, assisting the two prominent tourism research centers, SmartState Tourism and the International Tourism Research Institute, with projects designed to strengthen the entire tourism industry.
"It's been amazing. I've created a lot of connections and I've been able to understand more of the industry more than I ever had," she says.
Vaca Pinacho sees tourism research as a key part of her future now, planning to focus in that area and pursue advanced degrees.