At the most prestigious professional golf tournaments across the United States, students and alumni from the University of South Carolina's College of Hospitality, Retail and Sport Management are leading the business operations of a multibillion-dollar industry.
Over the past two decades, the College of HRSM has built a comprehensive education and career development program for students who want to become leaders in the golf tourism industry – a major driver of South Carolina's economy. Golf had a $3.3 billion economic impact on the state in 2021, supporting 38,000 jobs and generating $1.5 billion in wages and income.
As the industry has grown, so have the degree programs. South Carolina's College of HRSM has consistently received top rankings for its sport and entertainment management program (ranked No. 1 in the U.S.) and its hospitality and tourism management program (ranked No. 9 in the U.S.). It also offers an event management minor and a degree concentration in club management, which is one of only two such concentrations endorsed by the Club Management Association of America (CMAA).
Industry expertise, experiential learning and career development are hallmarks of the College of HRSM's education programs.
Kyler Rose graduated from the College of HRSM in 2016 with a B.S. in sport and entertainment management. He accepted an internship with the PGA of America right out of school and went on to serve as the organization's marketing operations lead for spectator championships.
"Thanks to the College of HRSM's strong industry ties, I was afforded the opportunity to gain invaluable experience at two of golf's most prestigious major championships," Rose says. "These experiences combined with numerous professional relationships have proven to be a catalyst for my early career success. Following a rewarding internship - introduced to me through HRSM - I was able to secure a full-time position and have been fortunate to return the favor of providing industry experience to other HRSM students ever since."
The college is well known for helping thousands of students gain priceless career experience at some of the most well-known clubs and tournaments in golf. Thanks to partnerships developed by HRSM faculty, students can apply for positions which often open crucial doors to golf-related careers in hospitality management, event management, golf club management, tournament management, ticket sales, marketing, retailing, and more.
It all began in 2005, when Associate Professor Catherine Gustafson made a connection through the Club Management Association of America and arranged for 21 students to work at the Masters Tournament at Augusta National Golf Club in Augusta, Georgia.
"I really knew we had something when the next year, in 2006, 100% of those 21 chose to go back and work it again," Gustafson says. "The fact that literally every single student wanted to go back affirmed to me that it was a good thing from a student's perspective."
Gustafson, who is based in the college's School of Hotel, Restaurant and Tourism Management, has played a crucial role in developing the university's area of excellence in golf tourism – both through classroom education and providing experiences on the green. The foundation she built in the hospitality and tourism management program is now seeing interdisciplinary growth expanding student opportunities across the college.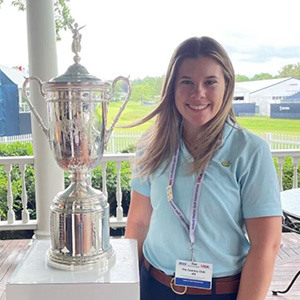 "The College of Hospitality, Retail and Sport Management is a nexus of consumer experience industries," says College of HRSM Interim Dean David Cardenas. "There is powerful synergy across the businesses of hospitality, tourism, sport, entertainment and retail management, and you see that on full display at major events, which is especially true for professional golf tournaments. Our comprehensive programs, experienced faculty, and location in a major tourism and golf region make it possible for us to provide a unique range of opportunities to our students."
Today, hundreds of South Carolina students have the opportunity to work some of the most distinguished tournaments in golf each year. South Carolina is well positioned in the heart of a golf tourism region, so opportunities often happen close by, like the Masters Tournament, the Wells Fargo Championship, the RBC Heritage, the Palmetto Championship, PGA Championships and the upcoming Presidents Cup and CJ Cup. However, students also have the chance to travel the country to gain golf experience. In 2022 alone, students went to Tulsa for the PGA Championship, Boston for the U.S. Open, Washington, D.C. for the KPMG Women's PGA Championship, Jacksonville, Florida for The Players Championship, and Benton Harbor, Michigan, for the KitchenAid Senior PGA Championship.
"These are tournaments people have wanted tickets to for their whole lives. Employers see you've worked there on your resume and automatically they say things like, 'Oh my gosh, you've worked the Masters Tournament, the U.S. Open, the Wells Fargo Championship.' It's an instant conversation starter," says hospitality management student Lexie Bado. Bado has worked numerous tournaments while in school as well as interning in 2021 and this summer at The Country Club in the Boston area, the oldest country club in the U.S. and host of the 2022 U.S. Open.
Gustafson says working not just any tournaments but the most respected ones gives students numerous advantages when it comes time to start their post-college careers.
"These are such well known tournaments, and interviewers know the high standards these clubs expect. So, their first thought will often be, 'If you're good enough for them, you're probably good enough for us,'" she says. "And then there's the contacts that those students make as they work. Those contacts generate job offers."
Those job offers are the kind many students' career dreams are made of.
"It was through our program's offerings that I was given the opportunity to work the Masters Tournament. This sole experience paved the path for my dream job as the hospitality experiences manager for Augusta National Golf Club," says 2010 hospitality management alumna Caroline Manning. "From the very beginning, I knew I wanted a career that would allow me to combine tourism and hospitality. I love building relationships, the challenge of providing outstanding service and the ability to combine sports with hospitality. I now utilize these skills to oversee the recruitment, training and supervision of over 2,800 employees who assist us in executing the Masters Tournament. This part of my job allows me to remain very involved in our college as we continue to develop a partnership of recruiting students in the HRSM program."
The College of HRSM has long established that blending rigorous classroom education with real-world experience provides a positive impact on learning outcomes. And what those students gain in a week of tournament work can't be replicated in a textbook.
"Large sporting events are kind of the mold where hospitality, sports and retail all come together, and golf is great because the big tournaments happen over just one week as opposed to a months-long season," says Jessica Chavis, a senior hospitality management instructor who works closely with Gustafson on student experiential learning. "These immersive opportunities are like micro-internships that pack in a lot of knowledge and skill building, as well as some once-in-a-lifetime memories."
In addition to intensive opportunities that happen during the school year, the College of HRSM also supports students in securing semester- and summer-long internships to prepare them for their careers after graduation. The college requires two career-related work experiences as part of its curriculum, so every student graduates with work experience on their resume. Full-time internship directors work across the college in collaboration with other faculty and staff to build strong connections between employers and passionate students. There is even a student chapter of CMAA, which provides additional enrichment for students focused on the field of private club management, including golf club management.
"I probably get three emails every day from faculty about different club opportunities or golf opportunities," Bado says. "And they're posted all around the college. So if you open your eyes while walking around, there's probably an opportunity."
The career impact created by the program is as rewarding for the faculty as it is for the students.
"My favorite part of all of this is twofold," Chavis says. "One is seeing students find a passion. The other part is when they graduate. They have found their path through opportunities that we've been able to help provide for them."