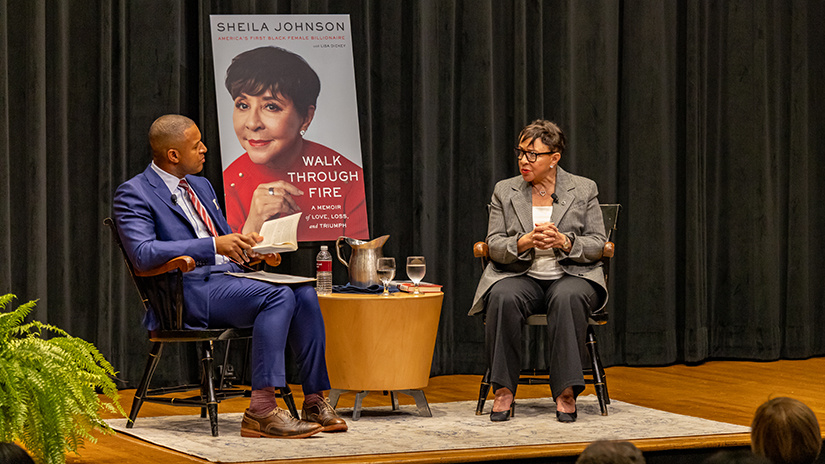 ---
Sheila Johnson has shattered barrier after barrier in becoming the first Black female billionaire, a co-owner of several pro sports teams and a leader in the hospitality and tourism industry as founder and CEO of Salamander Hotels & Resorts.
This year, she has shared her full story with the public for the first time in her new book, "Walk Through Fire: A Memoir of Love, Loss, and Triumph." On Oct. 4, she will be at the University of South Carolina to talk about the book and her incredible life in a special interview discussion with Today Show Anchor Craig Melvin.
The event is hosted by USC's College of Hospitality, Retail and Sport Management and is part of the college's Dean's Executive Lecture Series. The event will begin at 10:50 a.m. at the university's Russell House Theater. Seating is very limited, but the event will also be recorded and made available online.
Johnson's career encapsulates the industries of hospitality, tourism, sport and retail at the highest level, and she has shared her wisdom with students pursuing those fields as an executive in residence with USC's College of HRSM. In this role, Johnson has taught classes in leadership development, exploring how to transform values into actions, visions into realities, obstacles into innovations, separateness into solidarity, and risks into rewards. She has also served as a keynote speaker for the college's annual sport management conference, SEVT, and has provided experiential learning opportunities for students at Salamander Hotels & Resorts.
The opportunity for students to learn from someone with such a distinguished career is transformative.
As a partner and vice chairman of Monumental Sports and Entertainment, Johnson is the only Black woman with ownership in three professional sports teams: the WNBA's Washington Mystics (for which she serves as the team's president and managing partner), the NBA's Washington Wizards and the NHL's Washington Capitals.
As founder and CEO of Salamander Hotels & Resorts, she also oversees a growing portfolio of luxury properties and lifestyle businesses with locations throughout the U.S. and the Caribbean. The company ranks as one of the largest minority-owned, women-owned companies in the Washington, D.C., metro area.
An ardent supporter of education and the arts, Johnson serves on the board of the Colonial Williamsburg Foundation, as chairman of the College of Performing Arts at The New School, and as founder and chair of the Middleburg Film Festival. She is also known as a television pioneer, having been a founding partner of Black Entertainment Television, and she has extended her influence into the realm of feature films and documentaries as well.