Is life about the journey or the destination? Well, why can't it be about BOTH? Through tourism, you will introduce people to new cultures, wildlife, architecture, history, music and art. Tourism can be as accessible as a museum visit in your hometown, or as exotic as discovering the Forbidden City in Beijing, China. The real question is how do you get people to come, and what will they want to do when they get there?
Tourism is promoted by cities, states and countries. There are individual attractions and comprehensive experiences, and it's up to professionals like you maintain the positive impact of tourism on the economy and on the surrounding environment.
As a tourism management major, you will begin your coursework with the fundamentals of business ⎯ accounting, economics, business law, communications and computer applications. As you dive deeper, you will learn industry-specific knowledge such as Travel and Destination Management (HRTM 381) and Tourism Festival Planning and Management (HRTM 386). In addition, two mandatory internship experiences will enhance your learning experience by providing you on-the-job training, while our team of industry professionals and world-class faculty open your eyes to a whole world of opportunities.
Curriculum
The Bachelor of Science in Tourism Management degree options requires 127 credit hours, including
51 hours of credits in the HRTM major, including internships
30 hours of foundational, management-focused courses
31-43 hours of Carolina Core.
Sample Course Overview
English
Foreign language
Foundations of tourism
Natural science
History
Hotel management
Introduction to hospitality
Mathematics / statistics
University 101
Accounting
Business communications
Business law
Club management
Conference and meeting planning
Economics
Food and beverage production
Hospitality / tourism practicum
International hotel management
Purchasing and controls
Festival planning and management
Hospitality / tourism electives
Hospitality / tourism internship
Literature / fine arts
Personnel organization and supervision
Principles of management
Principles of marketing
Professional development seminar
Resort development and management
Sustainable tourism planning
Hospitality finance
Hospitality / tourism analytics
Hospitality / tourism marketing
Hospitality management strategies
Revenue management
Tourism information technology
Wine and spirits in food service establishments
For more details about the degree requirements and curriculum for the Tourism Management, B.S., please visit the academic bulletin.
Career success
Every tourism management major graduates with at least two career-related work experiences on their resume. The college provides dedicated internship directors, experienced faculty and a director of corporate engagement to help students get the most out of opportunities to work with companies like Marriott, Hyatt, Hilton, Disney, and the PGA.
Explore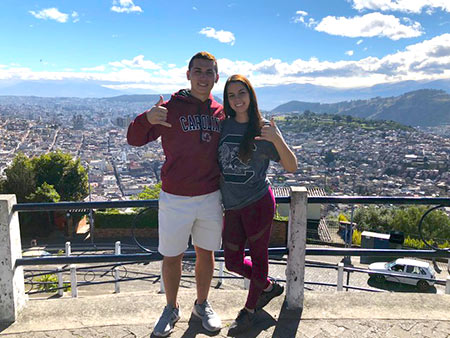 Our industries have the power to connect cultures, inspire adventures and strengthen global economies. Student immersion in international experiences broadens horizons and prepares them for exciting work opportunities around the world.
Our faculty lead custom study abroad courses in China, South America and Europe. The school offers two semester-long exchange programs with partner hospitality universities in Aruba and the Galapagos Islands.