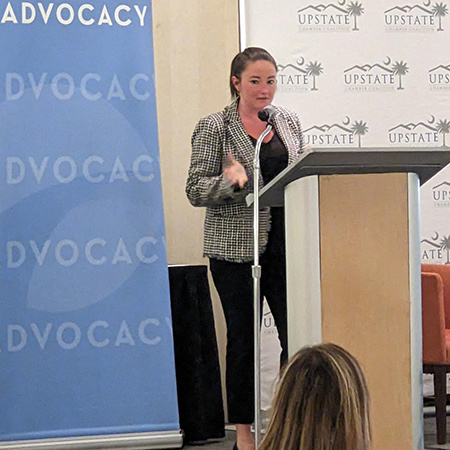 The College of Hospitality, Retail and Sport Management specializes in business that support vibrant communities, so it's no surprise to see our alumni working for local, state and regional municipalities.
HRSM alumna Nikki Crabtree Huber (tourism management, '14) is now legislative director for the Greenville (South Carolina) Chamber and Upstate Chamber Coalition. She took time to share how her experience at USC has impacted her life and career.
Please tell us about your role with the Greenville Chamber and Upstate Chamber Coalition.
I'm the chief lobbyist and voice for the Upstate Business Community at the South Carolina statehouse. I represent 13 Chambers in the South Carolina Upstate, and work with the collective memberships to create and advance a pro-business legislative agenda. Additionally, I work to connect members across the upstate with elected officials at a local, state and federal level.
Why did you choose tourism management as a major?
I grew up in Greenville, South Carolina, and watched my quiet hometown grow into a tourism destination. I'm passionate about sustainable responsible growth of communities and cultures.
What do you like most about your career?
I get to work on issues that truly make a difference for my community. During my time as the Upstate Chamber Coalition and Greenville Chamber, we've led reforms to state licensing requirements to make it easier for justice-involved individuals to apply for a professional license, championed COVID liability protections for businesses, supported increased pay and benefits for teachers, lobbied for the passage of significant income tax reform legislation, and extended tax credits to transform historic and abandoned buildings to revitalize our communities.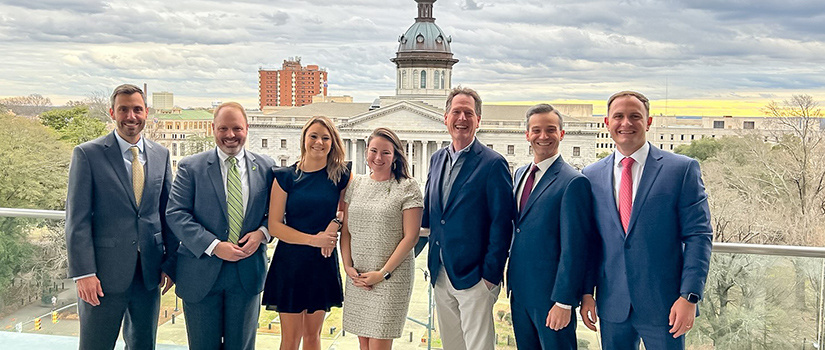 Were there particular experiences and people at USC who have been influential in your career?
I'm so grateful for my experiences at USC, but my required internship was by far the most influential experience. The internship requirement led me to my work in the Chamber industry, beginning with my first internship at the Columbia Chamber. I've been working in the Chamber of Commerce industry since that internship, in various roles at three different organizations. As far as particular people at USC, Dr. Sandy Strick and Chef Brian Hay through my study abroad experience, intensive study course, and wines and spirits courses instilled more confidence in me and pushed me to be proud of what I could achieve.
Proudest experience from your career journey so far?
My most proud moment from my career journey so far has been my recognition by the Association of Chamber of Commerce Executives (ACCE) as a member of their Fall 2022 40 under 40 class. This annual recognition program showcases 40 of the industry's top emerging leaders who have demonstrated success in their careers and made significant contributions to the communities they serve. The list includes CEOs and staff professionals from a wide variety of roles and chamber sizes, and I was so honored to be included.
How did your experience at USC impact your career?
I wouldn't be doing this work if I hadn't had the experiences I had at USC. One of my classmates in the festival management course was interning at the Columbia Chamber and encouraged me to apply for their internship program. At 20 years old, I truthfully had no idea what a chamber of commerce was or did. Beyond my formal coursework, I was fortunate enough to be selected to work at Augusta National Golf Club for the 2012, 2013, and 2014 Masters Tournaments. The customer service training and the long, hard days were invaluable learning experiences for me — standing on the lobby floor for 12-hour days is a lot like standing in the merch shop!
Toughest challenge you overcame along the way?
The COVID-19 pandemic was a major hurdle for all of us. With so much uncertainty for not only our organization but our membership, it was a really challenging time. Chambers serve as connectors — linking members to other members and resources throughout the community, and not being able to safely meet in person was so foreign. Ultimately, we were instrumental in connecting members with resources to keep their employees and their customers safe, resources to help keep their doors open, and later to protect themselves from legal action.