Special Events
The Mighty Sound Experience: Carolina Band Day 2023 – September 9, 2023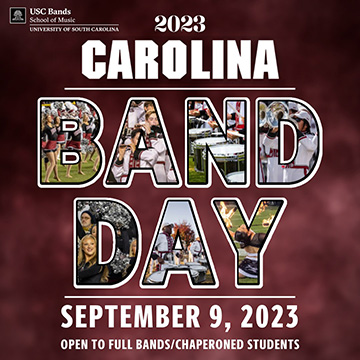 Spend a full game day with the Carolina Band, from rehearsal to a halftime performance on the field in Williams-Brice Stadium! Open to all high school students, who may attend as a band or as individual chaperoned students. Register to join us for The Mighty Sound Experience on September 9! Registration will remain open until August 9.
Future Band Director Academy
This one-day, immersive experience for juniors and seniors gives attendees the chance to attend music education classes with current USC students, play in a USC band rehearsal, and connect with current band directors and USC faculty. Each session runs from 9:30am-3:30pm. 2023-24 dates include September 14 and November 9 for seniors and January 25 and April 4 for juniors.
Interested students can apply HERE.
Students' directors must also submit a nomination form, found HERE.
Students will be notified of acceptance as space is available, on an ongoing basis. For questions, e-mail Blake Fowler.
46th Annual USC Band Clinic – February 15-18, 2024
The 46th annual Band Clinic provides opportunities for 10th-12th graders to perform in concert band, jazz band, and chamber ensembles, as well as take part in masterclasses with our faculty. Invitation is by band director nomination. Click for details.
Experience the Carolina Band – 2024 Garnet & Black Spring Game
Join the Carolina Band at the Garnet & Black Spring Game in April 2024. Rehearse with the band and play In the stands during the game, while experiencing the excitement of Gamecock football! Open to 10th-12th graders. Information will be posted here in February 2024.
---
Summer Clinics
The Carolina Band has several clinics available to high schoolers of different ages. If you plan on leading, playing, or spinning with your high school band or group, you can find yourself here this summer! Click for more information and to register.
---
Arrange a Visit!
Contact the USC Bands office to visit us anytime, during the school year or the summer. You can meet with the directors and current students, and even attend a class or rehearsal.
Questions?
For more information about programs offered for high school students by the USC Bands, call us at (803) 777-4278 or email us.