The Series
Ears Wide Open is led by a wide range of undergraduate and graduate students. While many of core creators of the series are music majors, several are non-music majors. School of Music faculty members and dean serve as advisors and mentors. EWO comprises five co-artistic directors; each are from the three School of Music student-run graduate chamber ensembles, as well as one each from Jazz Studies and the Music Industry Studies areas. EWO's leadership team also includes an operations manager who works directly with its artistic directors, faculty advisors and the School of Music dean. Additional faculty and staff assist as needed for marketing and operational tasks, along with undergraduate interns from various majors.
The central tenet of EWO is to observe and model collaboration, curiosity, empathy and inclusivity to those outside of the arts community, and to advance innovation when approaching live student music events as the key is to creating adventure for listeners, not only to create memorable experiences for audiences that do not normally attend School of Music concerts, but also to bring students together in environments where music can be shared in new ways.
---
Leadership
Alyssa Santivanez
Alyssa Santivanez is the Operations Manager of the EWO series and current Masters of Music Flute Performance student at the University of South Carolina with a Bachelor's Degree in Music Flute Performance from Ball State University and is originally from Kingsburg, CA. Beyond EWO, past projects Santivanez has completed are Mental Harmony, a mental health resource in the form of a podcast, website, and social media outlet at Ball State, and Safety Through Sounds, a virtual flute music video collaboration with Doctors Without Borders and the Ball State Flute Studio. She is the 2021 Presser Scholar along with the 2021 Aria Concerto Competition Winner from Ball State University. With this, Santivanez also is the past President of the Ball State Flute Guild from 2019-2022 and the student representative of the Ball State Diversity Committee. She also has completed summer camps such as the Fresno Opera Orchestra Academy, Aria International Summer Academy, Interlochen Summer Arts Camp, Manhattan School of Music Summer Camp, and Domaine Forget. Masterclasses she has performed in include Leone Buyse, Jeff Zook, Bonita Boyd, Mario Caroli, Aaron Goldman, and John Thorne. Professional ensembles Santivanez has performed in include the Muncie Symphony Orchestra and the Muncie Symphony Orchestra Quintet.
Maddie Hunt
Maddie Hunt is a senior at the University of South Carolina studying sport and entertainment management (SPTE) with a focus in live entertainment management and holds a minor in music industry studies. Hunt began her experience in the music industry as a young performer. She has gone through the process of performing at music festivals, performing small and large venues, recording an album, and signing a recording contract. These experiences have helped her see a different perspective of the music industry that not many people get the opportunity to see. Once she began in her major, she learned quickly that it was everything she had wanted to learn. Hunt has learned a lot about the industry through her classes, but her knowledge is growing even more through outside-of-the-classroom experiences.
Through an opportunity with her music industry studies minor, Hunt interned with Danny Wimmer Presents for their Bourbon and Beyond music festival working with the sponsorship team. Hunt redirected the passion that she brought back from that experience to a concert series she has the opportunity of directing, Rock on the Dock and being an artistic director on the Ears Wide Open concert series. She is gaining experience in each of these concert series while also working with one of her classes to create and manage the Colaroo music festival. Hunt is still currently receiving more jobs and experiences as she works through her last year of college and looks forward to what the future holds.
Malik Pratt
Malik Pratt is a master's jazz studies student at the University of South Carolina. His primary instrument is drum set, but he also has a background in orchestral percussion and marching percussion. He has his bachelor's degree in Music Education from Western Carolina University. During his younger years as a musician, he began to play the clarinet. Once he reached high school, he began to dive into the percussion family. This is where he began doing marching band and orchestral percussion. He continued this and decided to become a music major in 2018. As he began playing more music his love for jazz flourished, he always enjoyed playing it, but he wanted to focus on other things. It wasn't until 2020 that he decided to pursue his master's in jazz studies. This led to him performing at jazz jams and playing several gigs. He also had the opportunity to host his own jazz jam. As well as joining several Western Carolina Jazz ensembles. He plans to pursue his doctorate as well and become a jazz professor in the future. His role in Ears Wide Open is that of an artistic director. He is responsible for putting on one concert in the series. He also assists with social media and helps the other artistic directors with their concerts as well.
Joseph S. Lyons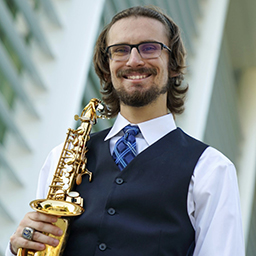 Joseph S. Lyons is a saxophonist and artistic designer currently based in Columbia, SC. On the Ears Wide Open committee, Lyons represents The Collective @ USC: a mixed instrumentation graduate chamber ensemble dedicated to new music, community engagement, and interdisciplinary collaboration. The Collective has engaged audiences in the Columbia area at museums, schools, shopping centers, art galleries, and correctional facilities; their repertoire includes original works written for the ensemble, works with open instrumentation, and arrangements. Lyons' arrangements for The Collective range from solo piano pieces to works for full orchestra; most notable among these has been Modest Mussorgsky's "Pictures at an Exhibition."
With a background in pageantry arts, Lyons strives to bridge the gaps between different forms of artistic media. Lyons is an alum of the Bluecoats Drum & Bugle Corps ('14-'17), and they have designed for WGI at the World Class level. Lyons is the Ensemble Director of the Albireo Collective of Contemporary Artists (ACCA). Lyons co-founded ACCA in 2020 with the goal of producing "virtual premieres" of new chamber works during the COVID-19 pandemic; recently, the group's goals have expanded to include more experimental and interdisciplinary projects. Lyons is currently pursuing a DMA in Saxophone Performance at the University of South Carolina, where they are researching applications of modular synthesizers in electroacoustic saxophone music. Lyons holds degrees from the University of Georgia (BM), Georgia State University (MM) and Stephen F. Austin State University (PAC); their primary teachers are Connie Frigo, Jan Berry Baker, Nathan Nabb and Clifford Leaman.
Hunter Poe
Hunter Poe is an Artistic Director in the EWO series representing the Fuse Wind Quintet. Poe is from Pennsylvania, but began his musical studies in Texas. Poe studied at Baylor University for a Bachelor's of Music Education and then went on to earn a Master's in Horn Performance at Oklahoma State. He has been a graduate teaching assistant at Oklahoma State for the horn studio, theory department and history department. Poe also is currently the graduate teaching assistant for the UofSC horn studio. He has performed with many large ensembles as well as chamber groups and has also maintained a private studio of varying numbers for the past seven years.
Jordan Bartow
Jordan Bartow is an Artistic Director in the EWO series and an award-winning cellist/improviser/composer residing between South Carolina and NYC. Noted for his "booming resonance" by icareifyoulisten.com, He is especially dedicated to the promotion, development, and performance of contemporary music while also retaining a fondness for ancient and classical works. Bartow is the cellist and production manager of the Blackbox Ensemble, a New York City-based contemporary music ensemble devoted to using new music as a platform to engage critically with the social and cultural issues of our time. The Blackbox Ensemble has been featured in The New Yorker Magazine, Timeout New York, New Music USA, and icareifyoulisten.com. Bartow is also a member of the critically acclaimed Chelsea Symphony, as well as the award-winning new music ensemble Infrasound. In 2021, Bartow won the Jan Williams Prize for contemporary performance and collaboration. He was also nominated for the Mamlok Stiftung international prize for his exploits in contemporary music performance and advancement. A dedicated recording artist and composer, Bartow has recorded many of his own compositions and improvisations, along with staples of the Contemporary Cello Repertoire such as Luciano Berio's "Sequenza XIV," as released on his debut Live EP "Utopian." Currently, Jordan Bartow is working with the Blackbox Ensemble to curate a series of performances that question the canonized presentation of classical music.
EWO Artistic Directors
Hunter Poe – Fuse
Jordan Bartow – New Sounds Quartet
Joe Lyons – The Collective
Malik Pratt – Jazz
Maddie Hunt – Music Industry Studies
Faculty Advisors
Jennifer Parker-Harley and Mike Harley – Ears Wide Open Series
Claire Bryant - The Collective
Hassan Anderson - Fuse
Ari Streisfeld - New Sounds
Colleen Clark and Matt White – Jazz
Jeremy Polley – Music Industry Studies
Connect with Us