Congaree New Horizons Band members met a fellow musician for the first time in person at the group's August 11 summer concert at the School of Music Recital Hall.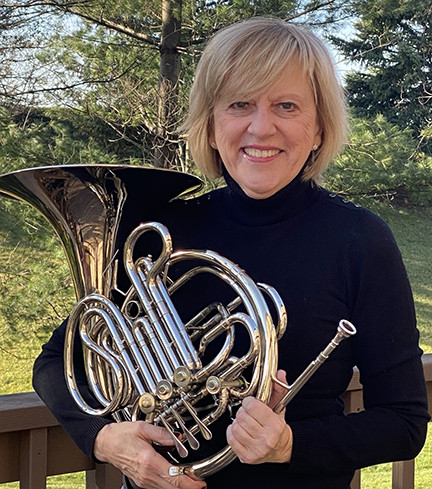 French horn player Mary Lou Ringle traveled from Northeast Ohio to participate in the live event. Mary Lou has been a member of the band since fall 2020, when Mandi Schlegel, director of the Congaree New Horizons Band program, invited musicians from across North America to join virtually via Zoom.
A long-time member of the Baldwin Wallace University New Horizons Band in Berea, Ohio, Mary Lou and several of her Ohio colleagues took advantage of the opportunity at a time when bands weren't meeting in person due to the pandemic.
As pandemic restrictions eased and Congaree New Horizons rehearsals resumed in person, Mandi has continued to offer virtual participation, not only for remote members but also for the convenience of local musicians.
Zoom was a great way to keep playing with a group on a regular basis and learn new technology skills for rehearsing and recording music – even participating in virtual concerts.

– Mary Lou Ringle
Mary Lou says the virtual experience isn't all that different from playing with the band in person.
"We're tuning together, listening to Mandi's instructions, working through passages in our music – and enjoying the camaraderie," says Mary Lou. "One benefit to virtual participation is when I play at home on mute, no one hears my mistakes!"
What prompted Mary Lou to make the trip to Columbia for the recent concert? "There's one thing Zoom can't replace, and that's being with people in person," she says. "I felt I was meeting old friends for the first time, thanks to the warm welcome and hospitality from Mandi, horn colleague Leigh DuBose and all the band members."
A retired corporate communications professional, Mary Lou plans to continue playing virtually with the Congaree New Horizons Band and encourages others to join, whether in person or remotely.
"The New Horizons program really does live up to its name," she says. "It's the reason I've made new friends, learned new skills and become part of a new community in South Carolina."
Congaree New Horizons Band Program
Do you wish you had learned to play an instrument as a youngster? Or maybe you wish you had practiced more? It's never too late to learn! If you're age 50 or older, you can learn to play in an instrumental music group at the School of Music. In fact, if you are younger than 50, we still want you to have music making be a part of your life. Come make music with us! It's never too late and your best is good enough! Learn more about Congaree New Horizons Band Program here.