The University of South Carolina Gamecocks will face off against University of Notre Dame at the 78th TaxSlayer Gator Bowl on December 30 in Jacksonville, FL. The entire Carolina Band — all 360 musicians and auxiliaries members — plus band directors Jay Jacobs, Quintus Wrighten and Cormac Cannon; support staff and graduate assistants will help bring the energy to this historic bowl.
"The students of The Carolina Band have put in many hours of work over the season, and they are excited to represent our great university on the national stage once again," says Jay Jacobs, Director of The Carolina Band. "We are extremely grateful to everyone at USC for supporting the band's travel to Jacksonville, and we look forward to providing a powerful soundtrack for a Gamecock victory at the 2022 Gator Bowl."
We look forward to providing a powerful soundtrack for a Gamecock victory at the 2022 Gator Bowl.

– Jay Jacobs, Director of The Carolina Band
Fans will have several opportunities to hear The Carolina Band during Game Week, beginning with a pep rally at Jacksonville Beach Seawalk Pavilion at 6:15 p.m. on Dec. 29. On game day, the band will perform pre-game and half-time shows.
The completion of regulation play usually marks the end of a marching band's season. Carolina Band members are thrilled they have an opportunity to extend their season while playing for a nationally-televised event of this caliber.
There's a shared excitement and eagerness to support the South Carolina football program and fans.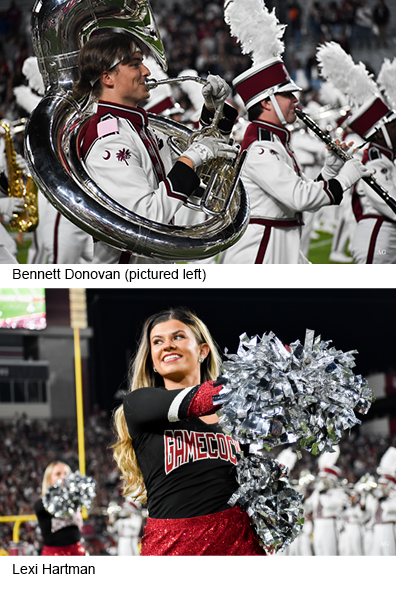 "Traveling with the band is always a great time, and I am super excited to be able to perform for people outside of our typical audience," says Bennett Donovan, sousaphone/Music Education '24.
Coquette Lexi Hartman has a special reason to look forward to the game.
"I'm so excited to spend my birthday with all my friends cheering on the Gamecocks in Jacksonville! " says Lexi, Exercise Science '23.
Members of the band will also have an opportunity to celebrate each other at an awards banquet during the trip. Outstanding section leaders and members will be recognized for their service and skills.
Fun fact: this is not South Carolina's first visit to the Gator Bowl. Fans may be surprised to learn USC played Wake Forest on January 1, 1946 for the bowl's inaugural game. The Gamecocks did not return to the Gator Bowl until the 1980s when they were invited to the 1980, 1984 and 1987 games. The 2022 TaxSlayer Bowl Game is a welcome to this historic field!
About The Carolina Band
Founded in 1920 as a student-led group of approximately 20 students, The Carolina Band has grown to number more than 350 students representing over 70 academic majors and 20 states. Students in The Carolina Band represent nearly every college and school on the USC Columbia campus, with numerous Honors College students and Capstone Scholars. Having marched for over a century, it continues to entertain fans, serve the university and community, and provide students with an outlet to represent the very best of what the University of South Carolina has to offer.
Photos courtesy of Angeline Gaglione