University of South Carolina School of Music 1995 alum Eric Duncan's professional journey has taken him from composer to multifaceted entrepreneur, with three thriving restaurants under his ownership and a prominent role as Chief Technology Officer for a financial services company. However, his heart remains deeply rooted in the local arts community. Eric's newest venture is SoulHAUS, an art gallery located in Columbia's Vista.
Be fearless. You have a myriad of transferable skills that can keep you afloat career wise if you are not successful, so don't slow down or pause out of any fear of failure.

— Eric Duncan (BA, Composition, '95)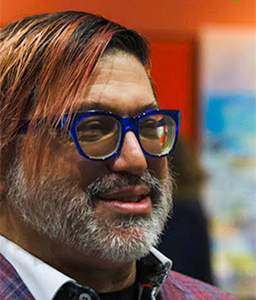 An avid fan of USC's Southern Exposure New Music Series, Eric is investing in the success of emerging composers with his newly-formed Duncan Endowment for Student Composers. This initiative annually supports the recording of new compositions by USC graduate and undergraduate composition students. It provides a unique opportunity for selected composers to craft pieces for renowned contemporary music ensembles that perform through Southern Exposure New Music Series.
The highlight of this initiative is professionally recording these compositions with the composers actively involved in the production process. The resulting recordings are invaluable assets students can use to apply for awards, commissions, graduate programs and other opportunities.
The 2023 recording project features the extraordinary talents of Wet Ink, a collective of composers, performers, and improvisers celebrated for their innovative approach to music. The ensemble performed at Southern Exposure's second concert of their 2023-24 season.
The endowment helps selected USC student composers showcase their unique voices through their works. Recipients work with John Fitz Rogers, Fang Man and David Kirkland Garner, members of the School of Music composition faculty.
Composer Justin Schwartz received his BM in Music Composition from Belmont University. He attends USC for his MM in Music Composition, where he studies with Man Fang, David Garner, and John Fitz Rogers.
Schwartz's "(Re)Construction" is a composition inspired by the ever-changing landscape of Nashville. Schwartz's unique perspective, shaped by his experiences with Autism and ADHD, enriches his work, a fusion of classical and nonclassical genres.
Pianist and composer Jordan Knapp is currently a candidate for the Doctor of Musical Arts degree in Performance at USC, where he also works as a graduate assistant, instructor in music theory and aural skills, and collaborative pianist.
Knapp's composition, "Searching," offers a contemplative exploration of the world through the lens of a violin and cello. Though thoughtful and meditative, the piece could be labeled a prayer without any connotation of religion, even during its more active passages. Jordan's multifaceted role as a pianist and composer shines through in his innovative approach to music.
Shupeng Cao is pursuing a DMA degree in composition at USC, where he studies composition with Dr. John Fitz Rogers and Dr. Man Fang. He received his MM in Composition at East Carolina University and his BA in economics at the College of William and Mary.
Inspired by the wave-particle duality of light, Cao's "Flashing Lights" presents a musical exploration of this phenomenon. Shupeng's work is a testament to his rich and multifaceted musical language, drawing inspiration from diverse sources. His active engagement in sound experimentation and improvisation reflects his commitment to pushing the boundaries of contemporary music.
Ian Schwalbe is a composer and trombonist from Alpharetta, Georgia. He is studying Composition with John Fitz Rogers and Man Fang and trombone with Michael Wilkinson at USC. He is a member of the Wind Ensemble and Symphony Orchestra.
In "Divisive Connection," Ian Schwalbe addresses the complexities of modern connectivity. His composition artfully weaves together the themes of connection and division, mirroring the challenges of maintaining meaningful real-life relationships in an era of digital interconnectedness.
The Duncan Student Composer Reading Endowment stands as a beacon of support for emerging composers. With each passing year, this initiative will nurture the creative voices of USC's composition students and offer a platform for their innovative works. The recordings, program notes, and composer bios come together to celebrate the rich tapestry of contemporary music, making a lasting impact on the world of composition and performance.