Providing Unique Educational Opportunities
Throughout the academic year, Spark created events to help School of Music students learn life and professional skills, take a mental break and engage with fellow students, faculty and staff.
ProSkills Workshops
Spark's ProSkills interactive professional development workshops build community and develop tools for students to thrive. Spark provided over 200 free meals to students at this lunchtime series. This year's topics included:
Time & Stress Management Strategies with Dr. Alexandria Carrico
Productive Practice Techniques with Dr. Omar Roy
Register Like a Pro: Tips & Tricks with Your Academic Advisor with Jillian Bigony
Social Media in the Music Industry with Samantha Bergold
Expanding the Performing Artist Toolbox: An Introduction to Teaching Artistry Parts I, II & III with Professor Hassan Anderson
How to Fail: Building Resiliency with Danica Leapheart
Your Brain is NOT a Notes App! with Jeff Francis
Your Wish is Granted!: Fundraising and Park Grants Demystified with Dr. Audra Vaz & Spark GAs
Get the Job!: LinkedIn, Resumes and Interview Tips with Sam Bergold, Jennifer Mitchell & Caroline Earp
Grad Edition: How to Form an Ensemble with Prof. Claire Bryant
PIctured above: Professor Hassan Anderson leads students through an interactive ProSkills workshop about teaching artistry in February 2023.
Wellness Wednesdays
During Wellness Wednesdays, students are encouraged to care for their mental, social, and physical well-being. Students benefited from four valuable presentations this year:
Mindful Journaling/Sketching with Marlena Crovatt-Bagwell
Mental Health & Music: Mindfulness for Musicians with Dr. Jennifer Parker-Harley
Performance Anxiety with Dr. Armen Shaomian
Injuries in Music Panel Discussion with Dr. Tina Stallard, Dr. Clifford Leaman, Dr. Omar Roy and graduate students Miguel Calleja and Eunice Koh led by Alejandra Vega Roque
Up Close & Personal Interviews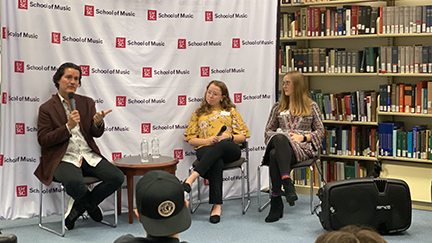 In this year's intimate Up Close & Personal interviews, students explored ideas and asked questions with:
Zuill Bailey (with interview led by Ellis McLarty and Julia Jacobsen)
Dietlinde Maazel (with interview led by Prof. Rachel Calloway)
Pictured: Zuill Bailey chats with USC String Students Ellis McLarty and Julia Jacobsen in an Up Close & Personal Interview in October 2022.
Guest Artist Residencies
School of Music students connected with many master artists during Spark's Guest Artist Residencies this year which included:
Jocelyn Hagen and Timothy Takach with USC Choirs
Dietlinde Maazel with USC Voice Department
Dr. Annie Jeng with USC Piano Pedagogy
HUB New Music with Southern Exposure New Music Series
Andy Akiho with Southern Exposure New Music Series
Mike Brofman from Brooklyn Art Song Society with USC Voice Department
Curtis Stewart with USC Guitar Studio
Brad Balliett with The Collective and USC Community Engagement
Jared James Nichols with Music Industry Studies
Mimi Worrell with USC Voice Department
Jessica Tong with USC Violin Studio
Supporting Ideas and Exploration
Spark awarded over $17,000 to students during the 2022-23 academic year. This vital funding helped support 40 innovative projects and invaluable opportunities for students. Check out each of our Spark grant recipients:
Spark Mini Grants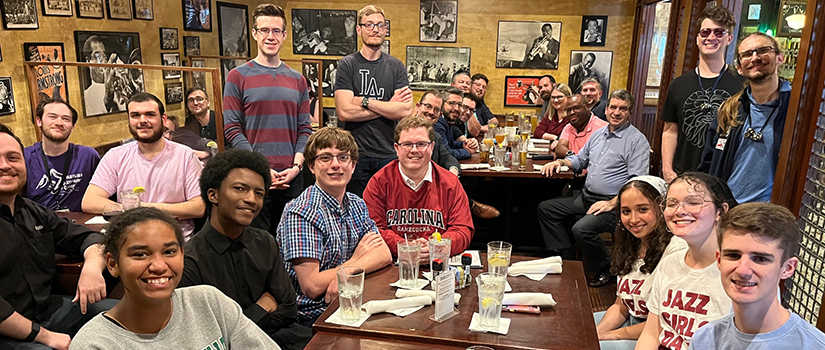 Spark Mini-Grants helped students like the USC Saxophone Studio (pictured here) — who attended the North American Saxophone Alliance Conference in March/April 2023 — explore and pursue their interests. See a full list of mini-grant award recipients here.
Community Impact Projects
Summer Study Grants
James Allen – Chautauqua Opera Conservatory
Jordan Bartow – Cortona Sessions for New Music
Emily Beddingfield – Cortona Session for New Music
LaDejia Bittle – Chautauqua Opera Conservatory
Ellis Carroll – Classic Lyric Arts
Nico Caruso – Varna International Music Academy
Meghan Cluskey – Varna International Music Academy
Bennett Donovan – Modern Band Summit
Alex Doolittle – Carolina Crown
Zhenyu Gao – Saarburg International Music Festival and School
Tiaryca Green – Green Mountain Chamber Music Festival
Jie He – Saarburg International Music Festival and School
Anna Klausi – Chautauqua Opera Conservatory
Claire Martin – USC Global Classroom
Keri McCourt – Phantom Regiment
Nicole Moore – Cortona Sessions for New Music
Daniel Myers – Cortona Sessions for New Music
Cody Ray – Michigan State University Conducting Symposium
Veronica Rice - Harrower Summer Opera Workshop
Briona Robinson – Harrower Summer Opera
Miguel Calleja Rodriguez – Cortona Sessions for New Music
Justin Schwartz – Mostly Modern Festival
Emma Schwertfuehrer – Varna International Music Academy
DeShawn Stevens – International Performing Arts Institute
Ben Stone – Phantom Regiment
Julie Welch – BWS German Lingua
Holly Workman – Cortona Sessions for New Music
Community Impact Grants for Faculty and Staff
Dr. Gail Barnes – USC String Project Golden Anniversary
Prof. Dominic Armstrong – Master Class Series
Prof. Rachel Calloway – The USC-Castleton Experience
Dr. Alicia Walker – Choral Conducting Residency with Dr. John Dickson
Dr. Michael Harley – Ten Thousand Birds in Shenandoah National Park
Prof. Jeremy Polley – Hands on Harmonies
Dr. Wendy Valerio – Music, You, Creativity & Community + The Art of Improvisation – Opening Meal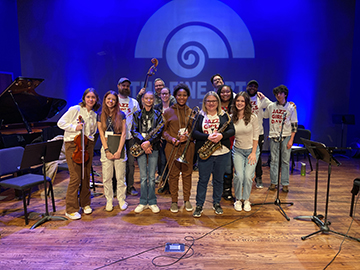 PIctured: One of the 2022 Community Impact Grant for Faculty and Staff winners Dr. Colleen Clark leads Jazz Girls Day at the Clemon's Fine Arts Center in November 2022 with fellow USC faculty and students.
In addition to project funding, Spark was hard at work this year connecting students with resources and opportunities. The Lending Library fulfilled over 80 requests that provided students with self-tape, event, and class project support. The Gig Office was revamped this year, connecting even more School of Music students to local, paid musical opportunities. In September, Spark offered Subsidized Professional Headshots by photographer Katherine Escobar to all School of Music students. Each participating student received two beautiful, edited headshots for only $20.
Spark strongly invested in the professional development of a handful of exceptional student interns which held paid positions with Spark: Meredith Howell (Development), Julia Jacobsen (Marketing), Ellis Carroll (Spark & Development), Lisa Ortuno (Spark), and Olivia Ward (Spark). These interns showed exceptional growth throughout the year, and each of our graduates secured a job in arts adjacent fields following their internships. Congratulations to all!
Building Community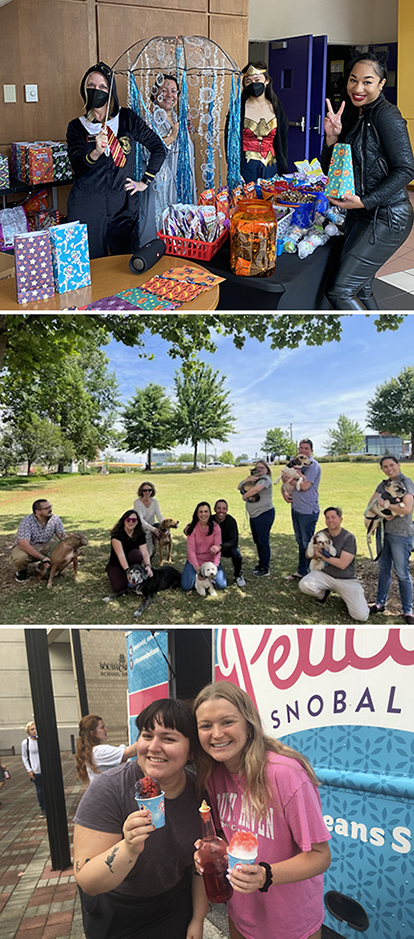 Spark programmed numerous events throughout the year to foster community and uplift the school's ecosystem like the annual Chill Out - Pelican's Sno Cones Back to School Bash and 2022's inaugural Halloween Door Decorating Contest and Trick-or-Treat Grab & Go.
This year, Stress Less Finals Week events included Coffee & Donuts in the Music Library, Grab & Go Snack Stations, De-Stress Zen Zones, Movie & Sitcom Marathons in the Music Library, and Holidays Around the World Educational Instagram Series. On Fur Day during the Fall 2022 and Spring 2023 semesters, we hosted 19 pups and cats! This de-stress event is always a big hit among students and faculty/staff alike, and this year was no different.
In November, Spark hosted the Graduate Student Mid-Day Happy Hour for over 40 graduate students. With lunch catered by Tio's, these graduate students enjoyed a relaxing, low-pressure opportunity to connect with colleagues and advisors. Throughout the year, Spark co-hosted four Community Music Circles led by Dr. Wendy Valerio.
The Spark Spotify Board, developed by student Lucy Ku, launched this year! This community engagement board featured original playlists by 34 USC Music students, faculty and staff, and allowed the SOM community to get to know one another in new and fun ways. Check out the playlists on our Spotify Channel.