Caitlyn Oenbrink Rainey graduated with a Bachelor of Music in vocal performance in 2012. She is a voice artist, Head of Customer Success at Altered AI and owner of Charleston Productions. Caitlyn lives in London, United Kingdom with her husband and 18-month-old son. We caught up with Caitlyn to discuss her time at the School of Music and current career.
Why did you choose the USC School of Music?
When I was viewing universities prior to applying, I took a few voice lessons with several professors at different schools. I had a wonderful lesson with Dr. Stallard. I felt instantly comfortable at USC and knew I could grow as an artist.
What person, course or experience was most influential for you while at the School of Music?
Performing and working within Opera at USC really shaped my university experience. Not only from a performing aspect, but also understanding how to survive and work in the industry. From helping "behind the scenes" on various shows from a technical aspect –like wardrobe or stage management– to understanding how to market and carry out day-to-day operational tasks that are needed to program and produce a show.
How has your education at School of Music helped you in your life and career?
When I think back on the past 10 years, one of the main things I'm thankful for is the diverse skillset I gained while at USC. I've used my vocal performance training to work professionally as a stage actor, performing everything from classical musical theater to Shakespeare as well as setting up my own voice-over business voicing projects for global advertisements and companies. Most recently, I've put the skills I learned at School of Music of understanding the science of the voice, actors experience and business/marketing skills into daily practice working at Altered AI. Altered AI is a synthetic voice company with cutting edge speech-to-speech technology. Daily I work with customers from animation, TV/Film, video games, advertisement and marketing to bring voice technology to their projects from pre-production to post-production.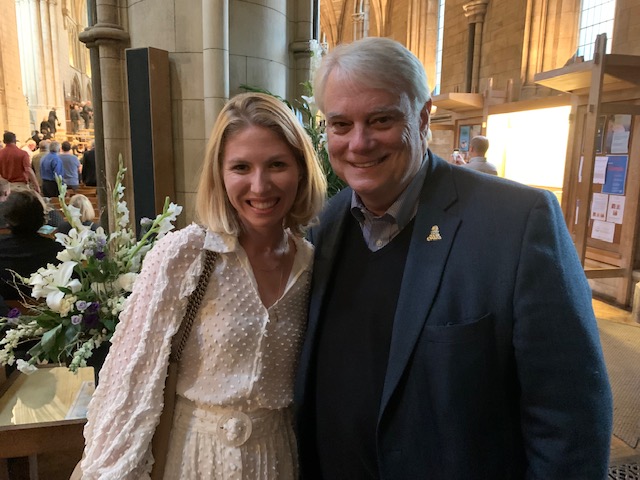 Dean Harding with Caitlyn in London for the Concert Choir tour.
What is one of your favorite memories, classes, professors or activities while attending the School of Music?
I'll never forget Opera at USC load in and load outs. The long nights spent at Drayton Hall, Beezer's sandwiches and donuts! Also touring with Concert Choir throughout Italy and singing at the Vatican. It was my first time in Europe and I remember being absolutely stunned when I saw the David in Florence!
What advice would you give current students or recent graduates pursuing a music performance or music education career?
For current students, know that the skills you are gaining at the School of Music can be versatile and you have an incredible resource of time and knowledge while studying at USC. If there is a skillset you are looking to gain or that piques your interest, look to the broader USC network to gain them. Apply for a Magellan Award, take a marketing class or an acting class! The amazing thing about USC is it's large and there are so many different classes, clubs and networks to explore.
What is one of your proudest professional or personal accomplishments that occurred after graduating?
There are a few moments I'll never forget. Receiving my first paycheck to perform one of my dream roles, Marian in the Music Man, shortly after moving to NYC or hearing my first global voice-over ad on television. Now I'm looking forward to seeing how I can help develop and grow the voice AI landscape working with creators in a variety of industries around the world.