Arnold School Awards
Jeffrey Keith Mattison Outstanding Student Achievement Award: Kara Keiper



A native of Maryland, Kara Keiper studied health sciences at the University of South Florida before deciding to earn a master's degree at the Arnold School. She was drawn to the UofSC campus and the surrounding area and the Master of Health Administration program's partnerships with local health organizations. During her time at UofSC, Keiper worked as a graduate assistant at Prisma Health during the day and took classes in the evening.
In 2020, she was one of just 14 recipients nationwide (and the only student from South Carolina) to receive a graduate student scholarship from the Foundation of the American College of Healthcare Executives (ACHE) in 2020. She has held numerous leadership positions in professional service organizations (e.g., vice president for the Health Executives Student Association) and logged countless hours in volunteer/community service, particularly in efforts to address the COVID-19 pandemic. Kara is also the first unanimously-voted recipient of the Susie B. Yates Scholarship recognized for her leadership abilities, academic performance, and commitment to service.
After her May graduation, Keiper will join Vanderbilt University Medical Center as an Administrative Fellow. Throughout this program, she will receive additional training and mentorship in health-related operations management while being in a position that allows her to give back to the community and improve the health of others.
This award is presented each year to the master's level graduating student who best exemplifies the special characteristics of Jeffrey Keith Mattison, an epidemiology and biostatistics student who passed away early on during his program. To remember his life, initiative and motivation for work in public health, the Student Public Health Association (now the Dean's Student Advisory Council) created the Jeffrey Keith Mattison Outstanding Student Achievement Award.
---
Doctoral Student Achievement Award: Chengbo Zeng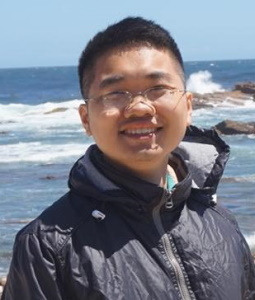 Chengbo Zeng was already a biostatistician when he met Center for Healthcare Quality director Xiaoming Li at an AIDS Impact conference in South Africa and decided to pursue a Ph.D. in Health Promotion, Education and Behavior. During his three years at the Arnold School, the Norman J. Doctoral Fellow worked with interdisciplinary teams, developing research expertise in infectious disease epidemiology (e.g., HIV, COVID-19). He is interested in leveraging advanced epidemiological design and methods to investigate structural barriers to health outcomes for populations with these conditions.
Zeng departs UofSC with 27 peer-reviewed publications to his name. Before pursuing a career conducting global research in low- and middle-income countries, he will extend his training with a postdoctoral fellowship in global health and infectious disease epidemiology at Harvard Medical School. In this position, he will work with a team of epidemiologists and clinicians on the endTB study to improve access to high-quality, evidence-based care for multidrug-resistant tuberculosis around the world.
This award is presented to an outstanding doctoral candidate graduating from the Arnold School. Students are nominated by Arnold School faculty, and selection is based on academic performance and achievements as well as their potential for professional contribution.
---
Departmental Awards
Outstanding M.S. - Residential Student of the Year Award: Carolyn Davis
Outstanding M.S. - Distance Education Student of the Year Award: Rebecca Harper
Doctoral Student Excellence Award: Parisa Bozorgi
Master's Student Excellence Award: Jaron King
Outstanding Epidemiology Doctoral Student: Nicholas Resciniti
Outstanding Epidemiology Master's Student Award: Jessica Simon
Outstanding Biostatistics Doctoral Student Award: Xizhi Luo
Outstanding Biostatistics Master's Student Award: Wanfang Zhang
Outstanding MPH Student Achievement Award: Alexa Tavares
Outstanding MS Student Achievement Award: Emanuel Ayala
Outstanding Advanced Athletic Training Master's Student Achievement Award: Maddy Hauge
Christopher Peter Aluah Outstanding Doctoral Student Award: Chengbo Zeng
Master's Student of the Year Award: Jenesha Nance
Undergraduate Student Researcher Award: Andrew Chen
Michael D. Jarrett Award: Allie Silverman
Susie B. Yates Award: Kara Keiper
Foster G. McGaw Award: Griffin Tullis
Foster G. McGaw Award: Hannah Brooks
Foster G. McGaw Award: Brooke Sanders