Save the Date: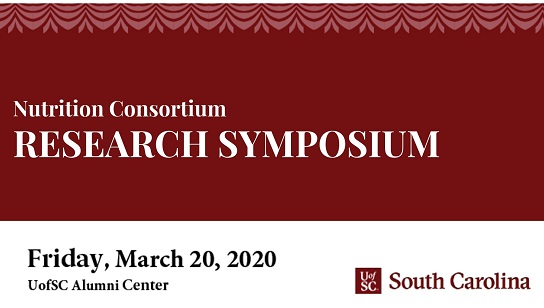 Call for Abstracts- Submission Open!
University faculty, staff, and students are invited to submit an abstract of 250 words maximum to present at the symposium.
Abstract submission deadline: January 24, 2020 by 5:00pm
Abstract acceptance notification: week of February 15, 2020
Abstract submission resources: Call for Abstracts [pdf]
Symposium Foci
Ensuring food security
Understanding and influencing food choice for health promotion
Assessing dietary patterns in development, health, and disease
Promoting maternal, infant, and child nutrition
Preventing childhood obesity
Developing and using technology to measure and promote healthy dietary intake
Evaluating optimal nutrition for healthy aging and chronic disease prevention
Global nutrition
Performance nutrition
Dietary recommendations for special populations
UofSC Nutrition Research Day: Share, Discover, Connect

Congratulations to the 2019 awardees of the Nutrition Consortium's annual Research Symposium!
The University of South Carolina's Nutrition Consortium Annual Symposium, "UofSC Nutrition Research Day: Share, Discover, Connect" was a grand success!
The symposium seeked to encourage collaboration and generate and communicate knowledge across the spectrum of nutrition research.
2019 Winners
Abstract and Oral Presentation Student Award

Marilyn Wende, Health Promotion, Education and Behavior- Examining spatial clustering patterns and regional variations: healthy eating environments in the United States

Poster Presentation Awards
First Place:

Rodrick Dugger, Exercise Science-The Impact of Summer Programming on the Obesogenic Behaviors of Children

Second Place:

Omonefe Omofuma, Epidemiology- Meat and fish intake and the risk of breast cancer in the Carolina Breast Cancer Study (CBCS)
Barbara Bujak, Health Promotion, Education and Behavior- Role of Drill Sergeants in Influencing Nutrition Behaviors of U.S. Army Basic Trainees

Third Place:

Paul Vecchiarelli, Environmental Health Sciences- Open Source Vitamin Analysis
Nazratun Monalisa, Health Promotion, Education and Behavior- Association of caregivers' education and household poverty with children's fast food, fruit juice, and vegetable consumption in California